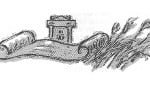 Read for This Week's Study: Haggai 1, John 2:19, Ezra 3:1-6, Matt. 1:23, 12:6, Haggai 2, Luke 24:13-27.
Memory Text: "'The silver is mine and the gold is mine, declares the Lord Almighty'" (Haggai 2:8, NIV).
Key Thought: Haggai's message is simple: What are our priorities, and why is it so important to get them right?
Haggai's book, one of the shortest in the Bible, was written at a critical time in the life of Judah. The exiles had returned from their captivity in Babylon almost 20 years before; yet, they seemed to [...]