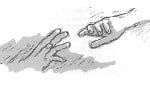 Read for This Week's Study: Zechariah 1, 2, Rom. 15:9-18, Eph. 3:1-8, Zechariah 3, 4, Exod. 25:31-40, Zechariah 7.
Memory Text: "'In that day each of you will invite his neighbor to sit under his vine and fig tree," declares the Lord Almighty'" (Zechariah 3:10, NIV).
Key Thought: Though Israel had been punished for its sins, it was time to live again in relationship with God according to His promises.
On the wall of an old castle in central Europe a short Latin inscription reads: "Dum spiro, spero!" It means, "As long as I […]