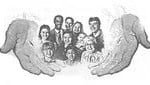 Read for This week's Study: Heb. 1:3; Col. 1:16, 17; Job 42; Matt. 5:45; Matt. 6:25-34; Matt. 10:28.
Memory Text: "And my God will meet all your needs according to the riches of his glory in Christ Jesus" (Philippians 4:19, NIV).
God sustains the creation in such regular ways that the universe is sometimes compared to a machine that God left to run on its own.
Rather than a machine, however, a better metaphor is that the creation is like a musical instrument that God uses to produce the desired "melody." That […]