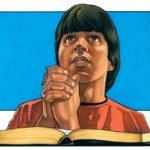 Eight-year-old Sharoon [shah-ROON] leaned forward in his seat as his Sabbath School teacher told a Bible story.
She asked a question, and Sharoon's hand shot into the air. The teacher called on him, and Sharoon answered her question.
Sharoon loves Sabbath School, especially the Bible stories his teacher tells. The church Sharoon attends meets in a house that's been remodeled to make a church. It's not big, but it's clean and bright.
Sharoon and his family live […]