As the girls hurried on through the night, they passed three young men. They didn't look up when the boys pointed fingers at them and made crude remarks, but kept walking as quickly as they could. Then they became aware that someone was following them. It must be one of the three boys, Rocio thought. The girls did not look back, but kept walking toward their destination. Rocio squeezed Mery's hand and whispered a prayer, "Dear God, please [...]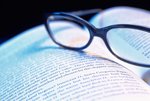 Further Study: Ellen G. White, Facing Life's Record, The Great Controversy, p. 479-491.
God has acknowledged you before men and angels as His child; pray that you may do no dishonor to theworthy name by which ye are called. James 2:7. God sends you into the world as His representative. In every act of life you are to make manifest the name of God. . . . This you can do only through the acceptance of the grace and righteousness [...]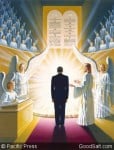 Read James 2:12-13. See also John 12:48; Rom. 2:12-13; 2 Cor. 5:10; Rev. 20:12-13. What do these verses teach about judgment?
Nothing is clearer than the teaching that we will be judged by the law based on what we have done, whether for good or for evil. At the same time, too, the Bible is also clear that through faith in Jesus, we are covered by His righteousness.
This covering entails two aspects: forgiveness (justification) and [...]

You can view a discussion of the current lesson in the Hope Sabbath School class led by Pastor Derek Morris. (Adobe Flash Player version.) A Youtube version of this week's lesson at Hope Sabbath School is below. You can download the video, the MP3 audio, and the lesson outline from the HopeTV Sabbath School Site. You might also want to bookmark the HopeSS Youtube channel.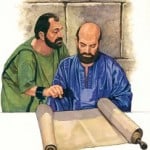 Read James 2:10-11. Now read the passages listed in the table below and classify them as either emphasizing the whole law, the law of love, or both.
Whole Law
Law of Love
Matt. 5:18-19
Matt. 22:36-40
Rom. 13:8-10
Gal. 3:10
Gal. 5:3
Gal. 5:14
It is hard for us to grasp how radical Jesus' teaching on the law was. For devout Jews then (and for many today) one cannot really claim to keep the law without a commitment to keeping all the [...]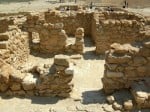 Read James 2:8-9, along with Leviticus 19:17-18 and Matthew 5:43-45. What crucial message are we being given here?
James calls God's law the royal law (James 2:8) because it is the law of the KING OF KINGS (Rev. 19:16). The law of His kingdom is given in detail in the Sermon on the Mount (Matthew 5-7), which includes the first of nine references in the [...]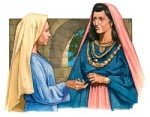 As every literature evangelist knows, very often those who have the least are willing to sacrifice the mostto buy Christian books. Well-to-do neighborhoods tend to be tough territory to sell books in, because the people who live there may be content with what they have and so very often do not feel their need of God as much as those who have less. The same phenomenon is also detectable on a much larger scale: the church often has grown the [...]

Read James 2:1-4. It is, among other things, a study in contrasts. One person is rich, well dressed, and, apparently, important, while the other is poor, shabbily dressed and, apparently, a nobody. One receives the utmost courtesy, the other disdain. One is offered a comfortable, prominent seat; the other is told to stand off to the side or find a place on the floor.
The description is not a very pretty one, especially because it [...]


Read for This Week's Study: James 2:1-13; Mark 2:16; Lev. 19:17-18; Rom. 13:8-10; John 12:48.
Memory Text: For judgment will be merciless to one who has shown no mercy; mercy triumphs over judgment (James 2:13, NASB).
We know the story well; the question is, How well has it sunk in?
First a priest, then a Levite, going from Jerusalem to Jericho, encountered a man lying half dead in the road. Though both just finished their religious duties, neither was, apparently, able [...]

Medellín is a large city in the heart of Colombia. While the city has a reputation as the drug capital of the world, it is also known for its beauty, and its citizens are known for their hard work and love of learning.
Colombia Adventist University (Corporacion Universitaria Adventista, UNAC) is located in Medellín. Founded in 1937 as Industrial College Coloveno, it became Colombo-Venezuelan Institute in 1950 and Colombia Adventist University in 1981. UNAC offers undergraduate through doctoral level [...]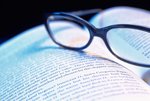 Further Study: Ellen G. White, The Test of Discipleship, p. 59-63, in Steps to Christ.
The law is God's great moral looking glass. Man is to compare his words, his spirit, his actions with the Word of God.-Ellen G. White Comments, The SDA Bible Commentary, vol. 7, p. 935.
"Instead of releasing man from obedience, it is faith, and faith only, that makes us partakers of the grace of Christ, which enables us to render obedience.
As Jesus was in human nature, [...]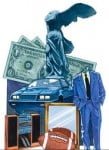 What does it mean to keep oneself unspotted from the world? (James 1:27, NKJV). How could that even be possible? See also 1 John 2:15-16; 2 Pet. 1:4.
Some people seem to think that if only they could move far enough away from the world, they could avoid most of its temptations. Though there's some truth to that, and we should try to avoid temptation as much as possible (especially those temptations we find hardest to resist), our problems and [...]