Read James 2:1-4. It is, among other things, a study in contrasts. One person is rich, well dressed, and, apparently, important, while the other is poor, shabbily dressed and, apparently, a nobody. One receives the utmost courtesy, the other disdain. One is offered a comfortable, prominent seat; the other is told to stand off to the side or find a place on the floor.
The description is not a very pretty one, especially because it [...]


Read for This Week's Study: James 2:1-13; Mark 2:16; Lev. 19:17-18; Rom. 13:8-10; John 12:48.
Memory Text: For judgment will be merciless to one who has shown no mercy; mercy triumphs over judgment (James 2:13, NASB).
We know the story well; the question is, How well has it sunk in?
First a priest, then a Levite, going from Jerusalem to Jericho, encountered a man lying half dead in the road. Though both just finished their religious duties, neither was, apparently, able [...]

Medellín is a large city in the heart of Colombia. While the city has a reputation as the drug capital of the world, it is also known for its beauty, and its citizens are known for their hard work and love of learning.
Colombia Adventist University (Corporacion Universitaria Adventista, UNAC) is located in Medellín. Founded in 1937 as Industrial College Coloveno, it became Colombo-Venezuelan Institute in 1950 and Colombia Adventist University in 1981. UNAC offers undergraduate through doctoral level [...]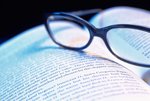 Further Study: Ellen G. White, The Test of Discipleship, p. 59-63, in Steps to Christ.
The law is God's great moral looking glass. Man is to compare his words, his spirit, his actions with the Word of God.-Ellen G. White Comments, The SDA Bible Commentary, vol. 7, p. 935.
"Instead of releasing man from obedience, it is faith, and faith only, that makes us partakers of the grace of Christ, which enables us to render obedience.
As Jesus was in human nature, [...]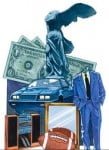 What does it mean to keep oneself unspotted from the world? (James 1:27, NKJV). How could that even be possible? See also 1 John 2:15-16; 2 Pet. 1:4.
Some people seem to think that if only they could move far enough away from the world, they could avoid most of its temptations. Though there's some truth to that, and we should try to avoid temptation as much as possible (especially those temptations we find hardest to resist), our problems and [...]

Read James 1:26-27 and compare it to Matthew 25:35, Matt. 25:36, Matt.25:40 and Romans 12:9-18. In light of these passages, how would you define true Christianity?
If Jesus, James, and Paul emphasize anything, it is the importance of being a useful Christian. By lovingthe least of these (Matt. 25:40), by taking the time to visit those most easily overlooked, by showing hospitality-in all these practical ways and more-we reveal Jesus' love and become the [...]

You can view a discussion of the current lesson in the Hope Sabbath School class led by Pastor Derek Morris. (Adobe Flash Player version.) A Youtube version of this week's lesson at Hope Sabbath School is below. You can download the video, the MP3 audio, and the lesson outline from the HopeTV Sabbath School Site. You might also want to bookmark the HopeSS Youtube channel.

Read James 1:25. What does he say about the role of the law?
James echoes the Psalms in calling God's law perfect (Ps. 19:7) and a way of freedom (Ps. 119:45). But notice that the law in James cannot save us and certainly cannot cleanse us. It shows us God's ideal, but it cannot make us follow that ideal any more than seeing a world-class athlete perform amazing feats could enable us to do [...]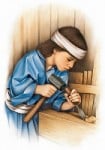 Read James 1:22 again. The Greek says to be doers of the Word. How might the message have been different had James simply said, Do the word?
James combines being and doing. He does not separate them, nor does he make one more important than the other. They are like two sides of the same coin, inseparable. We are to be doers. Furthermore, the tense of the Greek word for be here refers to [...]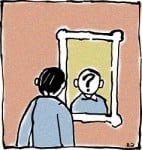 Someone once said this about his enemy: I see him every day-when I'm shaving. This is exactly what James wants us to recognize: our greatest enemy is ourselves. Salvation begins by seeing who we really are, not who we imagine ourselves to be.
Read James 1:23-24. Who is described here, and what is the basic problem?
While there is nothing wrong with looking our best, many people spend a great deal of time and money [...]


Read for This Week's Study: James 1:23-24; Matt. 19:16-22; Luke 6:27-38; Rom. 8:2-4; Rom. 12:9-18; 2 Pet. 1:4.
Memory Text: But be ye doers of the word, and not hearers only, deceiving your own selves (James 1:22).
Jean Francois Gravelet, better known as The Great Blondin, became famous for walking across Niagara Falls on a tightrope. In September of 1860, the Prince of Wales had witnessed Blondin's crossing of the falls with an assistant on his back. After the walk, Blondin [...]

The demons in Mirella struggled against the family members who took her to the Adventist church. During the struggle Mirella fainted. When the family tried to carry her limp body through the church door, they could feel a powerful force pushing them away. Inside the church the congregation prayed while deacons tried to pull the family into the church. Finally they managed to enter the church. They laid Mirella on the floor in the pastor's office.
The pastor [...]