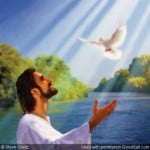 If God can be "one," with the two Persons of the Father and the Son, adding a third Person to the Godhead should not particularly add more difficulty. We are talking here about the Holy Spirit.1
Read Genesis 1:2. What does this tell us about the role of the Holy Spirit, who appears so early in the biblical record? 
How does Matthew 28:19 draw attention to the three members of the Godhead? 
Three Persons of the Godhead are mentioned when Jesus instructs how new believers are to [...]