Other Resources
Doug Batchelor also speaks on the Sabbath School lesson a week ahead of the actual lesson date, and members of the Sacramento Central Adventist Church contribute by looking up texts.
Pastor Doug's presentations are generally interesting, but not a great model for an actual Sabbath School class. (Our classes should ideally be no larger than 8-12 members, and all the members should be actively engaged as much as possible. Teachers should not preach sermons or lecture.) That said, his class can certainly provide some good thoughts that can be used in a Sabbath School discussion.
Dr Ken Hart's Sabbath School Class Often lively lesson discussion in a small group, composed of persons from various backgrounds, several weeks ahead of the time the lesson is scheduled to be studied in church.
Dr Hart uses a lot of Ellen White quotes, which may be helpful as background. However, we do not recommend using such a quantity of Ellen White quotes in an actual Sabbath School class. (It's better to do as the prophet says than to quote the prophet.)
Of late (November 2013) discussions have promoted a view that diverges from our fundamental beliefs  – specifically the currently popular teaching that God is never actively involved in judgment. Promoters of this view see destruction of sinners as being incompatible with a character of love. However, it is necessary to creatively re-interpret much of the Bible to support this view. This can and has led to more  revisioning of Bible truth in others.
Unfortunately the following resource is no longer available, with the last episode having been aired in June 2016. But you can still access the archived programs:
Sabbath School University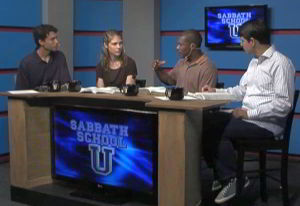 A weekly half-hour satellite video broadcast and podcast Bible study available in English or Spanish. It features young adults engaging in lively discussions of the Seventh-day Adventist Church's weekly Sabbath School lesson from the Collegiate Quarterly. You can watch or listen to their discussion online, or you can click on the Podcast link at the top right of the page to download audio and video files to your computer to. (MP4, MP3 and iTunes formats) Alternately, you can click on this direct link to the Vimeo Channel for the English CQ Discussion or this link for the Spanish CQ Discussion Channel on Vimeo. 
Amen!

(

3

)

Print/PDF/Email