The prophets, according to their calling, were determined protectors of God's law. They stood on the ground of the covenant and the Ten Commandments (Jer. 11:2-6). Micah 3:8 gives one summary of the prophets' work, which was to declare unto Jacob his transgression, and to Israel his sin.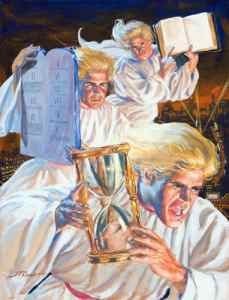 And the concept of sin, of course, is meaningless apart from the law (see Rom. 7:7).
What was the prophets' message to the people? In what ways is that message the same to us today? Isa. 1:19, Jer. 7:5-7, Ezek. 18:23. (See also Matt. 3:7-11.)
God's judgment was not inevitable, but it would come if the people did not turn from their evil ways. Change, however, is not so easy, especially when people get accustomed to doing evil. Who hasn't seen how people get used to the evil that, at one time, had appalled them? The message of the prophets was to let people see just how bad their evil was, and what the consequences were of not turning away from it. This message, of course, wasn't the prophets; it was the Lord's.
The prophets do not mention how God's Word was revealed to them or how they heard it. At times God spoke to them directly; other times the Holy Spirit touched them in dreams or visions or, perhaps, through a still small voice (1 Kings 19:12). However their messages came to them, the prophets had a mission, not only to transmit God's will to the common people, but also, if need be, to deliver it before kings, emperors, and generals.
This task involved great responsibility: if they told the truth, these powerful people could kill them; but if they did not represent the truth, God's judgment could also come upon them. To be a prophet is a heavy calling, and from what we can tell from the Bible, those given that call took it seriously.
We can be glad they did, for their messages have come down to us in the Bible. In that sense, their words still speak, even today. The question now, as in Jeremiah's time, is the same: Will we listen?
What are the prophets, even after all this time, still telling us? At the core, what is their basic message to God's people?
Amen!

(

33

)

Print/PDF/Email