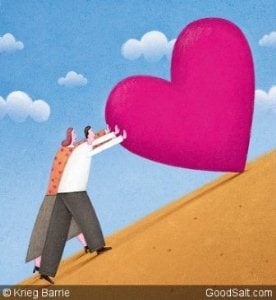 Though the Bible covers a lot of history, it has made time to depict some romances. There was a strong, affectionate bond between Abraham and Sarah. He doesn't desert her during her long years of barrenness. In fact, it is only at Sarah's urging that Abraham takes Hagar as a surrogate wife. The ties of love between Abraham and Sarah are strong. SeeGenesis 16.1
It takes a lengthy chapter in Genesis to record Abraham's servant's long trip to find Isaac a wife. Upon his return with Rebecca, the inspired account includes another love story.See Genesis 24.
Another romance given a lot of time in the Bible is the one between Jacob and Rachel. In quick strokes the picture is painted of Jacob's impulsive and warm response to Rachel. Apart from the Song of Songs, there isn't another example in Scripture of a man and a woman kissing, certainly not before marriage. And if we recall that God is the ultimate author of Scripture, and through His inspiration the book of Genesis was written, we are reminded that God is a romantic, because He includes this love story and this kiss in the Bible. See Genesis 29. (If you were writing a history book spanning thousands of years, covering the creation of humankind and its Fall, why would you include this romantic detail?) In the historical period enclosed within the book of Genesis, there must be many time gaps. Yet, God inspired the inclusion of these warm love stories.
Go back over the stories of these romances. Whatever the love that existed, these accounts are in many ways similar to romance and love stories all over the world; that is, these people faced many challenges and suffered from the mistakes of one or both parties. What were some of the things done wrong that brought so much pain and suffering to these relationships? Most important, how can we learn from their mistakes?.
---
---
Unfortunately, many have made similar mistakes, or even worse. The good news is that God not only forgives, He heals. Whatever romantic mistakes you have made, how can you learn to seek the forgiveness and healing that come from the Cross?
Amen!

(

0

)

Print/PDF/Email