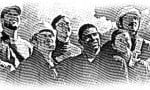 Read for This Week's Study:
Eph. 4:12, 2 Cor. 5:15–20, John 4:35–41, 1 Thess. 1:5–8, Acts 14:27.
Memory Text:
"But you are a chosen generation, a royal priesthood, a holy nation, His own special people, that you may proclaim the praises of Him who called you out of darkness into His marvelous light" (1 Peter 2:9, NKJV).
Key Thought:
Too often evangelism and witnessing are seen as the pastor's job alone; this attitude is wrong.
According to Peter, God's people are chosen, called to be a "royal priesthood." Because the priests [...]