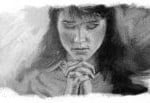 Read for This Week's Study: Col. 4:2, Rom. 12:12, Matt. 26:34–44, Heb. 11:6, James 4:2, John 14:15, 1 Thess. 4:3.
Memory Text:
"Evening and morning and at noon I will pray, and cry aloud, and He shall hear my voice" (Psalm 55:17, NKJV).
Key Thought: In numerous places in the Bible the Lord calls us to pray because prayer is an essential component of our walk with Him.
Ellen White gave us these words on the issue of prayer: "Our heavenly Father waits to bestow upon us the fullness of His blessing. [...]