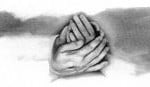 Read for This Week's Study: Gen. 2:21–25, Exod. 20:5, Isa. 43:4, 62:5, Song of Songs, John 2:1–11.
Memory Text:
"The Lord has appeared of old to me, saying: 'Yes, I have loved you with an everlasting love; therefore with lovingkindness I have drawn you' " (Jeremiah 31:3, NKJV).
Key Thought: How are we to understand the loving side of God?
Love is, perhaps, the most readily recalled attribute of God. And, indeed, we cannot overestimate God's love, nor exhaust the depth of it. But perhaps there is one aspect of His [...]