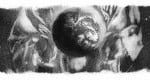 Read for This Week's Study: Matt. 19:4; Job 38:4–7; Deut. 32:10, 11; Psalm 19; John 1:1–13; Rom. 5:12; Isa. 66:22.
Memory Text:
"For by Him all things were created that are in heaven and that are on earth, visible and invisible, whether thrones or dominions or principalities or powers. All things were created through Him and for Him" (Colossians 1:16, NKJV).
Key Thought: The doctrine of Creation, a literal six-day Creation, is foundational to all that we believe.
It's hard to imagine two more diverse views of origins than the biblical model [...]