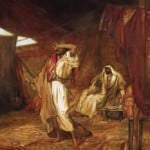 There are some very specific examples in the Bible of people who sought repentance but were not forgiven by God. They wept.
They were sorrowful. They confessed their sin but were not forgiven.
Read the accounts of Pharaoh, Balaam, Esau, and Judas in Exodus 12:29-32, Numbers 22:32-35, Hebrews 12:17, and Matthew 27:4. What common thread do you see running through each story in regard to repentance and/or confession?
One phrase in Hebrews 12:17, NKJV , sums it up well. Speaking of Esau, the passage says [...]