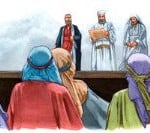 The New Testament reveals that the early church had a definite organizational structure.
This structure helped to preserve the doctrinal purity of the church and keep it focused on mission.
In Acts 6, a small group of disciples met together to solve the problem of the distribution of food to the widows of the Greek converts. They selected deacons to solve the dilemma. Church members respected the authority of these church leaders.
When the apostle Paul was converted [...]