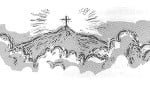 Read for This Week's Study: Zechariah 8, Zech. 9:9, 12:1-10, 13:7-9, 14, Matt. 21:9, John 19:37.
Memory Text: "The Lord their God will save them on that day as the flock of his people. They will sparkle in his land like jewels in a crown" (Zechariah 9:16, NIV).
Key Thought: Zechariah has some wonderful Messianic prophecies that point to Jesus and affirm our faith in Him.
At the heart of the biblical message lies the most beautiful story ever told, that of the Creator God, who, in the person of His Son, left [...]