All throughout recorded history, people have sensed that humanity is in some sort of battle, a warfare, a struggle between competing forces.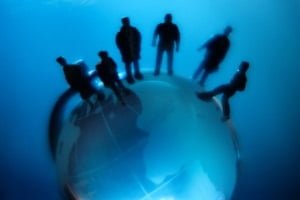 The poet T. S. Eliot wrote,
In all of my years, one thing does not change.
However you disguise it, this thing does not change:
The perpetual struggle of Good and Evil."
-T. S. Eliot: The Complete Poems and Plays
(New York, San Diego, London: Harcourt Brace & Company, 1952), p. 98.
However common that understanding, people have radically different views regarding what the conflict is about, who's involved, what's at stake, and how it is going to end. As Seventh-day Adventists, however, we have a decidedly supernaturalist perspective regarding this battle, a perspective that comes from our understanding of the Bible and how the Bible depicts what we call "the great controversy between Christ and Satan."
Study Genesis 3:15 and Revelation 12:1-17. Who are the key players in the controversy? While symbols are sometimes used to depict the players, why do we believe that the powers described here are real, literal beings? What would happen to our whole belief system were we to spiritualize away the reality of the great controversy between Christ and Satan and our role in it?
---
---
It is not unusual for people to use terms such as the devil or angels, and even God, when they mean something very different from the meaning usually attached to those words. For example, there are some whose interest in the use of the word God focuses only on the function that the word performs in human language and society; they have no interest in whether "God," in any form, exists.
Whatever the symbols used to describe them, the Bible teaches that these figures are real entities engaged in a real conflict. That's how we as Seventh-day Adventists understand them. Most of the doctrines studied this quarter will not make sense if the players identified in the controversy are not taken literally, which often puts us decidedly at odds with the prevailing culture.
In fact, while secularism has taken many shapes and forms over the last two centuries, nothing characterizes secularism more than the push to eliminate all "other worldly" language from human discourse. With the success of science, people in some cultures are more and more inclined to think about issues scientifically. Angels and demons do not fare well in the scientific mode of thinking. Hence, contemporary culture is witnessing a gradual demise of belief in the supernatural.
How strongly impacted is your own culture by the scientific, secular worldview? How much have you, personally, been impacted by it? Against what aspects of this worldview must we particularly guard?
Amen!

(

0

)

Print/PDF/Email