Read Luke 15:11-21. What specific attitudes and actions led the prodigal to decide to return home? What principles of revival and reformation do we discover in this passage?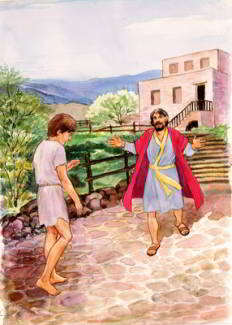 Revival can be defined in different ways. However it may be defined, one factor ought not be missed: Revival is coming home. It is a heart hunger to know the Father's love in a deeper way. Reformation is the choice to respond to the Holy Spirit's leading for change and growth. It is the choice to give up whatever stands in the way of this closer relationship with God. The prodigal could not have both the pigpen and the Father's banquet table.
Simply put, the young man missed home too much to remain where he was. There was an aching in his heart to return. It is this heartache for the presence of God that leads us to long for revival and reformation. It is this heart cry for the warm embrace of the Father that motivates us to make necessary changes in our lives too.
As the young man prepared to return home, he planned his apology in advance. He must have rehearsed it again and again. Read his speech in Luke 15:18-19 and his Father's interruption in verses 20-24. What does this interruption reveal about the Father's attitude toward his son and God's attitude toward us?
Although his son was far from his eyes, he was not far from his heart. The father's eyes searched the horizon for his son each day. The greatest motivation to make changes in our lives is the desire to no longer break the heart of the One who loves us so much. When the boy was wallowing around in the mud with the pigs, the father suffered more than his son. Revival occurs when God's love breaks our hearts. Reformation occurs when we choose to respond to a love that will not let us go. It takes place when we make the difficult choices to give up those attitudes, habits, thoughts, and feelings that separate us from Him.
How is the statement that "my son was dead and is alive again" an insightful definition of true revival? What is it like to be dead and then alive again?
Amen!

(

26

)

Print/PDF/Email