Read Ellen G. White, The Book of Books, p. 136, in Fundamentals of Christian Education;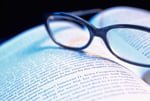 Spiritualism, pp. 394, 395, in The Story of Redemption; Agency of Evil Spirits, pp. 511-517, in The Great Controversy. "A battle unseen by human eyes is being waged. The army of the Lord is on the ground, seeking to save souls. Satan and his host are also at work, trying in every possible way to deceive and destroy. . . . Day by day the battle goes on. If our eyes could be opened to see the good and evil agencies at work, there would be no trifling, no vanity, no jesting or joking. If all would put on the whole armor of God and fight manfully the battles of the Lord, victories would be gained that would cause the kingdom of darkness to tremble." − Ellen G. White, Testimonies for the Church, vol. 6, p. 41. As men seek to come into harmony with God, they will find that the offense of the cross has not ceased. Principalities and powers and wicked spirits in high places are arrayed against all who yield obedience to the law of heaven. Therefore, so far from causing grief, persecution should bring joy to the disciples of Christ, for it is an evidence that they are following in the steps of their Master. − Ellen G. White, Thoughts From the Mount of Blessings, pp. 29, 30.
Discussion Questions
Look at Hebrews 2:14-15 a little more closely. Death as an agent of enslavement is clearly depicted here. Notice, too, the emphasis on our fear of death. Why do we fear death so much? How does the fear hold us in, as the text says, a kind of slavery? How should the Christian, free in Christ, view death?
For some people the whole idea of demonic forces is silly superstition; for others, this fear dominates their entire life. How, as Christians, can we strike the right balance in our understanding of the reality of these powers, and yet at the same time understand what Christ has done for us in the fight against them?
What are some examples of how evil forces control or influence various worldly powers?
How does the great controversy worldview help us to understand the continued existence of evil, even after Christ's victory at the cross?
Like
(

0

)

Print/PDF/Email