Read Ellen G. White, "'God With Us,'" pp. 19-29, in The Desire of Ages;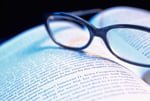 Ivan T. Blazen, "Salvation," pp. 271-313, in Raoul Dederen (ed.), Handbook of Seventh-day Adventist Theology.
"The plan for our redemption was not an afterthought, a plan formulated after the fall of Adam. It was a revelation of 'the mystery which hath been kept in silence through times eternal' (Rom. 16:25, R.V.). It was an unfolding of the principles that from eternal ages have been the foundation of God's throne. . . . God did not ordain that sin should exist, but He foresaw its existence, and made provision to meet the terrible emergency. So great was His love for the world, that He covenanted to give His only-begotten Son, 'that whosoever believeth in him should not perish, but have everlasting life.' "-Ellen G. White, God's Amazing Grace, p. 23.
Discussion Questions
Think about how bad sin must be that it took the death of the Creator Himself to solve it. What does the Cross reveal to us about the utter inability of humanity to save itself? What do we think we could add to what has already been done for us?
Some believe in what is called the "subjective atonement," the idea that nothing about the Cross changed our standing with God. Rather, the whole point of the Cross was, they claim, to change our attitude about God, nothing more. What's terribly deficient about such a theology? What does it say about the problem of sin if all it would take is an "attitude adjustment" on our part to solve it?
How possible is it to have a good deal of knowledge about salvation and yet not the experience of it? What do you make of Ellen White's comment that "Consecration to God must be a living, practical matter; not a theory to be talked about, but a principle interwoven with all our experience"?-Our High Calling, p. 243. How do we, on a daily and practical level, live out the experience of salvation?
Dwell on the role of salvation in the context of the great controversy. Why does Satan want to keep as many people as possible from having salvation in Jesus? What are the means he uses against us, and how can we defend ourselves against them?
Amen!

(

0

)

Print/PDF/Email