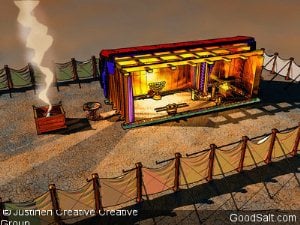 After God dramatically delivered Israel from slavery in Egypt, He brought them to Mount Sinai. There, He joined them to Himself in a sacred covenant. Among all the varied instructions He gave them there, how was beauty included? Exod. 25:1–9.1
---
---
The first half of the book of Exodus details the miraculous deliverance of Israel from Egypt. The second half of the book deals with issues that include beauty. The divine instructions of Exodus 25:1–9 are followed by Exodus 25:10–31:11, with God's "blueprints" for the portable tent sanctuary, its furnishings, and the priestly vestments. FromExodus 35:1 to the end of the book (Exod. 40:38) are found God's detailed descriptions, along with the record of the precise accomplishment of them. This record includes extensive details of artistry.
This collection of details is tedious reading to many modern Christians. But it pleased God not only to present these many instructions to the newly-freed slaves but also to include them in Scripture.
There are almost fifty chapters in the first five books of the Bible that record God's precise directives regarding a beautiful sanctuary. He provides not only the architectural blueprints but also the exact directions for the furnishings. It is significant that on Mount Sinai God gave not only the Decalogue, His instructions for obedience within the covenant, but also specific directions of how to fashion a lavish structure involving almost every type of artistic skill.
God was architect of it all, even inspiring the artisans to craft the minute details of decoration. Nothing was left to human devising. There are more chapters regarding the plans for, and consequent building of, this sanctuary and its furnishings than for any other subject in the first five books of Moses.
Upon what was the earthly sanctuary modeled, and what does that tell us about God's love of beauty? Exod. 25:9, Heb. 8:1–5.  
---
---
If the earthly sanctuary was only a "shadow" of the heavenly, we can hardly begin to imagine the kind of beauty that must exist in the real sanctuary, the one that God Himself made.
Why do you think it was important for the sanctuary to be so beautiful? Perhaps to give the people a sense of awe before the power and grandeur of God? Maybe to help them sense their own need before such grandeur? How can understanding the glory of the sanctuary better help us grasp the character of God in contrast to our own earthliness and sinfulness?
Amen!

(

0

)

Print/PDF/Email