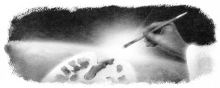 Read for This Week's Study: Isa. 64:5–8, Ps. 51:10, Heb. 8:1–5, 1 Chron. 23:5, Rom. 11:33–36, Acts 9:1–22.
Memory Text:
"One thing I have desired of the Lord, that will I seek: that I may dwell in the house of the Lord all the days of my life, to behold the beauty of the Lord" (Psalm 27:4, NKJV).
Key Thought: God as artist? What does that mean? And what does it mean for us?
So far, we've looked at various aspects of the Lord: the Trinity, God's holiness, and God as Redeemer. There is one picture of God in Scripture, however, that is rarely given attention, and that is—God as artist.Many people claim they have no interest in art. Many Christians know little about it. They may know what they like, but that is nothing more than knowledge about themselves. Others acknowledge that art exists, but they never consider its value or relevance. Christianity has often been ambivalent about the arts. At times, the arts have been denounced as irreligious and evil; other times aesthetics have become a secular "religion" with serious devotees. There are also plenty of Christian writers, but they have seldom made attempts to relate the concept of "beauty" to the central Christian doctrines.
"Beauty is truth, truth beauty," wrote poet John Keats. While Keats certainly overstated the case, God is indeed Truth, and the Truth is beautiful. Creation itself testifies to the fact that God is an artist and a lover of what's beautiful.
Study this week's lesson to prepare for Sabbath, March 17.
Amen!

(

0

)

Print/PDF/Email