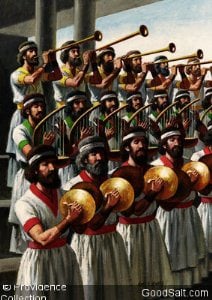 " 'Four thousand are to be gatekeepers and four thousand are to praise the Lord with the musical instruments I have provided for that purpose' " (1 Chron. 23:5, NIV).1
Try to envision the scene above: four thousand people playing musical instruments in praise of the Lord! That must have been an amazing worship service.
God's artistic expression is not restricted to the representational arts. In Scripture we find that, along with sacred architecture, Israel's liturgy was inspired by the Lord. God is a lover of beautiful music, as well.
How does King David describe his composition of the psalms Israel used in worship? 2 Sam. 23:1, 2.  
---
---
David was clear that he was inspired by the Lord to write the songs that he did. Though this doesn't mean that the Lord wrote the words and music for him, it does mean that the Lord cared about the kind of music that was played. Otherwise, why bother to inspire it?
Read 2 Chonicles 29:25. What does this tell us about the role of the Lord in the music that was played in their worship services? 
---
---
Throughout the Old Testament, when temple worship is recounted, music is evident and impressive. Picture, for instance, the worship atmosphere in the descriptions in 1 Chronicles 23:5. Four thousand instruments! Whatever the music must have sounded like, it certainly wasn't boring or dry!
It might be argued that aesthetic dimensions could be expected within sacred worship and that throughout history all nations have exhibited such in worship of their gods. However, Israel alone insists that God Himself designed every aspect of His worship, including architecture, furniture, priestly attire, and liturgy. There can be no doubt that artistic design is sanctioned in the Word of God. Anyone who rejects the aesthetic dimension or who denies that being an artist can be a relevant vocation for a Christian does so against the record of Scripture.
Though we don't have the music that accompanied Israelite worship, it must have been beautiful and certainly must have lifted their souls toward the Lord. How does music in our church function today? How can we be sure that it does the same thing; that is, lift our souls toward the Lord, as opposed to pushing us in another direction?
Amen!

(

0

)

Print/PDF/Email