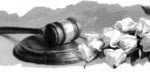 Read for This Week's Study: 1 Cor. 3:13; 2 Cor. 5:10; Genesis 3, 6; John 3:17–21; Rev. 14:6, 7.
Memory Text:
"For God shall bring every work into judgment, with every secret thing, whether it be good, or whether it be evil" (Ecclesiastes 12:14).
Key Thought: God's judgment is as pervasive in the Bible as is the theme of salvation; in fact, the two teachings are intricately entwined.
A soldier stood next to an old man about to be executed. He was guilty of being the "wrong" race and religion, nothing more. As the soldier raised his gun, his victim said, "Do you know that there is a God in heaven who sees all this, and who will one day judge you for your actions?"The soldier then shot the old man dead.
This is, in many ways, a prime example of a secular society. Not a secular government (a government that does not promote one religion over another), but a secular society, one in which there is no higher standard than the rules of the society itself. It's a society with no sense of transcendence, no sense of a higher authority, no sense of God or of a moral standard greater than anything human. It's a society where humans take the place of God, a society where the only judgment one faces is the judgment of one's peers or of one's own conscience (whatever's left of it, anyway).
According to the Bible, however, the old man was right: there is a God in heaven, and He knows all things and He, indeed, will bring everything into judgment.
Let's explore this crucial aspect of God's character and see that, even in judgment, God reveals His amazing grace.
Study this week's lesson to prepare for Sabbath, January 28.
Amen!

(

0

)

Print/PDF/Email