Read for This Week's Study: Acts 16:9-40; Acts 17:1-4,12; Jer. 23:1-6; Isa. 9:1-7; Isaiah 53:1-12; Rom. 1:16.
Memory Text: "And we also thank God continually because, when you received the word of God, which you heard from us, you accepted it not as the word of men, but as it actually is, the word of God, which is at work in you who believe" (1 Thessalonians 2:13, NIV).
Key Thought: Our assurance of God's promises must be based on our confidence in His Holy Scriptures.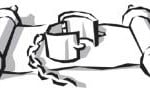 The young pastor sat outside with a young lady who had just been baptized. Much to his surprise, she said, "I need to be baptized again."
When the pastor asked why, she responded, "There are things that I didn't tell the senior pastor about my past."
Thus began a long conversation about forgiveness in Christ, which she hungrily consumed. When the pastor finished praying with her, a huge downpour suddenly drenched them both. Eyes shining, the young woman said, "I'm being baptized again!"
A gracious God often provides living tokens, such as this unexpected rain, to assure believers that they are right with Him. But our confidence in God will be even more solidly grounded when it is based on the clear teaching of His Word. In this lesson we'll see that the fulfillment of prophecy provided solid assurance to the new believers in Thessalonica.
Study this week's lesson to prepare for Sabbath, July 7.
Amen!

(

0

)

Print/PDF/Email