Read Romans 16:5; 1 Corinthians 16:19; Colossians 4:15; and Philemon 1, 2. What do all these texts have in common?
---
In the Roman world there were two main types of residences. There was the domus, a large, single-family home built around a courtyard, typical of the wealthy. Such a home could provide a meeting place for 30-100 people. The other type of residence was the insula, with shops and workplaces on the ground floor facing the street and apartments (flats) on the floors above. This was the primary urban housing of the working classes. One of these apartments or workplaces could normally accommodate only smaller churches.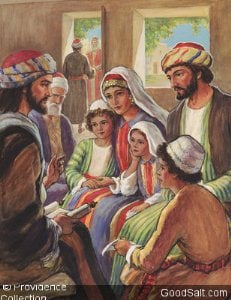 The domus, and many of the insula, would house an extended family-including two or three generations, employees of the family business, visitors, and even slaves. If the head of household could be converted, it could have a great impact on everyone else living there.
The ideal location for an urban house church would be near the city center. The shops and workplaces connected to the house would foster contact with artisans, trades-people, shoppers, and manual laborers looking for work. This was the setting in which much of Paul's missionary work may have been done.
In some parts of the world, people still worship in home churches, often because that's all they have. Or, in some cases, they are not allowed to do anything else, and so a home church is their only option.
Read Acts 18:1-3. How do these verses help us to understand how Paul worked?
---
As a Roman citizen and, at one point, a member of the Jewish elite, Paul must have been from the upper classes. If so, working with his hands would have been a sacrifice for him; however, by way of such labor, he identified with the working classes and reached out to them (see 1 Cor. 9:19-23).
How well does your local church interact with the community? Are you part of that community, in the sense of being involved, or is your church locked in "a siege mentality" in which you isolate yourself from the dangers of the world so much so that you don't impact it at all?
Amen!

(

0

)

Print/PDF/Email