Most Adventist churches in Haiti hold evangelistic meetings in January. Etienne's host family invited her to attend the meetings in their church. Etienne went to please her hosts, but she paid little attention to the speaker.
Then on January 12, 2010, the earth shook furiously. Etienne staggered out of the house just moments before it collapsed. She stared in disbelief at the rubble around her. Once again she was homeless. Then she realized, God has saved me again. "Lord," she prayed, "I think it's time to give my life to you."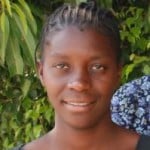 Etienne learned that the Morija Adventist Church hadn't been destroyed, and she made her way to the church. The members welcomed her onto the church grounds and showed her a space where she could sleep outside with other now-homeless people. She had no tent and no bed, so she flattened a cardboard box to make a bed. Someone offered her some rice and greens, but Etienne shook her head. She had no money to pay for it. "You don't have to pay," the woman told her. "Take it and eat." Gratefully Etienne took the plate, stunned to think that someone would give her food.
The next day someone announced that there would be preaching that night. Etienne was surprised to see the same woman who had been preaching at the church her host family had taken her to. "I knew that God was giving me a second chance to accept His love and salvation in my life," Etienne said. "So that night I surrendered my life to God."
Etienne attended the baptismal class every afternoon and accepted the truths she was learning. A few weeks later she was baptized.
"Life is difficult," she says quietly. "I don't know what my future holds, but I know that God will take care of me. He's already shown me that.
Haiti has more than 350,000 Adventist believers. Our mission offerings and a recent Thirteenth Sabbath Offering are helping the faithful believers spread the gospel of hope to the 9.7 million Haitians.
---
Etienne, 22, lives in a tent in Port-au-Prince, Haiti.
---
Produced by the General Conference Office of Adventist Mission.
Find more stories like this at AdventistMission.org
email: info@adventistmission.org
Amen!

(

0

)

Print/PDF/Email