I am a Christian, but not an Adventist.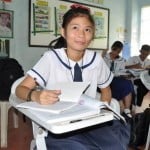 My husband follows a different religion. We chose to send our two sons to Zamboanga Adventist Elementary School in the Philippines because we wanted them to study in a school with strong moral values. We looked at several schools, most of which had better facilities, but we chose the Adventist school.
Our boys like this school. They joined Pathfinders and really enjoy the activities. The children and teachers are so friendly. I love working with the teachers and parents. We really are a family!
Our children are learning to be leaders as they take part in chapel programs and other activities at the school. They enjoy Bible class and memorize many Bible texts. My husband even joked that our son could become a pastor because he has learned so many Bible verses.
Even though I'm not an Adventist, I believe in Adventist education, and I thank God for this school and what it has meant to our children.
Fely Bawari, Zamboanga, Philippines
---
In 2009 part of your Thirteenth Sabbath Offering helped complete a new building for the school in Mindanao so that it could offer secondary education as well as elementary. Thanks to your offerings, Zamboanga Adventist School is reaching many more students and parents with God's message of hope and love.
---
Produced by the General Conference Office of Adventist Mission.
Find more stories like this at AdventistMission.org
email: info@adventistmission.org
Amen!

(

0

)

Print/PDF/Email