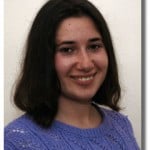 Irina Mezeuan
Irina is a teenager who lives with her family in the Republic of Georgia. As a child she suffered from a painful spinal tumor, and doctors gave her only four years to live. Her mother, desperate for help, met a woman who was lending books in the marketplace. Irina's mother chose several books that offered hope and took them home to read as she sat by Irina's bedside.
When Mother returned the books she thanked the woman for sharing them. The woman invited Mother to visit the Adventist church and to bring Irina. "We will fast and pray for her," she promised, smiling. Mother took Irina to the church the following Sabbath, and the woman and her friends fasted and prayed for her.
When Mother took Irina back to the hospital for a checkup, her doctors were amazed to find that the tumor was shrinking. They removed the tumor, and Irina's pain disappeared.
Mother continued attending the Adventist church and took Irina and her sister, Yana, with her. The girls learned the importance of prayer and began praying for others, just as Irina had been prayed for.
When the girls visited a certain store, they often sought out Lisa, a woman who sold bread there. They invited her to church, but Lisa refused to go. The girls weren't discouraged; they continued praying for their friend, even after she stopped working at the store.
One day Mother met Lisa on the subway and told the woman that Irina and Yana were praying for her. Mother shared words of hope with Lisa and invited her to church. This time Lisa agreed to go.
When Lisa arrived at church the next week, the sisters hugged her and sat with her. "We wanted her to know we love her and that she is special to God," Irina says.
Lisa continued attending church, even though she had to take several busses to get there. Irina, Yana, and Mother continued praying for her. One Sabbath the pastor invited those who wanted to accept Jesus to stand. The sisters prayed silently that Lisa would make her decision for Christ and were thrilled when Lisa stood up.
"We felt that God had answered our prayers for Lisa," Irina said. Lisa was baptized along with three friends for whom they also had been praying. The girls are praying for their father. "He's started reading the Bible," Irina says. "We know that God is working on his heart in answer to our prayers."
Sharing our faith through witnessing and prayer and giving a generous mission offering are the three most powerful ways to bring others through Christ.
---
Irina Mezeuan
---
Produced by the General Conference Office of Adventist Mission.
Find more stories like this at AdventistMission.org
email: info@adventistmission.org
Amen!

(

0

)

Print/PDF/Email