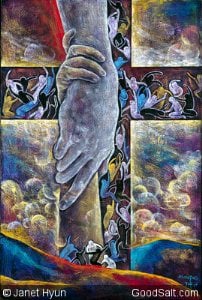 "It is finished"(John 19:30).1
Jesus, through His Sabbath miracles, demonstrated what the Sabbath is really about. It is a day for healing and restoration. Jesus intended for the Sabbath to call to mind God's creative power. Thus, the Sabbath is the day when He frees the captives (Luke 4:31–37), makes the lame walk (Luke 13:10–17, John 5:1–9), and restores sight to the blind(John 9).
For Jesus, the Sabbath was more about people than about rules, which is no doubt partly why He made His famous statement about the Sabbath being made for humankind and not humankind for the Sabbath. At the same time, as we saw earlier in the week, if properly kept, the rules protected people.
Jesus not only reinforced the validity and importance of resting on the Sabbath while He was alive, but He did it in death, as well. Read Matt. 27:57–28:1, Mark 15:42–16:1, Luke 23:52–24:1, and John 19:31–20:1. What's the one common point all four Gospel writers make here? More important, what does this tell us about the Sabbath, especially in the context of the question of whether the Sabbath is still valid or not? 
---
---
After He cried out, "It is finished!" (John 19:30), that is, after His work of Redemption (prior to His heavenly intercession) was done, what does Jesus do?
He rested on the seventh day. Sound familiar? Where have we already seen that? Of course, in Genesis 2:1–3. After God's work of creation, He rested on the seventh day. Now, after His work of Redemption, He does the same thing.
Also, in light of the whole question of Jesus' moving humanity away from the seventh-day Sabbath, His example of resting in the tomb on the Sabbath is, indeed, another strange way of getting that point across. If anything, especially because His death sealed the new covenant, and the new covenant supposedly supercedes the seventh-day Sabbath, one is hard pressed to understand the logic of those who believe that the Sabbath commandment was abolished after the Cross. If it were abolished, why would resting on Sabbath be the first thing Jesus did after the Cross?
Thus, both in life and in death, Jesus showed us the continued validity and importance of the Sabbath.
Amen!

(

0

)

Print/PDF/Email