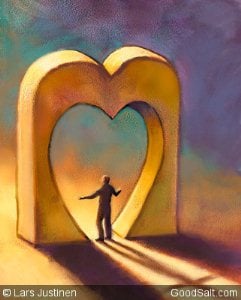 From the start, the principles of the Ten Commandments were given to humanity out of the Lord's love for people. The law has always been intended to be a blessing. You obey the law, and you are greatly protected from the ravages of sin; you disobey, and you face the inevitable consequences of transgression. Who needs theology to know, personally, just how painful sin and its consequences are? How often can you read the results of sin on the faces of those who have been ravaged by it?1
Though sections of the New Testament—Paul's writing specifically—deal with those who have misunderstood the purpose of the law, the commandments of God have been presented in the New Testament in a positive, uplifting way.
Read Hebrews 8:10 and 10:16 in their contexts. How is God's law presented in these texts? As something still relevant, or as something negated by grace? 
---
---
So often, we see people seeking to place the law in opposition to God's love or God's grace, the idea being that if you truly love, then God's law is negated. In a sense, one could argue that love transcends the law, in that one who truly loves God and others reveals the ultimate principles of the law. But this is no excuse for negating the law. On the contrary, love fulfills the law; love is the law expressed in its purest form.
It's like the parts of a car. The parts don't exist as ends in themselves; they are there so that the car will go from place to place. That's their purpose, so that the car can move. Yet, without each part, the car wouldn't function. The law is like that: it's not an end in itself but the means to an end, and that end is a deep expression of love, love for God and love for others.
Look up these texts. How do they help us understand the link between love and law? Rom. 13:8–10, Gal. 5:14, James 2:8, 1 John 5:2, 3.  
---
---
Dwell more on the links between God's law and love. Law-keeping without love leads to what? Love without law-keeping leads to what? Write out your thoughts and bring them to class on Sabbath.
Amen!

(

0

)

Print/PDF/Email