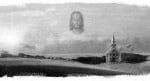 Read for This Week's Study: Gen. 2:1–3, Exod. 20:8–12, Deut. 5:12–15, Matt. 12:1–13, John 9, 19:30.
Memory Text:
" 'The Sabbath was made for man, and not man for the Sabbath. Therefore the Son of Man is also Lord of the Sabbath' " (Mark 2:27, 28, NKJV).
Key Thought: The seventh-day Sabbath, in every way, points us to Jesus, our Creator and our Redeemer.
In the beginning was the Word, and the Word was with God, and the Word was God. The same was in the beginning with God. All things were made by him; and without him was not any thing made that was made. In him was life; and the life was the light of men. And the light shineth in darkness; and the darkness comprehended it not. There was a man sent from God, whose name was John. The same came for a witness, to bear witness of the Light, that all men through him might believe. He was not that Light, but was sent to bear witness of that Light. That was the true Light, which lighteth every man that cometh into the world. He was in the world, and the world was made by him, and the world knew him not. He came unto his own, and his own received him not. But as many as received him, to them gave he power to become the sons of God, even to them that believe on his name: Which were born, not of blood, nor of the will of the flesh, nor of the will of man, but of God" (John 1:1–13).These verses are, of course, pointing to Jesus, Jesus as the One who made "all things" and Jesus as the One who gives salvation to those who "believe on his name." That is, Jesus as Creator and Jesus as Redeemer. And, as the Bible shows us, both of these crucial aspects of what Jesus has done are found in the Sabbath commandment.
This week we'll take a look at the law and, by default, the Lawgiver.
Study this week's lesson to prepare for Sabbath, February 18.
Amen!

(

0

)

Print/PDF/Email