In the opening words of 1 Thessalonians, we catch a glimpse of the selflessness of Paul. While he was clearly the author of this letter (1 Thess. 2:18, 3:5, 5:27), he gives recognition to his coworkers Silas and Timothy.
Read 1 Thessalonians 1:1-3. For what things are Paul, Silas, and Timothy giving thanks? What do these things mean in a practical sense? That is, how would they be manifested in daily life? For example, how is the "work of faith" expressed in how we live?
---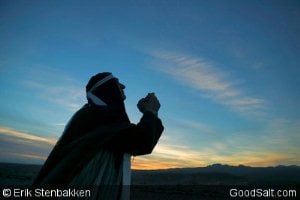 The opening of this letter is typical of ancient Greek letters, but with an interesting twist. To the typical Greek opener ("grace"), Paul adds the familiar Jewish greeting "peace" (shalom in Hebrew). "Grace" and "peace"-apt depictions of what an experience with Jesus is all about.
Who was Silvanus? The name reflects the Latin equivalent of the Aramaic name "Silas." Jews who lived outside Palestine usually adopted Greek or Latin names to go along with their Jewish ones (this is how "Saul" became "Paul"). Silas was a Jerusalem Christian like Mark, who was one of Paul's first traveling companions. By having trusted leaders of the Jerusalem church with him on his missionary journeys, Paul was doing his best to maintain unity in the church.
What group of words in 1 Thessalonians 1:1-3 has become famous because of the way they are used in 1 Corinthians 13? Which of them has the primary emphasis in 1 Corinthians, and why?
---
In his prayers, Paul concentrates on reality, not giddy spirituality. Faith provokes serious work. Genuine love produces much labor. And hope requires much patience. The stress in these words is on action, not abstract ideas. The order of faith, love, and hope varies in the New Testament, but the most important of the three is listed last in each case (see 1 Cor. 13:13). The order in verse 3 underlines the importance of last-day events in Paul's mind throughout the two letters to the Thessalonians.
Paul is also thankful before God because he remembers the way in which the Thessalonians have responded to the gospel. He probably hopes, too, that their positive emotional response to the praise Paul offers them will incline them to be more open to the concerns that he will soon express to them.
Amen!

(

0

)

Print/PDF/Email