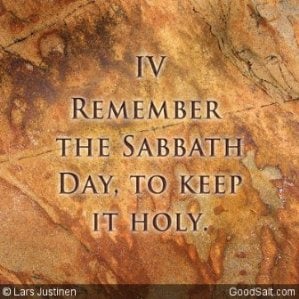 Read Exodus 20:8–11. What does the Lord tell us to do, and what reason are we told to do it?1
The entire family household, including any servants of either gender, the working class along with the "boss," are to rest together. Sabbath is the great equalizer, the liberator of all inequities in the social structure. Before God, all human beings are equal, and the Sabbath is a unique way of revealing this crucial truth, especially in a world so dominated by class structures that place various groups "over" or "beneath" others.
This commandment is also a carefully structured literary unit:
A. Introduction: "Remember the Sabbath day, to keep it holy" (vs. 8, NKJV).
B. Command: "Six days you shall labor and do all your work" (vs. 9, NKJV),
C. Motivation: "but the seventh day is the Sabbath of the Lord your God" (vs. 10a, NKJV).
B1. Command: "In it you shall do no work: you, nor your son, nor . . ." (vs. 10b, NKJV).
C1. Motivation: "For in six days the Lord made the heavens and the earth, the sea, . . . and rested . . ." (vs. 11a, NKJV).
D. Conclusion: "Therefore the Lord blessed the Sabbath day and hallowed it" (vs. 11b, NKJV).
(A) contains, as an introductory opening statement, the essential principle of the Sabbath commandment as a whole.
(B) conveys the positive command to engage in work on six days.
(B1) gives the corresponding prohibitive command of refraining from any work on the Sabbath day, including the inclusive application to the entire family. Even the domestic animals, as well as any guests in the home, are included.
(C) and (C1) supply the motivation for the commands. (C) acknowledges the time factor in the six-days/seventh-day sequence by emphasizing that "the seventh-day is the Sabbath of the Lord your God."
(C1) contains the formal motivation clause with the introductory "for" or "because." It presents the detailed motivation in terms of the Lord's six days of work and His resting on the seventh day, rooting it directly in the first Sabbath of Creation week.
(D) is an independent clause, starting with a "Therefore" and also forming the conclusion. The last words of the commandment, "and made it holy," correspond to the exhortation of the opening principle
(A) "to keep it holy." Both are linked to the holiness God endows the Sabbath with in Genesis 2:3.
Like
(

0

)
(

0

)

Print/PDF/Email