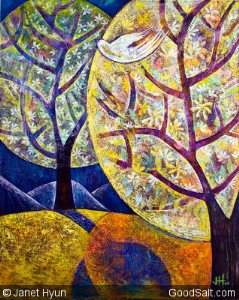 One of the most deeply imbedded truths of the Bible is that back in Eden, in a perfect world created by a perfect God, the seventh day was set apart from the rest of the week and made holy. That's how far back, and basic, the seventh-day Sabbath is. From the perspective of this world, you can't get much further back than that. With the Sabbath, then, we're dealing with one of the most fundamental and foundational of all biblical truths.1
What four actions of God are recorded in Genesis 2:1–3 as He created the Sabbath?  
---
---
God created a day, He rested on that day, He blessed the seventh day, and He sanctified it, which means He made it holy or set it apart for holy use. How fascinating that God Himself "rested" on the seventh day. Whatever that means, it shows how seriously the day is meant to be taken, because God Himself rested on it!
Genesis 2:3 also states that the Creator "blessed" the seventh day, just as He had blessed animals and man on the day before (Gen. 1:22, 28). God refers to this blessing of the Sabbath in the fourth commandment of the Decalogue, forever linking the creation Sabbath with the weekly Sabbath.
Notice how many times the phrase "the seventh day" is repeated in Genesis 2:1–3. What possible significance does that repetition have? 
---
---
Three times that specific day is mentioned. This accentuates the extraordinary nature of the seventh-day Sabbath and clearly sets it apart from the rest of the week. It should always remind us that God didn't make the first day special, or any other day. The special blessing is for the seventh day and no other.
With the creation of the seventh-day Sabbath, God ended His creative work. He took the seven days of time and crafted them into a week. This weekly cycle is observed throughout the rest of Scripture and history. Thus, God demonstrates His manifold power over not just space and the things of space but over time, as well. None of us can control an hour, or even a minute, of time. Time relentlessly marches on, completely beyond our machinations. How important, then, that we learn to trust the Lord with the little amount of time we have here on earth.
Think about the march of time, how it sweeps us along moment my moment, day by day, and year by year. Though we have no control over time itself, what we can control to some degree is what we do with it. How well do you use your time? What things occupy your time? How might you use your time, the little bit you have here, better?
Amen!

(

0

)

Print/PDF/Email