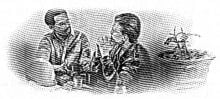 Read for This Week's Study:
Matt. 25:35–40, 1 Cor. 3:1–3, 1 Pet. 2:2, John 6:54–66, Luke 8:4–15.
Memory Text:
"I fed you with milk and not with solid food; for until now you were not able to receive it" (1 Corinthians 3:2, NKJV).
Key Thought:
In all evangelism and witnessing, it is important that we first present the simple truth of the gospel.
Sequential evangelism is a strategy based on the understanding that people will move from one church program to another when the programs are arranged in the right sequence. This, however, has to be done correctly or else it can do more harm than good.
Our key text shows how Paul understood the fact that we can undo by overdoing. We can deliver so much complex material, and in the wrong order, that the receiver either chokes on the volume, fails to grasp the depth of meaning, or is reluctant to apply personally what is learned. Just as a baby's diet begins with milk and gradually comes to include solid food, babes in Christ must receive spiritual food so that their developing spiritual understanding can assimilate.
This week we will explore how evangelism and witnessing strategies and programs blend and how they build on, and support, each other throughout the church's sequential evangelistic year.
Study this week's lesson to prepare for Sabbath, May 5.
Amen!

(

0

)

Print/PDF/Email