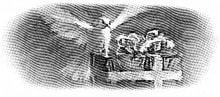 Read for This Week's Study:
1 Pet. 4:10; John 16:8, 13; 1 Cor. 12:28–31; Acts 2:40–47; 13:4-5.
Memory Text:
"And He Himself gave some to be apostles, some prophets, some evangelists, and some pastors and teachers, for the equipping of the saints for the work of ministry, for the edifying of the body of Christ" (Ephesians 4:11-12, NKJV).
Key Thought:
Spiritual gifts are special attributes given to each member to be used for God's glory and for the saving of souls.
As a church we have rightly emphasized the spiritual gift of prophecy, but we have not always stressed the importance of other spiritual gifts for ministry. Yet, it's important that we do so. It's a clear biblical doctrine; thus, as a church, we need to take these gifts seriously in order that members can become comfortable with receiving and exercising those gifts.
It is unfortunate that many church members do not take advantage of the gifts they have been given. There are many reasons for this lack. Sometimes the fault lies with the members themselves. Sometimes, perhaps, more could be done to encourage members to discover their gifts and then use them in ministry and outreach under the direction of the Holy Spirit. What a waste to have a gift and never use it for that which it was intended.
Study this week's lesson to prepare for Sabbath, April 21.
Amen!

(

0

)

Print/PDF/Email