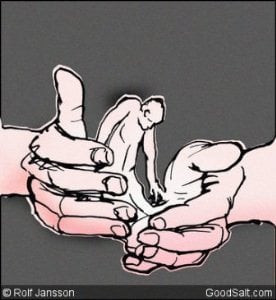 "But now, O Lord, thou art our father; we are the clay, and thou our potter; and we all are the work of thy hand" (Isa. 64:8).1
When is the first time the Bible reveals God displaying His skills working with "clay"? Gen. 1:26, 27, 31; 2:7. 
---
---
Scripture opens with God creating the first humans out of the "dust of the ground." In fact, the Hebrew word for "man," adam is closely tied to the Hebrew word for "ground," which is adamah—a linguistic link that enforces the amazing truth about God's skill as a "potter." He truly formed us out of the clay of the ground. It's hard to imagine how a human being, with our blood and bones and skin and nerves and all the amazing parts of our body, could have been formed from the ground. Our existence is a miracle that is way beyond human understanding.
In a sense, though the "potter" image works, in that the Lord used clay to form us, in other ways (as is with most imagery seeking to explain God's work and power) it hardly does justice to His creativity and artistry. After all, what potter can take clay and turn it into a living, breathing thing?
Read Jeremiah 18:3–10, Isaiah 64:5–8, Psalm 51:10. How is the imagery of God as potter used in some of these texts?  
---
---
Among the concepts revealed in these verses is the idea of just how helpless we are before the power of God. We are, in a sense, like clay in the hands of a potter; the potter, not the clay, is in charge.
At the same time, God is working to recreate in us His image. However much God cares about His physical creation, how much more would He care about the beauty of what He can do in us? We are to surrender, to die to self, and to cooperate with the Lord, who seeks to recreate and restore us, as much as possible, to the original spiritual and moral beauty that we once had. Sure, outside appearances can be beautiful, but inner beauty is what really matters.
Russian writer Fyodor Dostoevsky created a fictional character who had, Dostoevsky said, a "beautiful soul." What is your idea of a "beautiful soul," and what things in you do, and do not, correspond to that ideal?
Amen!

(

0

)

Print/PDF/Email