Read for This Week's Study: John 11:48-50, 1 John 2:15-17, 1 Cor. 9:19-27, John 3:3-8, 1 Cor. 16:19.
Memory Text: "Though I am free and belong to no man, I make myself a slave to everyone, to win as many as possible" (1 Corinthians 9:19, NIV).
Key Thought: A short study of the context of ancient Thessalonica demonstrates that Paul's approach to the citizens of Thessalonica was unique and carefully crafted.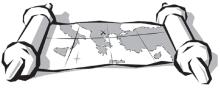 The primary focus of this lesson will be a summary of what history, literature, and archaeology tells us about Thessalonica.
This material is important for two reasons. First, it helps us to understand how Paul's original hearers and readers would have understood him. In so doing, it clarifies the meaning of what he wrote and the impact it had back then on both church and society.
Second, the more we know about the ideas and beliefs of the Thessalonians, the better we can understand that against which Paul was reacting. In order to promote the gospel, Paul would also have to correct wrong ideas. So, while this lesson is not directly focused on the Bible, it sets the stage for our reading of the biblical text of 1 and 2 Thessalonians during the rest of this quarter's lessons.
Study this week's lesson to prepare for Sabbath, July 21.
Amen!

(

0

)

Print/PDF/Email