Thursday: The Next Generation
Without doubt, as we have seen, Jesus places a heavy emphasis on the Bible. Never did He question the authority, veracity, or authenticity of a single Bible text. And yet, through the centuries, and even today, many people do just that.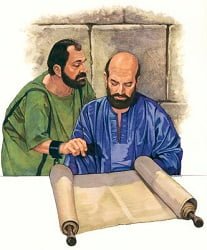 Read Matthew 12:15-21; Mark 1:1-3; Acts 1:16-20; 3:22-24; and Romans 10:10-11. What do these texts tells us about the ways in which the earliest Christians viewed Scripture? What lessons can we take from them for ourselves and how we relate to the Bible?
The earliest Christian writers continued the practice of using Scripture to authenticate the messiahship of Jesus of Nazareth. In effect they were saying that Christianity was inextricably connected to God's self-revelation through the Hebrew Scriptures.
Jesus Himself had appealed to these sacred writings. Now Christ's disciples were doing the same. Appeals to personal experience, miracles, and other witnesses for Christ were important and had their place; obviously, nothing, however, supplanted Scripture as the primary witness for Jesus.
Christ's earliest followers sought guidance from Scripture concerning the church's mission, its everyday practices, and its spiritual discipline. Human speculation and guesswork were minimized; Scripture became preeminent. Prayerful consideration of God's revelation was evident in church councils (see Acts 15). Scripture touched every facet of the life of the early church.
How foolish would it be then for us, especially at the end of time, to have any other attitude toward the Bible?
How can we all learn to make the Bible central to our faith and use it to point us to Jesus? What are practical ways in which we can allow the teaching of the Bible to truly impact how we live and how we relate to others?
Amen!

(

17

)

Print/PDF/Email