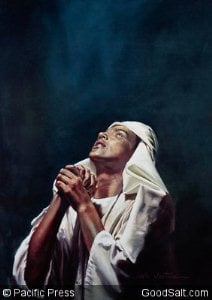 From the earliest days of the Seventh-day Adventist Church, Adventists believed that Christ's coming was soon, "nearer than we first believed." As it stands, we're still here, much longer than many among us anticipated. How are we to understand this "delay"?1
First of all, we're not the only ones whose expectations about when the Lord would act have not been fulfilled as people have thought.
Eve, for instance, thought God's promises for a Deliverer (Gen. 3:15) would be fulfilled in her first-born son. Read Genesis 4:1. An accurate translation of this text should have the word from in italics, because it is not in the original language but has been added by a translator. Eve's statement can be more literally translated: "I have gotten a man—the Lord." She was wrong; the child born was Cain, not the Redeemer. The Lord's coming wasn't until thousands of years later.
"The Saviour's coming was foretold in Eden. When Adam and Eve first heard the promise, they looked for its speedy fulfillment. They joyfully welcomed their first born son, hoping that he might be the Deliverer. But the fulfillment of the promise tarried. Those who first received it died without the sight. From the days of Enoch the promise was repeated through patriarchs and prophets, keeping alive the hope of His appearing, and yet He came not."—Ellen G. White, The Desire of Ages, p. 31.
Read Hebrews 11. What's the main point of this chapter, and how does it fit into the whole question of "delay"? See especially vss. 13, 39, 40.  
---
---
All through the Bible, we have examples of people waiting in earnest expectation. Look at how long Abraham waited for the promised son; look at how long Israel waited in Egypt for deliverance. Time and again in the Psalms, we read the question, "How long" Lord, until deliverance comes? And, of course, we shouldn't be surprised about the "delay" in Christ's return, not when Peter wrote, almost two thousand years ago, the following words: "Knowing this first, that there shall come in the last days scoffers, walking after their own lusts, and saying, where is the promise of his coming? for since the fathers fell asleep, all things continue as they were from the beginning of the creation" (2 Pet. 3:3, 4).
Have you thought the Lord would have been back by now? Do you sometimes find yourself discouraged by the "delay," or even doubting the Second Advent because we're still here? Dwell on all the evidence you have for belief in Christ's return, realizing, too, that, as a finite being, your understanding of time is radically different from that of God.
Like
(

0

)
(

0

)

Print/PDF/Email