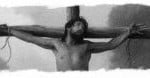 Read for This Week's Study: Rom. 1:18, Gen. 3:15, Rom. 16:20, 1 Pet. 1:19, Mark 10:32–45, Matt. 27:46.
Memory Text:
" 'Worthy is the Lamb who was slain to receive power and riches and wisdom, and strength and honor and glory and blessing!' " (Revelation 5:12, NKJV).
Key Thought: The Triune God is not only our Creator, He's our Redeemer, as well.
Closely related to God as Creator is His role as our Redeemer. Sin is so bad, so deadly, so hostile to the created world, that only the Creator Himself […]