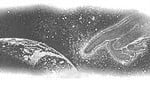 Read for This Week's Study: Gen. 1:1; Heb. 11:3; Ps. 19:1-3;John 1:1-3, 14;Col. 1:15,16;John 2:7-11.
Memory Text: "In the beginning God created the heavens and the earth" (Genesis 1:1, NKJV).
Only something greater than what it creates could have created it. Thus, only a Being greater than the universe could have created the universe. And that Being is the God who is revealed in the Bible, the God whom we worship and serve because, among other things, He is our Creator.
We also learn that this God-the One who created the [...]