---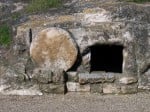 Then said Jesus unto them plainly, Lazarus is dead. John 11:14
The sisters of Lazarus were crushed. The brother whom they loved so much had been taken away from them by the cruel enemy called Death. They had sent word to Jesus that He was sick, knowing that if Jesus could get to Lazarus quickly, he would not die. But hours turned into days,  and Lazarus died.
Now Jesus loved Martha, and her sister, and Lazarus. John 11:5
After Jesus finally arrived [...]

---
Subscribe to our SSNET2 mailing list. On this list we distribute weekly helps from Michael Fracker and Joyce Griffith.