---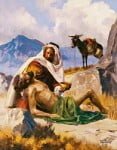 [Thought Questions for Being and Doing October 21, 2014]
1. It's not enough to be able to see and hear. Do you think it would be harder to follow Jesus if you were deaf? or blind? Didn't have much intellectual understanding? Does a thorough knowledge of God and His plan of salvation earn you a place in His eternal kingdom? What did the apostle James say that Christians need to do to give them a firm and lasting relationship with God?
2. Your enemy. How [...]

---
Subscribe to our SSNET2 mailing list. On this list we distribute weekly helps from Michael Fracker and Joyce Griffith.