06: Personal Evangelism & Witnessing – thought starters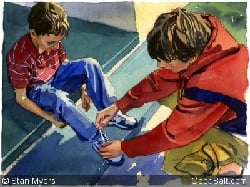 A Prediciament
Are any of the following involved in personal evangelism?1
Judy is sitting at her desk at home signing cards to send to children in the primary division for their birthdays.

Matthew is working on a stubborn computer to get it to run again for an equally stubborn old man who lives down the road.

Susan is chopping carrots and lettuce for a salad she is taking to a special after-church lunch.

The Wilson family is driving ten  miles out of their way to take Mr. and Mrs. Morrison and a wheelchair to church.

Ellen is teaching an ESL (English as a Second Language) class as a volunteer.
Could it be that activities as ordinary and common as these are examples of personal evangelism? Doesn't evangelism by definition involve inviting a person to draw closer to Jesus? Are we in danger of trivializing Jesus' command to "tell the world" by including activities such as these in the meaning of "evangelism"?
Is it possible that people who are so full of God's love that they don't even think about what they are doing are among those at the end of time who say in bewilderment, "Lord, when did we see you hungry and feed you, or thirsty and give you something to drink? When did we see you a stranger and invite you in, or needing clothes and clothe you? When did we see you sick or in prison and go to visit you?"
I don't think that's a self-limiting list, do you? Rather than commandments, should we consider these suggestions? Or thought-starters? When we're filled with God's love, will our actions show it? Is that personal evangelism?
---
[Thought Questions for Personal Evangelism and Witnessing May 9, 2012]
1. My God and Me. Is it hard for you to think about a God so big that He knows you personally as if nobody else lived on this earth?  What does it take to reach the point that you can accept God's personal knowledge of us and His caring for you as if you were His only one? What does that knowledge do to you? When you pray to God do you sense the one-on-one nature of His love for you? How is it possible for one Being to know everyone on a personal level? Have you ever tried "walking with God" and talking/listening to Him throughout the entire day? Once you have the awareness of God's singular love for you, how does that affect what you do and what you want?
2. My Mission Field. Is computer-based "social networking" strong enough to sustain a valid Christian relationship? If you don't think so, why? Is there a better way to "connect" than through computer technology? If so, what would that be? Do you sometimes envy John the Baptist because he knew exactly what his mission was? Has God assigned a mission field to you? How do we identify and make friends with the people inside that mission field?  Do you have enough friends? If not, how can you add to your friendship circle? Do you have too many friends? What are the disadvantages of that situation?
3. Volunteers. Have you ever signed up as a volunteer and only then realized that you weren't cut out for such a responsibility? Did you get busy and change your mind? Think of your most successful volunteer projects. What made them successful? What if you prayed earnestly for God to lead you to a useful volunteer role that would make friends for you and open opportunities to share God's love with others. Would He answer your prayer? Do we have to join a group or support an organized ministry to volunteer in sharing God's love with others? Can we be too isolated in our ministry?
4. A righteous life. Would you rather see a sermon than hear one? Can you do both? How do our actions qualify us for a role as a witness to God's love? What if our actions are mean or self-centered? Are we still witnessing? Can we always judge the motives of people working for God? Should we try? At the end of the day, would you like to see a video of everything you did and said all day long? Can we be overly introspective in considering the status of our Christian life? Does God want us to agonize over our weaknesses? Or does He want some other emotional reaction? If yes, what?
5. Corporate evangelism. Think about the sowers and reapers of the Bible illustration by Jesus. Are you better at sowing or at reaping? How does the church's success in witnessing to God's love in your community reflect on its members? Do the "corporate evangelists" of our church possess special skills and training to win souls to Jesus? If so, shouldn't we just step aside, give them the funds they need, and praise God for the increase? Design  a plan for an evangelistic series without an evangelist. Could that be done? Should we be thinking down new roads as the time of the end of the gospel message to sinners approaches?
6. Knowing or doing. Can we "do" the works of God without "knowing" about Him? Is it more important to know the key doctrines of the Bible or to follow the basic commandment of God–to love Him and to love one another. Do we place as much emphasis on love as a testing truth in our church as we should? Have you ever had someone outside of your faith comment on the fact that you must be a Christian? Does your love for God open doors to talk to others and encourage them? Are you satisfied with your "love life" with Jesus? If not, what can you do about it?
Amen!

(

0

)

Print/PDF/Email