Sunday: The Beginning and the End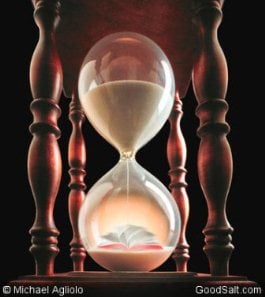 The description of our pitiful human condition is honestly and correctly painted in Scripture. Bible writers did not always despair, however, because they knew the final outcome. The last chapters in the books of Isaiah and Revelation assure us that the destruction of sin is coming and that God's kingdom will be restored. God revealed to His prophets the "last things" that will lead to the ending of our world's dark history. These prophets gave full weight to the gravity of the situation, but they lived with hope because the remedy had been revealed to them.1
As we looked at earlier, if you believe the world began by chance, you most likely will believe it will end that way, as well. This view that doesn't really leave much hope for those in between such a beginning and such an end, does it?
In contrast, the Bible consistently refers to and describes a literal historical understanding of Genesis 1 and 2. Nothing was left to chance in the Creation of the world. Hence, it's no wonder that the Word of God also insists on a literal end of this world, as well. Nothing will be left to chance here either.
Read 2 Peter 3:1–10. How does Peter link early events in human history with final ones? What message of hope can we take from this passage?  
---
---
The primal creation and the final re-creation are vitally linked, each enhancing the significance of the other. When studying the doctrine of the last things (eschatology), we deal with God's final, definitive acts toward His creation, which lead right into the restoration of His kingdom.
Jesus clearly links the beginning and the end of things with Himself. Three times in Revelation (Rev. 1:8, 21:6, 22:13) Jesus refers to Himself as the Alpha and the Omega (alpha is the first letter of the Greek alphabet, omega the last). Whatever else He means by saying that, at a minimum it shows us Jesus' power and omnipresence; it tells us that Jesus was there, at the beginning of all things, and He will be there at the end. We can trust in Him no matter where we are in between. It's a way of telling us that, however chaotic things might seem, He is always there for us.
Some Christians have moved away from belief in a literal, physical return of Jesus and a supernatural restoration of God's kingdom on earth. Instead, they think we need to build the kingdom ourselves. Dwell on past attempts to do something similar. Why should we think future ones will fare any better?
Amen!

(

0

)

Print/PDF/Email