Inside Story: But Now I See
Dilip Tapu had lost his sight, and his future looked grim. His parents had taken him to many doctors in northeastern India, but no one could help him gain his sight. His parents found a special school for the blind where Dilip could learn Braille. But soon after he enrolled the school closed, crushing the family's hope of an education for their son.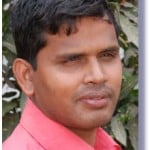 With nothing else to do, Dilip hung around with the street children and soon became addicted to chewing tobacco. Often he stole his mother's rice and sold it to buy tobacco. He discovered he could earn a few rupees by singing popular songs in the streets and on the trains, but when his money was stolen one day, he returned home defeated. He was 10 years old.
A man offered to help the boy but only took him home and forced him to work for a little food. Dilip escaped and returned home. His mother told him that she had found a school where he could study. "Your life will be better," she assured him. Dilip didn't want to leave home again, but he obeyed.
He arrived at his new school and heard children singing. He didn't recognize the songs they sang, but he liked the music. However, Dilip soon realized that his new school was operated by Christians, and he was prejudiced against Christians. He resisted his teachers' attempts to introduce him to the Savior and even tried to be expelled from the school by writing something bad about a teacher. But instead of becoming angry, the teacher forgave him and spoke kindly to him.
Slowly Dilip realized that these Christians were different from others he had known. He apologized to the teacher he had wronged, and she in turn led him to accept Jesus into his heart. But when Dilip's friends and family learned that he had become a Christian, they scolded and mocked him. In spite of his new faith, Dilip struggled with cravings for tobacco. He prayed fervently for deliverance, but it took many months before the craving for tobacco left him.
When he completed high school, Dilip wanted to continue his studies. His parents had no money, so he worked as a literature evangelist for three years to save enough to start college. Dilip continues his studies at Spicer Memorial College, where he is preparing to become a pastor.
"I thank God for the Adventist school where I met my Savior," he says. "Through this school my life was changed. Now I want to share God's love with others."
Adventist schools throughout India and around the world are making a world of difference to young people. Thank you for supporting Christian education through your mission offerings.
---
Dilip Tapu continues his studies at Spicer Memorial College in India.
---
Produced by the General Conference Office of Adventist Mission.
Find more stories like this at AdventistMission.org
email: info@adventistmission.org
Amen!

(

0

)

Print/PDF/Email