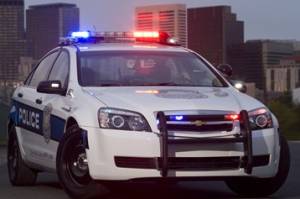 I was driving at 110 kph, the speed limit, along the F3 freeway into Sydney when I passed a traffic police car sitting on the side of the road, ready to catch the unwary who strayed over the magical 110. I glanced at my speedo, saw the 110, reminded myself that all speedos are a few km under, and drove smugly on.
About 2 km further along the road, I saw the police car in the rear vision mirror with its blue light flashing. I thought that they must have been interested in someone ahead of me so I changed lanes (as you are required to do) to let him pass. Suddenly I realized that he was still behind me and was now flashing his lights at me – a clear indication that he wanted to talk to me. Mystified I negotiated to the edge of the road, not all that easy when you are surrounded by heavy traffic, all traveling at 110 kph, and a police car.
My great sin was that my trailer tow ball was partially hiding my number plate. It did not even hide the numbers. I had been driving like that for about 18 months – I don't tow a trailer – the tow-bar holds a bike rack for carrying our bikes. I was surprised and then worried because the policeman informed me that it was an offense for which I could be fined about $400. Fortunately, he checked my license, checked with his computer and recognized that I was  a good citizen without a long trail of traffic offenses and let me off with a verbal warning.
That's the traffic law, and most of us think of it as necessary but a bit of a humbug at times. Wear your seat belts, keep below the speed limit – particularly those 40 kph ones that only apply for a couple of hours each day, keep left, give way to the right, don't run the red lights, keep the kids tied down properly and so on. Most of us have been there and done that. It is a pain but we know that it is necessary.
There is a tendency to think of God's law in the same way. A set of rules that we can break easily with draconian consequences. Yet in the Bible I find some delightful references to the law. How is this for starters?
I delight to do thy will, O my God: yea, thy law is within my heart. Ps 40:8

I long for Your salvation, O LORD, And Your law is my delight. Ps 119:74 NKJV
And:
The law of the LORD is perfect, converting the soul: the testimony of the LORD is sure, making wise the simple. The statutes of the LORD are right, rejoicing the heart: the commandment of the LORD is pure, enlightening the eyes. The fear of the LORD is clean, enduring for ever: the judgments of the LORD are true and righteous altogether.
Ps 19:7-9
If the law is a delight, how come we hear so much about breaking it? If the Gospel is good news, why do we spend so much time talking about what happens when we break the law?
Perhaps we need to recognize that we have been let off more than a few $400 fines.
Amen!

(

0

)

Print/PDF/Email