Sabbath: Personal Evangelism and Witnessing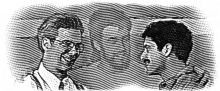 Read for This Week's Study:
Acts 4:13-14; John 1:37–50; Psalm 139; 1 Pet. 3:1–15; John 4:37-38.
Memory Text:
"'You are My witnesses,' says the Lord, 'and My servant whom I have chosen'" (Isaiah 43:10, NKJV).
Key Thought:Those who have the joy of assurance of salvation will want to lead others to experience the same.
Although many people will hear the good news about Jesus through a church's witnessing and evangelism endeavors, there is a special sense in which the individual's influence contributes significantly to the success of the corporate church program. Over the last few decades, surveys have shown that friends, relatives, neighbors, or acquaintances (all under the power of the Holy Spirit), were the most influential factors in leading people to give their hearts to Christ. Research has shown that up to 83 percent of new members surveyed stated the influence of their church-member friends, relatives, and acquaintances as being significant. Of those who attended some form of public evangelistic meetings before joining the church, 64 percent attended at the invitation of someone in their close-people network.This week we will review some biblical examples of networking and consider our connectedness to Jesus and our personal influence on those close to us.
Study this week's lesson to prepare for Sabbath, May 12.
Amen!

(

0

)

Print/PDF/Email