A member of my New Believer's Sabbath School class, in the Tampa First Seventh-day Adventist Church, had been struggling with getting Sabbaths off at work so she could observe the Bible Sabbath. She told me she had to work on Sabbath, and I would gently tell her that she did not have to work. She had a choice and was choosing to work. Consequences be what they may, she had a choice.
Recently I was giving a Bible study to the 7th and 8th graders at our church school, on the second coming, when we came to this verse,
The sky was rolled up like a scroll, and all of the mountains and islands were moved from their places. Then everyone—the kings of the earth, the rulers, the generals, the wealthy, the powerful, and every slave and free person—all hid themselves in the caves and among the rocks of the mountains. And they cried to the mountains and the rocks, "Fall on us and hide us from the face of the one who sits on the throne and from the wrath of the Lamb. For the great day of their wrath has come, and who is able to survive? Revelation 6:14-17 NLT
I told my students how sad it would be, for us to be hiding from the One who died for us when He came! How can we make sure we aren't the ones running from Jesus? The students answered wisely, we must have a relationship with Jesus. I asked them to describe what a relationship with Jesus looks like. They gave some good answers, like prayer and Bible study. "Is that all", I asked? I shared 1 John 2:4 NLT,
If someone claims, "I know God," but doesn't obey God's commandments, that person is a liar and is not living in the truth.
While prayer and Bible study are crucial, that alone does not define a relationship with Jesus. John tells us, knowing God (having a relationship) involves obedience.
Jesus said,
If you want to receive eternal life, keep the commandments. Matthew 19:17 NLT
The commandments are relational. The first four define our relationship with God and the last six define our relationship with family and friends. This is why John said if we say we have a relationship with God but do not obey the commandments we are lying.
My Sabbath School class member finally exercised faith, and told her boss she must have Sabbaths off. It was granted. A couple of weeks ago things were busy at the store where she works. Her boss offered her a store gift card and sales bonuses if she would come in to work on Sabbath. As much as she needed the money, she answered "No. I will be in church Sabbath." She gave her testimony that Sabbath in class. It did my heart good to see faith growing her relationship beyond just reading the Bible to actually doing what it said.
Shepherds and academics do not appear to have a lot in common, but I grew up on a small sheep farm and later became an academic. Both jobs can be quite lonely at times. I can remember as quite a young lad having to go around our  small flock of about 200 sheep in the evening, checking that they were OK. In stormy weather in the lambing season I would ensure that lambs were with their mothers, and not wandering around on their own. It was cold lonely work.
I grew up and left the farm behind and became an academic. Designing experiments, analysing data, drawing conclusions and communicating those conclusions to others has consumed a large part of my life. I spent long evenings thinking about ideas and arranging those ideas to make sense so that other people would understand them. Both jobs have their "eureka moments" when something happens and you want to tell everyone what has happened. I can remember watching a lamb being born and waiting until it had struggled to its feet and was suckling from its mother. I can remember too in academic life when I made the connection in my research that represented a breakthrough. Both events were something that I had to share with others.
Consequently I find that I have something in common with the two very different groups of people who were selected to be told that Jesus was born. The shepherds, watching their flocks by night, were confronted by an angel with a message, followed by the spectacle of a heavenly choir. Their world was turned upside down by the news and they wasted little time in visiting the newborn Jesus. (Luke 2: 8-20)
The academics studying their books and the astronomy charts followed a new star from a far country determined to greet the Jesus with gifts appropriate for a king. Nobody knows how long they searched or how far they travelled to find Jesus. (Matt 2: 1-12)
It is that season of the year when we are reminded about shepherds and academics. The songs, "While Shepherds watched", "We Three Kings" and other well known carols are often played as a relentless background in shopping centers.  Churches and parks display tableaus of the manger with the baby Jesus surrounded by rough shepherds in their farm clothes, or the crib with the young Jesus adored by the well-dressed academics in their academic regalia. Often the significance of the presence of these two groups of people are lost in the consumerism that surrounds these songs and scenes today.
The shepherds and the academics came not just to see a baby but to be witnesses to a turning point in history. The invitation to visit Jesus is still with us today, not to admire a cute newborn baby, but to be changed by the encounter. Whether we come to Jesus by "accident", or by careful research and study, the challenge is for us to be changed.
Seventh-day Adventists do not worship Christmas, but it is a measure of our Christianity that we accept the invitation to visit with Jesus and be changed by the encounter and share the invitation with others.
Several years ago, a family form Central America, brought their toddler to Tampa, Florida for medical treatment, because she was not developing and was having seizures. The doctors did not have much to offer. After one of my Wednesday morning community Bible studies at the church, we had an anointing service for the baby. Months later when the family returned to the area, they told me their little girl never had another seizure after the anointing service. The Holy Spirit had delivered their daughter from the seizures. They are still living in Central America and have not returned to Florida for several years now, but the last I heard, the little girl was still having developmental problems but no seizures.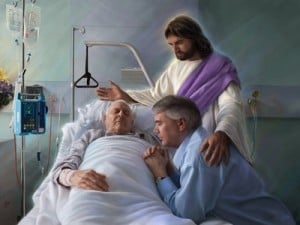 The family said they're very fond of me after that Wednesday morning, but it obviously had nothing to do with me. Millions of people have been healed after an anointing service, not because of the person doing the anointing or the oil, but because of the Holy Spirit's healing power. So the fact that God has healed millions without my help shows He really did not need my help this time either.
While their daughter's sickness was not unto death, they still asked for an anointing. Some have the idea you have to be on your death bed in order to ask for an anointing. James did not ask, are any of you about to die, but is anyone sick?
Are any of you sick? You should call for the elders of the church to come and pray over you, anointing you with oil in the name of the Lord. Such a prayer offered in faith will heal the sick, and the Lord will make you well. And if you have committed any sins, you will be forgiven. James 5:14-15 NLT
While we are counselled that,
It cannot be our duty to call for the elders of the church for every little ailment we have, for this would be putting a task upon the elders. -Ellen White, Pastoral Ministry, Page 223
Still there is nothing in the Bible or Spirit of Prophecy telling us to wait until we are on our deathbed before calling the elders, as if it is a last rite instead of an anointing for healing. I have even had family members call me to anoint their loved ones who were incoherent, while the KJV makes it even more clear that the person who is sick is actually supposed to request the anointing, for healing. It is not a "last rite."
"Is any sick among you? let him call for the elders of the church…" James 5:14 KJV
Again James asks, "Are any of you sick?" not "Are any of you about to die?" We don't need an anointing for every scrape and bruise, yet it is our privilege to call upon and claim God's promises at the first sign of something serious.
For examples of patience in suffering, dear brothers and sisters, look at the prophets who spoke in the name of the Lord. We give great honor to those who endure under suffering. For instance, you know about Job, a man of great endurance. You can see how the Lord was kind to him at the end, for the Lord is full of tenderness and mercy. James 5:10-11 NLT
You know how you can read the same Bible story a hundred times, and then one day something in that story jumps out at you that you had never seen before? James acknowledges that we all know the story of Job, and how he was faithful in suffering, and in the end God restored to him what he lost. Of course the children could not be replaced, but thank God they too will be restored one day. See 1 Thessalonians 4:13-18. While I knew the story well, it wasn't till just a few months ago that something jumped out at me.
When Job prayed for his friends, the Lord restored his fortunes. In fact, the Lord gave him twice as much as before! Job 42:10 NLT
What jumped out at me, was that, all this happened, "When Job prayed for his friends," who were not exactly the best sources of comfort and encouragement. Still, praying for his friends is what improved Job's own life.
Ironically Moses, who wrote the book of Job, had his own run in with those who were less than comforting and encouraging. In Numbers 12, Moses' own sister Miriam rebels against Moses' leadership instead of encouraging him. She is struck with leprosy and immediately Moses cries,
"O God, I beg you, please heal her!" Numbers 12:13 NLT
God healed her when Moses prayed for her. I wonder if Moses remembered Job's life turning around for the better when he prayed for his friends, when he prayed for his sister? Either way the outcome is the same. There are wonderful blessings in store for those who pray for others, and especially when we pray for those who have been less than comforting and encouraging to us.
Remember, not only did God turn Job's life around for the better, but He did it when Job prayed for his friends.
Some have a very hard time finding the gospel in the Gospels! The teachings of Jesus can seem legalistic but only if we fail to hear the rest of the story. Most people in Israel at the time of Jesus considered themselves to be in a good position before God. They supported the temple by paying the required tax and offering the appropriate sacrifices. They abstained from unclean food, circumcised their sons, kept the festival days and the Sabbaths, and generally tried to keep the law as taught by their religious leaders. Then John came and cried Repent, and be baptized. Furthermore, Jesus said a new birth was needed (John 3:3, 5) and that except your righteousness shall exceed the righteousness of the scribes and Pharisees, ye shall in no case enter into the kingdom of heaven (Matt. 5:20). In other words, Jesus was saying, You need what you do not have. Your works are not good enough.
Read Luke 15:11-32, Luke 18:9-17. How do these parables illustrate the gospel?
In the parable of the prodigal son, the son is lost and does not know it. Eventually he begins to see his father's love in a new way and longs to return. His pride is gone. Hoping for acceptance as a servant, he is astonished to be lavished with honor by his father. The relationship is not just restored. It is transformed. A similar reversal of expectations appears in the second parable. The righteous Pharisee is ignored by God, while the sinful tax collector is not only accepted but leaves justified, forgiven, and free from guilt.
Both stories help us to see God more clearly, as a Father and as a Justifier of the ungodly. When He describes the cup of crushed grapes as My blood of the covenant, which is poured out for many for forgiveness of sins, Jesus suffers as the real Passover Lamb, the death that should have been ours (Matt. 26:28, NASB; compare Mark 10:45). Thus, salvation is free to us because He, Jesus, paid the full price for it.
What hope can you take from each of these parables for yourself? In what ways can you relate to some of the people in them, and what should your answer tell you about what you might need to change in your spiritual life?
For we also have had the gospel preached to us, just as they did; but the message they heard was of no value to them, because those who heard did not combine it with faith (Heb. 4:2, NIV).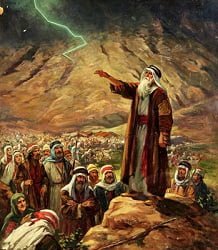 This verse is startling in its implications. Foremost is that the gospel, not simply good news but the good news, was preached in the Old Testament. Second, it was preached then just as in New Testament times. There is no hint that there was any difference in the message itself. The problem, therefore, was not withthe message but with the way it was heard. Today, too, different people can hear the same gospel message very differently. How crucial, then, that we surrender ourselves in utter faith to the teaching of the Word so that when the gospel is preached, we hear it correctly.
Look at the following verses and summarize the gospel message in each:
Did you notice a common refrain? God intervenes to save us; He forgives our sins and puts enmity in us toward sin so that we can be willing and obedient (Isa. 1:19). One (Jesus) died for the many, bore their (our) iniquities, and justifies the undeserving. The new covenant is different from the old covenant because the law is written in the heart, and sins are remember[ed] no more (Heb. 8:12). In short, forgiveness and the new birth are a package: justification and sanctification represent God's solution to the sin problem. These passages could be multiplied, for the message is the same throughout the Bible: despite our sin, God loves us and has done all that is possible to save us from it.
How can we, as people who believe in the importance of keeping the law, protect ourselves from the error of believing that law-keeping is what justifies us? Why is that not always so easy to do?
Read for This Week's Study: Heb. 4:2; Ps. 130:3-4; Luke 15:11-32; Rom. 3:24-26; Heb. 10:1-4; Rev. 14:12.
Memory Text: The LORD has appeared of old to me, saying: Yes, I have loved you with an everlasting love; therefore with lovingkindness I have drawn you (Jeremiah 31:3, NKJV).
In our study of James, we have looked at a number of issues connected with the gospel and made some comparisons with other biblical authors. It is not always easy to understand clearly how what James says fits with other parts of Scripture, especially when it comes to something as central as the gospel itself, but as we saw, it does. And this is very important, too, because the gospel is the foundation of our last-day commission to preach the everlasting gospel . . . to every nation, and kindred, and tongue, and people (Rev.14:6).
In this, our final week, we will focus on basic questions regarding the everlasting gospel, which is salvation by faith, a belief taught all through the Bible, including James.
The crucial point to remember is that the Bible does not contradict itself, especially on something as basic as salvation. By finishing the quarter with a look at how the gospel appears in the Bible, we can better see how James fits this larger picture of God's plan of redemption.
*Study this week's lesson to prepare for Sabbath, December 27.
My pastor was planning to hold evangelistic meetings. He printed some invitation cards for members to give their friends to remind them of the meetings. He urged everyone to invite their families, friends, and neighbors, and we young people of the church wanted to be included.
At that time Cuba's government was more strict about religion than it is now. People could attend church and worship God, but the government didn't want churches trying to convert people to their faith.
On Sabbath afternoon while our parents were in choir practice, four girls and I decided to give out invitations to the meetings. We walked a few blocks down a side street, giving invitation cards to the people we passed or to those who sat on their tiny porches. Encouraged when the people accepted the cards, we decided to give out cards in the children's park a few blocks farther away.
One man sitting on a bench watched us talking to people and giving them cards. The man called us over to where he was sitting and asked what we were giving out. I gave him an invitation card and invited him to come to the meetings. He looked at the card for a minute, then told us, "It's against the law to give out religious literature in Cuba. Where are your parents?"
"They are in church, a few blocks from here," I answered.
"I am going to have to arrest you," the man said as he stood up. Then I noticed that he was wearing a military uniform.
"You can't arrest us," I told him. "President Castro said that we have religious freedom in Cuba."
"Let's go to the police office over there," the man said, pointing toward a small building on the edge of the park. So we followed the officer to a small building, where the man made a telephone call. "We'll wait here for the police to come and take you to jail," he told us.
We asked the officer several times to let us talk with our parents, but the officer didn't respond. To bolster our courage, we began singing "Side by side we stand." As our courage grew, we sang louder, so the people walking by could hear us.
Then I saw a woman from the church walking by, and I called out to her. I explained that the officer had arrested us for giving out invitation cards, and asked her to please tell our parents back at church what had happened. The woman returned to the church to tell our parents. Soon a police officer arrived and took us to a youth detention center. We began to wonder what would happen to us. Would our parents find us?
(continued)
Further Study: Read Ellen G. White, Prayer for the Sick, p. 225-233, in The Ministry of Healing;Snares of Satan, p. 518-523, in The Great Controversy.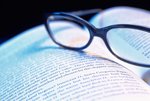 "Christ . . . asks us to become one with Him for the saving of humanity. Freely ye have received, He says,freely give. Matt. 10:8. Sin is the greatest of all evils, and it is ours to pity and help the sinner. There are many who err, and who feel their shame and their folly. They are hungry for words of encouragement. They look upon their mistakes and errors, until they are driven almost to desperation. These souls we are not to neglect. . . .
Speak words of faith and courage that will be as a healing balsam to the bruised and wounded one.-Ellen G. White, The Desire of Ages, p. 504.
Discussion Questions:
Think of a time when you really made a mess of things, hurting yourself, others, and the Lord by your sin. How much did it mean to you to have people who, although not condoning your actions (and who might have generally and rightly been appalled by them), nevertheless sought to encourage and uplift you? What do you remember most about those experiences, and how can those remembrances help you do the same for someone else who has made big mistakes, as well?
Read James 5:16 prayerfully and carefully. What important spiritual lessons are here for us? What does this tell us about the power of prayer and how important it is for our spiritual lives? Though prayer can and should be a very private matter, in class talk about what prayer does for you, how you have seen prayers answered, and how you have learned to trust the Lord when prayers aren't answered as you wish. In the end, what would you say is the most important practical benefit that comes from effectual fervent prayer?
God's Spirit worked through Elijah to restore the relationship between Israel and Himself. But most of Elijah's work was not on Mount Carmel. That was just the beginning! He carried it forward in small villages and homes and in training future spiritual leaders through the schools of the prophets to multiply his work of revival and reform.
Read James 5:19-20. How does the work described here compare with the work done by Elijah, John the Baptist, and others? See Luke 1:16-17; Acts 3:19.
Often, we forget the tender and patient work done by Elijah year after year. John the Baptist's work, too, focused on leading people back to the truth, inspiring repentance and baptism one person at a time. Jesus described His work in very similar terms: leading people out of error and back to the truth (see John 8:43-45).
This hypothetical situation described in James 5:19-20 uses a conditional construction in Greek, making clear that apostasy is not definitely assumed to exist but is probable. Departure from the truth refers to apostasy not only in doctrine but in lifestyle, for very often the first leads to the second. Doubts begin to form about our beliefs, leading to double-minded behavior, and finally to outright apostasy. Turning back asinner from the wandering of his way will save his soul from death (James 5:20, literally translated). Summing up all that has gone before, James appeals for his brothers in the church to do a work similar to that of Elijah in leading people back to God.
This work requires much patience, sympathy, tenderness, and humility: Brothers, if someone is caught in a sin, you who are spiritual should restore him gently. But watch yourself, or you also may be tempted(Gal. 6:1, NIV). The work of Elijah is to turn hearts toward God and His people, not to turn them away. Often the person is well-aware of his or her sin and does not need it pointed out. What is needed more is forgiveness modeled by Jesus and provided by His death. Saving souls from death is possible only through the covering of sins, by applying the gospel to our lives, and becoming instruments of mercy (Prov. 10:12).
Think of someone who has really done wrong and knows it too. What can you do, what can you say, to help draw this person back toward the Lord?
[Thought questions for Prayer, Healing, and Restoration December 16, 2014]
1. Words with power. One of my favorite texts growing up in Sabbath school is this week's memory text containing these words, "the effectual fervent prayer of a righteous man availeth much." I repeated those words until they were embedded in my heart. But what did they mean? What is an effectual fervent prayer? Do only righteous people have the ability to pray such a prayer? That kind of prayer is strong and able to work miracles by the grace of God and able to "avail" good things. How can you and I pray a special prayer that "availeth much" that is good?
2. The Christian toolkit. Is your Sabbath school toolkit packed up and ready to reach others with God's love? What is the tool we associate with suffering? (James 5:13) What tool do we take from our Sabbath school toolkit when we're feeling joyful? (same reference) When you are especially blessed by a sermon or testimony of a fellow believer, can you draw from that experience yet another tool for your own personal Sabbath school toolkit? What are some examples of such tools that you've discovered?
3. Prayer for the sick. Have you ever been involved in a formal minister-led prayer for a believer who is sick? According to James 5:14-15, what role does sin and the way we deal with it play in the physical healing of a sick person? If healing follows a special prayer like this, can we be certain that the person who has experienced healing will be in heaven some day? Suppose that you are the sick one receiving the special oil and prayer. How will you benefit from this simple service?
4. Healing for the soul. If you could choose between being healed physically or obtaining the assurance of eternal life, what would be your choice? Do you think God ever sets before a man or a woman such a choice? Why or why not? Is every sickness rooted in sin? Does the evil one have anything to do with poor health and disease that strikes many good people today? How can you and I learn to be more like the paralyzed man in Mark 2, who longed for spiritual healing first and foremost?
5. Elijah tells us about praying. Did Elijah know his prayers would be answered before he prayed? Why is it important for you and me to base our prayers on Scripture? Elijah felt a tremendous burden to call Israel from apostasy. Do we have urgent spiritual needs today? Do God's people face overwhelming temptations to slide away from God's requirements and pray for what we want? Or are we so angry with our fellow believers that we want to scold them and prove them wrong? What kind of prayers does God long for most to go to Him from our hearts?
Read James 5:17-18. What do we learn about prayer from Elijah's example? How is it connected with healing, forgiveness, and restoration?
These verses illustrate the assurance given at the end of James 5:16: the effective prayer of a righteous man can accomplish much (NASB). Elijah was a righteous man and even translated to heaven, but he was not superhuman. He had the same passions and feelings that we have. The fact that God heard his prayer should encourage us that our prayers will be heard too. James says Elijah prayed earnestly that it might not rain (a detail not mentioned in the Old Testament), petitioning apparently for the fulfillment of Deuteronomy 11:13-17 (alluded to in James 5:18).
Israel's worship of Baal, the god of storm and lightning, could not go unchallenged on the basis of this prophecy in Deuteronomy. Though we do not know how long Elijah prayed before his prayers were answered, his petitions were based on careful study of, and reflection upon, God's Word in light of his present circumstances. It may be that he quoted Deuteronomy's prophecy as part of his prayer, just as Daniel's prayer for Jerusalem is based on his study of Jeremiah's prophecy (see Dan. 9:2-3). Our prayers, too, will be more effective when they spring from thoughtful consideration of our circumstances in light of God's Word.
The period of no rain lasting three and a half years (also mentioned in Luke 4:25) is a significant time of probation in Scripture (like the prophetic period of half a week, or three and a half years of Jesus' ministry in Daniel 9:27, and the three and a half times of apostasy in Christianity in Daniel 7:25 and Revelation 12:14). At the end of this period, God used Elijah to begin a work of revival and reformation to wake up Israel so that the people would recognize the depths of their apostasy. It was a work that typified both the work John the Baptist would do for first-century Israel in order to prepare the way for Christ's first advent and the work that God has entrusted to His remnant church today to prepare people for the Second Advent(see Mal. 4:5-6; Matt. 11:13-14).
As a church, we are seeking revival and reformation. But it must begin in our own lives, our own selves, on a personal and daily basis. What choices can only you, yourself, make that will determine the direction and, ultimately, the destiny of your life?
Key Thought : There is nothing that God cannot heal, transform, undo, bind up, or restore. Jesus is interested in the total person in a substantial, lasting healing.

[Lesson Plan for Prayer, Healing, and Restoration December 15, 2014]
1. Have a volunteer read James 5:13-15.
a. Ask class members to share a thought on what the most important point in this text is.
b. What is the significance of the anointing ceremony with oil? Can't God heal a person just in answer to prayer?
c. Personal Application: What are the spiritual dangers when things are going well for us? Why is praise so important at this time? Share your thoughts.
d. Case Study: One of your relatives states: "What do you say to someone you have prayed for who was ill but has gotten worse or died? Wasn't there enough faith?" How would you respond to your relative?
2. Have a volunteer read James 5:15,16.
a. Ask class members to share a short thought on what the most important point is in this passage.
b. What does it mean that if you pray for them, they will be raised up, saved, and forgiven?
c. Personal Application: What is effectual, fervent prayer? Who is a righteous man? Why aren't many people healed today? Share your thoughts.
d. Case Study: One of your neighbors states, "My friend has the gift of healing. Just by laying hands on a person, they can be healed. He says he has healed several times, but then the Lord took the gift from him. He said he doesn't know why the Lord would give him the gift and then take it away." How would you respond to your neighbor?
3. Have a volunteer read James 5:17,18.
a. Ask class members to share a short thought on what the main idea of this text is.
b. What role do prayer and confession play in our quest for healing?
c. Personal Application: When was the last time you confessed your faults to anyone? Is that a necessity in order to be healed spiritually or physically? Share your thoughts..
d. Case Study: One of your friends states, "We aren't to look for supernatural manifestations of the Spirit now. That was for the time of the disciples. The only supernatural manifestations we might see today are false healers and false apostles working miracles to deceive us.." How would you respond to your friend?
4. Have a volunteer read James 5:19,20.
a. Ask class members to share a short thought on what the main idea of this text is.
b. Many say we don't convert anyone, only the Spirit does. So what is James saying here about converting the sinner and saving his soul from death? How do we do that?
c. Personal Application: What meaningful and loving ways can we comfort someone who is grieving the loss of a loved one? Share your thoughts.
d. Case Study: Think of one person who needs to hear a message from this week's lesson. Tell the class what you plan to do this week to share with them.
(Note : "Truth that is not lived, that is not imparted, loses its life-giving power, its healing virtue. Its blessings can be retained only as it is shared." MH p. 149.
More important than the healing of the body is the healing of the soul. Our purpose is not, after all, to make people healthier sinners but to point them to the eternal life found in Jesus. Perhaps that is why the only clear reference to healing in the passage for this week is our memory text in James 2:16, which moves away from the hypothetical situations dealt with in verses 13-15. The word for healing in this verse (iaomai) can refer to healing that goes beyond the cure of physical illness (see, for example, Matt. 13:15). Having already in verse 15 hinted at a broader understanding of healing (the resurrection), James makes the connection between illness and sin, the latter being the root cause of all our problems-not that every illness can be traced back to a particular sin but that sickness and death are the results of us all being sinners.
Read Mark 2:1-12 (compare Heb. 12:12-13; 1 Pet. 2:24-25). What kind of healing do these passages describe, and what is the basis of this healing?
Faith in Jesus brings healing from spiritual weakness and sin. In a sense, every healing Jesus performed was a parable meant to draw people's attention to their deeper need of salvation. In the case of the paralyzed man in Mark 2, spiritual healing was actually the man's uppermost concern, which is why Jesus immediately assured him that his sins were forgiven. Yet, it was not physical restoration he desired so much as relief from the burden of sin. If he could see Jesus, and receive the assurance of forgiveness and peace with Heaven, he would be content to live or die, according to God's will.-Ellen G. White, The Desire of Ages, p. 267. While God's healers today should employ all available medical means to cure disease, efforts should be made also to heal the whole person, not just for this life but in view of eternity.
Healing includes the healing of relationships, which is why we are exhorted, confess your sins to one another (James 5:16, NRSV), meaning those we have wronged (Matt. 18:15, Matt. 18:21-22). That is, if you have wronged or offended others, confess to them. Then the blessing of the Lord will rest upon you because the process of confession involves a dying to self, and only through that death to self can Christ be formed within you.
Read James 5:14-15. What are the essential elements James prescribes for anointing the sick, and what important spiritual components are found in these texts?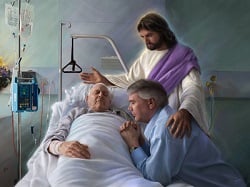 The fact that the sick person calls for the elders of the church to come and anoint him or her with oil in the name of the Lord and pray expresses the spiritual desire of the individual and the collective conviction that divine intervention is needed for healing (Mark 6:13). The reference to the forgiveness of sins shows that God will not, by means of a ritual, restore a person physically who does not also desire spiritual healing. "To those who desire prayer for their restoration to health, it should be made plain that the violation of God's law, either natural or spiritual, is sin, and that in order for them to receive His blessing, sin must be confessed and forsaken."-Ellen G. White, The Ministry of Healing, p. 228.
The request for divine intervention and the summoning of the elders of the church suggest that the illness is incapacitating and, perhaps, also too urgent to be done in connection with a regular church gathering. Two different Greek words are used for the sick here: the first (astheneo in James 5:14) is also used of Dorcas who became sick and died (Acts 9:37, NKJV); the second (kamno in James 5:15) refers generally to the patient, but it is also used of those who are dying and, in this context, seems to mean someone physically worn out or wasting away. The desire for healing requires full surrender to God's will, whatever it is (1 John 5:14). However, the references to sav[ing] and rais[ing] the sick (compare shall save . . . from death in James 5:20) point unmistakably to the resurrection as representing the only complete healing, the timewhen this corruptible shall have put on incorruption, and this mortal shall have put on immortality (1 Cor. 15:54).
Many of us have known about anointing services, or have even been involved in them, in which the sick are not healed but in fact die. Why, then, is the hope of the resurrection, implied in these texts, our only surety?