For examples of patience in suffering, dear brothers and sisters, look at the prophets who spoke in the name of the Lord. We give great honor to those who endure under suffering. For instance, you know about Job, a man of great endurance. You can see how the Lord was kind to him at the end, for the Lord is full of tenderness and mercy. James 5:10-11 NLT
You know how you can read the same Bible story a hundred times, and then one day something in that story jumps out at you that you had never seen before? James acknowledges that we all know the story of Job, and how he was faithful in suffering, and in the end God restored to him what he lost. Of course the children could not be replaced, but thank God they too will be restored one day. See 1 Thessalonians 4:13-18. While I knew the story well, it wasn't till just a few months ago that something jumped out at me.
When Job prayed for his friends, the Lord restored his fortunes. In fact, the Lord gave him twice as much as before! Job 42:10 NLT
What jumped out at me, was that, all this happened, "When Job prayed for his friends," who were not exactly the best sources of comfort and encouragement. Still, praying for his friends is what improved Job's own life.
Ironically Moses, who wrote the book of Job, had his own run in with those who were less than comforting and encouraging. In Numbers 12, Moses' own sister Miriam rebels against Moses' leadership instead of encouraging him. She is struck with leprosy and immediately Moses cries,
"O God, I beg you, please heal her!" Numbers 12:13 NLT
God healed her when Moses prayed for her. I wonder if Moses remembered Job's life turning around for the better when he prayed for his friends, when he prayed for his sister? Either way the outcome is the same. There are wonderful blessings in store for those who pray for others, and especially when we pray for those who have been less than comforting and encouraging to us.
Remember, not only did God turn Job's life around for the better, but He did it when Job prayed for his friends.
Like
(

56

)
(

0

)
Among other things, the Bible is a book about history. But it is not just a history book. It tells about events in the past, historical events, and uses them (among other things) to give us spiritual lessons. It uses events in the past to teach us truths about how we are to live in the here and now. (See 1 Cor. 10:11.)
But the Bible doesn't just talk about the past. It talks about the future, as well. It tells us not just about events that have happened but about events that will happen. It points us to the future, even to the end of time. The theological term for last-day events, about end times, is "eschatology," from a Greek word that means "last." Sometimes it is used to encompass belief about death, judgment, heaven, and hell, as well. It also deals with the promise of hope that we have of a new existence in a new world.
And the Bible does tell us many things about the end times. Yes, the book of Job ended with Job's death, and if this were the only book one had to read, one could believe that Job's story ended, as do all ours, with death-and that was it, period. There was nothing else to hope for, because, as far as we can tell and from all that we see, nothing comes after.
The Bible, though, teaches us something else. It teaches that at the end of time God's eternal kingdom will be established, it will exist forever, and it will be the eternal home of the redeemed. Unlike the worldly kingdoms that have come and gone, this one is everlasting.
Read Daniel 2:44, Daniel 7:18. What hope do these verses point to about the end?
"The great plan of redemption results in fully bringing back the world into God's favor. All that was lost by sin is restored. Not only man but the earth is redeemed, to be the eternal abode of the obedient. For six thousand years Satan has struggled to maintain possession of the earth. Now God's original purpose in its creation is accomplished. 'The saints of the Most High shall take the kingdom, and possess the kingdom forever, even forever and ever.' Daniel 7:18." – Ellen G. White, Patriarchs and Prophets, p. 342.
Indeed, the book of Job ended with his death. The good news for us, and for Job, is that the end of the book of Job is not the end of Job's story. And our death is not the end of ours, either.
Like
(

9

)
(

0

)
You can view an in-depth discussion of "The End" in the Hope Sabbath School class led by Pastor Derek Morris. (Adobe Flash Player version.) A Youtube version of this week's lesson at Hope Sabbath School is below.
You can download the video, the MP3 audio, and the lesson outline from the HopeTV Sabbath School Site. You might also want to bookmark the HopeSS YouTube Channel. Click Here to Watch.
Like
(

0

)
(

0

)
Yes, the story of Job ended on a positive note, in contrast to the story of other Bible characters and often of other people in general. Bible scholars sometimes talk about the "restoration" of Job. And indeed, to some degree, many things were restored to him.
But if that were the complete end of the story, then, in all fairness, would the story really be complete? Certainly things got better for Job, much better, but Job still died eventually. And all his children died. And all his children's children, and on and on, all died. And no doubt to some degree all of them faced many of the same traumas and trials of life that we all do, the traumas and trials that are simply the facts of life in a fallen world.
And, as far as we know, Job never learned of the reasons behind all the calamities that befell him. Yes, he got more children, but what about his sorrow and mourning for those whom he lost? What about the scars that, no doubt, he carried for the rest of his life? Job had a happy ending, but it's not a completely happy ending. Too many loose ends remain, too many unanswered questions.
The Bible says that the Lord "turned the captivity of Job" (Job 42:10), and indeed He did, especially when compared to all that came before. But much still remained incomplete, unanswered, and unfulfilled.
This shouldn't be surprising, should it? After all, in this world as it is now, regardless of our "end," whether good or bad, some things remain incomplete, unanswered, and unfulfilled.
That's why, in a sense, Job's ending could be seen as a symbol, however faint, of the true end of all human woe and suffering. It foreshadows the ultimate hope and promise that we have, through the gospel of Jesus Christ, of a full and complete restoration in ways that will make Job's restoration pale in comparison.
Read 1 Corinthians 4:5. What does this text tell us about how, for now, in this life, some things will still remain unanswered, unfulfilled, and incomplete? To what hope does it point us instead?
Like
(

15

)
(

0

)
The book of Job concluded with things going well for Job, who died "old and full of days." As we all know, and know all too well, that's not how the story ends for so many others. Even those who were faithful and honorable and virtuous didn't always wind up in a situation such as Job's.
How did the story end for the following Bible characters?
Abel (Gen. 4:8)
Uriah (2 Sam. 11:17)
Eli (1 Sam. 4:18)
King Josiah (2 Chron. 35:22-24)
John the Baptist (Matt. 14:10)
Stephen (Acts 7:59-60.
As we can see, the Bible is full of stories that don't have happy endings. And that's because life itself is full of stories that don't have happy endings. Whether martyred for a good cause, or dying from a horrible disease, or having a life reduced to pain and misery, many people don't come through their trials as triumphant as Job did. In fact, to be honest, how often do things work out well, as they did for Job? And we don't need the Bible to know this terrible fact. Who among us doesn't know of unhappy endings?
What are some stories with unhappy endings that you know of? What have you learned from them?
Like
(

25

)
(

1

)
Oftentimes children's stories end with the line, "And they lived happily ever after." In some languages, it's almost a cliché. The whole idea is that whatever the drama-a kidnapped princess, a nasty wolf, an evil king-the hero and perhaps his new wife triumph in the end.
That's how the book of Job ends, at least at first glance. After all the trials and calamities that befell him, Job ends on what could be described only as a relatively positive note.
Read Job 42:10-17, the final verses of the entire book. What do they tell us about how Job ended his days?
No question: were you to ask someone about a book of the Bible that ended well for the main character, a book that had a "happily ever after" ending, many would name the book of Job.
After all, look at all that Job had as the story closes. Family and friends, who weren't around during the trials (with the exception of Eliphaz, Bildad, Zophar, Elihu, and Job's wife), come, and they comfort him. They were generous, too, giving him money. As the story ended, Job had twice as much as he had at the beginning of the story, at least in terms of material wealth (compare Job 42:12 with Job 1:3). He had ten children, seven sons and three daughters, to replace the seven sons and three daughters who died (see Job 1:2, Job 1:18-19), and in all the land no women were "found so fair as the daughters of Job" (Job 42:15), something not said about his first ones. And this man who had been so sure that death was right before him, lived on another 140 years. "So Job died, being old and full of days" (Job 42:17). The phrase "full of days" in Hebrew (sometimes translated, interestingly enough, "full of years") is used to describe the last days of Abraham (Gen. 25:8), Isaac (Gen. 35:29), and David (1 Chron. 29:28). It gives the idea of someone in a relatively good and happy place at the time of a decidedly unhappy event: death.
We all like stories with happy endings, don't we? What are some stories with happy endings that you know of? What lessons can we take from them?
Like
(

16

)
(

1

)
The recent events taking place across the US have been both heart breaking and mind boggling. As a millennial Adventist I can remember a time when I quite comfortably praised the decline of racial tension and looked happily into a future in which such things would be relegated to the basement of civilization. Progress was good, or so it seemed.
However, recent years (and days) have destroyed my false picture of reality. Racial tension lives on, not simply in trivial rally's packed with social rejects and inconsequential subcultures but in the very fabric of our society.
But the events of Dallas and Baton Rouge have done more than remind me how messed up the world is. They have also reminded me of the immense opportunity we Adventists have. As a people, we have a responsibility – not just an option – to fight for justice and equity in this world as we await the soon return of Jesus. I say responsibility because Adventism, at its very core, is inseparably linked to social justice. Don't believe me? Here are a few examples:
Creation: The belief that we were created by a loving God, in his image, for the purpose of relationship shows that all of human life is valuable and precious. As a result Adventists should stand for human rights and equality among all of humanity including equality of women and children. We should also be active in the fight against slavery (surprisingly prevalent in the world today especially in the context of sexual slavery), child labor, abortion, human trafficking, domestic and workplace abuse, bullying, racism etc.
We should be deeply involved in supporting ministries for the homeless, the abused, the battered women shelters, and should sound a loud cry against genocides, war crimes (such as what we see in Syria right now), and the mistreatment of any human being whether they be an illegal immigrant, an atheist, a Muslim, a criminal, a homosexual, or anything else.*
According to the creation model, all humanity is Gods creation and regardless of our choices we all deserve basic human rights.
Sabbath: The Sabbath is a memorial of Creation. As a result, everything said above applies. However, the Sabbath commandment also highlights the value of foreigners and animals. As a result, Adventists who honor the Sabbath should do so by not simply resting but fighting for the rights of those who never get to rest such as slaves and victims of human trafficking. Likewise, the Sabbath is an equalizing commandment that places all people regardless of race or social status on the same level. As Adventists, we should allow our Sabbath-narrative to move us toward the fair treatment of immigrants, women, and animals. While we may be polarized as to how we deal with the whole "immigration problem" we should not be polarized as to how we deal with immigrants. They, as much as anyone else, are human beings and deserve to be treated with hospitality and compassion.
Growing up Adventist the only thing I ever noticed Adventists involved in was the fight for Religious Liberty due to our belief in Sabbath. And that's awesome! We totally need that and have done pretty well at it. But religious liberty only benefits the religious. We need to take a stand that will provide justice for all people and the Sabbath calls us to much more than just religious liberty.
Christs Ministry in the Heavenly Sanctuary and the Second Coming: The teaching that Christ began his final work for humanity in 1844 and whose second coming is now at hand has serious implications for our culture. Firstly, it is a huge call to missions and gospel centered humanitarian work of which Adventists do very well at internationally. However, looking at the churches around me here in America I would never even come close to guessing that we have such an urgent message for the world as 1844, the investigative judgment, and the second coming.
As a matter of fact, it would seem that the rest of the evangelical world is the one that has that package simply by the way many of them do church. Many of our churches are dead. Many of them are not preparing anyone for the judgment or the second coming. On the flip side, many other churches are community centers that reach out and heal the broken through divorce ministries, addiction recovery, teen outreach, friendship evangelism, health evangelism, etc. while many SDA churches are simply Sabbath morning clubs. The saddest part is we wont baptize a person who still smokes or drinks, but if they want help in quitting they are, by and large, on their own.
1844, the investigative judgment, and the second coming call us to step out of our spiritual myopia and become actively involved in helping the addicted, the broken, the lonely. It is a call to reach out to this lost world with more urgency than ever before that they may come to know Christ and his cleansing blood. However, we don't just do that by going into a city and hosting an evangelistic series at a church no one wants to go to. We do this by making our churches centers of healing and hope and by going out into the community and meeting their needs, supporting their children's education and schools, teaming up with agencies like the food bank and providing food for the hungry and help for the poor. In doing so we will be more effective in preaching the 3 angels messages than we are by simply preaching sermons.
Christian Behavior: This doctrine calls Christians to live lives that honor God. This includes choosing amusement, entertainment, dress, and foods that honor God. Herein is so much we can stand for. While the rest of the Christian world is making leaps and bounds in creating high-quality Christian entertainment including movies and music Adventists seem to be lagging way behind. Adventists also appear to have little to no voice in the fight against the pornography industry which breeds objectification and is linked to crimes such as rape and sexual slavery.
And what about food? Adventists have been preaching the health message for decades now, but we have dropped the ball on it. For many of us the health message consists of "don't eat unclean meats, drink, or smoke and you are healthy" while nothing could be further from the truth. Many vegetarian and vegan Adventists are just as obese and unhealthy as meat eaters. In addition, many who are healthy are not really healthy. This is because health is not only physical but social, mental, spiritual, and sexual – an holistic emphasis I never heard as a young Adventist.
Adventists should have been leading the way in health evangelism, however, a recent article in Christianity Today shows that it is the rest of the evangelical world that is doing so.** They are publishing best sellers and some churches are even building fitness facilities. One such church built a fitness facility for the community and went from 200 members to 8,000 in six years. Now, I am not suggesting that this is a competition and that everyone else is beating us at it so we need to run faster. I am simply suggesting that we have had this message all along and have not done what we could with it. And its not just our brothers and sisters from other denominations doing this, its the secular world as well. Our culture is enamored with preventative medicine right now. Awesome documentaries about health, longevity, the food industry, and the benefits of vegetarianism are all being made by agencies who have no burden for Christ and his salvation. We need to take a more active stand against obesity and sugar, the unethical practices of the food industry, and better nutrition and fitness programs for public schools.
So the question now is, how can we take a stand on all of these issues and at the same time not become hate spewing activists? The answer is found in the following Adventist doctrine:
Great Controversy: The belief that humanity is deeply involved in a war between Christ and Satan should influence the way we interact with our culture. Every ounce of wickedness in this world is a symptom of this horrendous war. And at the center of this war is a distortion of the character of God. It is this distortion that keeps so many people away from God and causes the culture to despise God. As a result, while Adventists should be activists and take a stand on many relevant issues we must always do it with the Great Controversy in mind – remembering that our enemy is not sinners but sin, not humans but demons.
Our responsibility in being activists is not simply to show the world what we are against but to show them what we are for. To show them the love of God in a way that has never been seen before. This is what Jesus did. While he hated sin his modus operandi was showing love to the sinner. The character of God has been so maligned over the centuries that being an activist with a hateful "me vs. you" attitude will only hurt more than it will heal. God is calling us to reveal his character of love to the world. This must be our main priority. No matter what cause we choose to engage in and support the people on the "other side" must never get the impression that we hate them.
In addition, the Great Controversy helps us to remember what is really important. Many people involved in activism become obsessed with their cause. Christians cannot afford to do this. Jesus and his saving grace should be the our theme and song. It is not healthy to approach any of these causes with an obsessive legalistic attitude that breeds elitism, bigotry, and conspiracy theorizing which leads to the demonization of everything and everyone in our culture. Jesus. His love. His grace. His power. This is to be the heart-beat of our activism. If it is, I believe we can engage in these causes in a way that will promote healing, kindness, and love.
So there you have it. Just a brief overview of some of Adventisms core beliefs. Adventism isn't simply compatible with social justice, it oozes it! The question is, do you? And if you don't, is it possible that you have missed the heart-beat of the story Adventism tells? And if you have, then take the opportunity right now, in prayer and repentance, to be reborn into a Christian experience that embraces the responsibility to stand for justice and equity for all.
Note: This blog was originally published under the title "Adventism and Activism". It has been rewritten and republished at thehaystack.org.
__________
* For the sake of clarity, let it be known that I am in no way shape or form equating any of the practices and lifestyles mentioned in this statement with one another.
** http://www.christianitytoday.com/ct/2013/june/fitness-driven-church.html
Like
(

21

)
(

0

)
The Perennial Question
Despite all the popular propaganda to the contrary, Christians have very logical and rational reasons to believe in God. Though assured by some of the "best and brightest" that the evolutionary concepts of "natural selection" and "random mutation" can explain the complexity, wonder, and beauty of life, many people don't buy it and logically so. And despite the latest "scientific" pronouncements that the universe arose from "nothing," most people find the idea of an eternally existing God, as opposed to "nothing," the more logically satisfying explanation for Creation.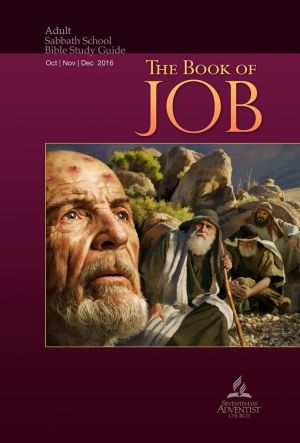 And yet, even with logic and reason firmly on our side, there's still the ever-present problem of evil. And thus the perennial question: If God exists, and is so good, so loving, and so powerful, why so much suffering?
Hence, this quarter's study: the book of Job. How fascinating that Job, which deals with the perennial question, was one of the first books of the Bible written. God gave us, early on, some answers to the most difficult of all issues. Some answers, but not all. Probably no one book of the Bible could answer them all; even the Bible as a whole doesn't. Nevertheless, Job pulls back a veil and reveals to the reader the existence of a reality beyond what our senses, even those aided by scientific devices, could show us. It takes us to a realm that, while far removed from us in one sense, is incredibly close in another. The book of Job shows us what so much of the rest of the Bible does, too: the natural and supernatural are inseparably linked. Job is a portrayed drama of the principle and warning that Paul expressed ages later: "For we do not wrestle against flesh and blood, but against principalities, against powers, against the rulers of the darkness of this age, against spiritual hosts of wickedness in the heavenly places" (Eph. 6:12, NKJV).
Though mostly about one man, the book of Job is the story of us all in that we all suffer in ways that often seem to make no sense. And even the story of the four men who come to him reflects our situation, too, for who among us hasn't tried to come to grips with the sufferings of others?
Yet, we'd miss a crucial point about the book of Job if we limited it only to suffering humanity's attempts to understand suffering humanity. The story appears in a context, that of the great controversy between Christ and Satan, which is portrayed here in the most literal of terms. And that's because it's the most literal of battles, one that began in heaven and is being played out here in the hearts, minds, and bodies of every human being.
This quarter's studies look at the story of Job, both close up, in the immediate drama of the narrative, and from a distance, in that we know not only how the book ends but also the bigger background in which it unfolds. As readers, then, with the knowledge not only of the book of Job but of the whole Bible, one crucial issue for us is to try and pull it all together. We try to understand as much as possible, not only why we live in a world of evil, but more important, how we are to live in such a world.
Of course, even after we study Job, even in the context of the rest of the Bible, the perennial question remains. We are assured, though, of the perennial answer: Jesus Christ, in whom "we have redemption through His blood" (Eph. 1:7, NKJV)-the One through whom all answers come.
Clifford Goldstein is the editor of the Adult Bible Study Guide. He has been at the General Conference since 1984.
Like
(

14

)
(

0

)
Read for This Week's Study: Job 42:10-17; Gen. 4:8; Matt. 14:10; 1 Cor. 4:5; Dan. 2:44; Job 14:14-15.
Memory Text: "Jesus said to her, 'I am the resurrection and the life. He who believes in Me, though he may die, he shall live' " (John 11:25, NKJV).
In writing classes, students are taught the importance of a good ending to their pieces. Particularly in fiction, where the whole thing is made up, the author needs to bring the end to a satisfactory close. But even in nonfiction, a good ending is important.
But what about reality? What about life itself, lived not in the pages of a book or in a film script but in flesh and blood? What about our own stories? What kind of endings do they have? How do they wind up? Are the loose ends tied together nicely, as in a good piece of writing?
This doesn't seem to be the case, does it? How could they end well, when our stories always end in death? In that sense, we never really have happy endings, do we, because when is death happy?
The same is true with the story of Job. Though its conclusion is often depicted as a happy ending, at least in contrast to all that Job had suffered, it's really not that happy, because this story, too, ends in death.
This week, as we begin the book of Job, we will start at its end, because it brings up questions about our ends as well, not just for now but for eternity.
Study this week's lesson to prepare for Sabbath, October 1.
Like
(

24

)
(

0

)
Read Matthew 5:16; Colossians 3:17; Hebrews 13:15-16; read Ellen G. White, "On the Mount of Olives," pp. 627-636, and reread " 'The Least of These My Brethren,' " pp. 637-641, in The Desire of Ages.
Jesus told us what the signs of the end would be before He returned, and they are not pretty. Wars, rumors of wars, pestilence, et cetera. If people often use the excuse of evil to reject God, they certainly have plenty of excuses now, and they will have more excuses as we get nearer to the end. Thus, it becomes even more crucial for God's people, those who claim to be His followers, to reflect His character to the world and to help people get a better view of what God is like.
"If we would humble ourselves before God, and be kind and courteous and tenderhearted and pitiful, there would be one hundred conversions to the truth where now there is only one." – Ellen G. White, Testimonies for the Church, vol. 9, p. 189. What a simple yet powerful statement in regard to outreach and ministry to others. While we wait for Jesus' second coming, He expects members of His church to preach and live the whole gospel; to invest ourselves and our resources in His work; to love, respect, and care for people; and to open our lives for the Holy Spirit in His fullness. That's a witness that all the arguments in the world can't nullify.
Discussion Questions:
In class, talk about the difference between what it would be like living in "Babylon" as opposed to living in "Jerusalem." What would be the major differences between the two cities? That is, where is the major difference to be found-in what the places look like, or in who lives in them?
The great question for Christians is not "Do works have a role in the Christian faith?" Of course they do. Instead, the question is "If works cannot save us, then what is their role in the Christian faith?" How do we answer that question, especially in the context of reaching out and ministering to others in need?
How are we waiting for Jesus to return? That is, what are we doing in our lives that reveals the reality of our belief in His return? Why should we be living differently from those who don't believe in the Second Coming?
Like
(

14

)
(

0

)
You can view an in-depth discussion of "How Shall We Wait" in the Hope Sabbath School class led by Pastor Derek Morris. (Adobe Flash Player version.) A Youtube version of this week's lesson at Hope Sabbath School is below.
You can download the video, the MP3 audio, and the lesson outline from the HopeTV Sabbath School Site. You might also want to bookmark the HopeSS YouTube Channel. Click Here to Watch.
Like
(

6

)
(

0

)
Many years ago, English author Charles Dickens wrote a book called A Tale of Two Cities.Those two cities were London and Paris. In a sense, it could be said that the Bible is also a tale of two cities. In this case, the two cities are Babylon and Jerusalem.
In Revelation 14:8 and Revelation 18:1-24, the apostle John describes Babylon. She has been the home of demons and the haunt of evil spirits. She has caused every nation to commit spiritual adultery. Her doom has been pronounced, and she has been declared "fallen." This city, a symbol of evil and apostasy and rebellion against God, will one day be defeated and destroyed.
Read Revelation 21:1-4. How does the New Jerusalem contrast with Babylon?
The second city is the Holy City, the New Jerusalem, described in Revelation 21:1-27 and Rev. 22:1-21. This city houses those who have chosen the Bridegroom and rejected the selfishness and spiritual adulteries of Satan and his followers. By God's grace, the redeemed have obeyed His commandments and reflected the faith of Jesus (Rev. 14:12). Their patient endurance and their eagerness to embrace the ministry of Jesus provided a taste of the kingdom of heaven while on earth. They have been saved through faith in Jesus; His righteousness alone made them worthy of heaven. Their care for "the least of these" (Matt. 25:40) has been the outward manifestation of that saving faith.
By the blood of the Lamb (Revelation 5:1-14) the church's role in compassionate restoration has changed to jubilant celebration (see Rev. 5:13-14). In that happy and Holy City, " 'God will wipe away every tear from their eyes; there shall be no more death, nor sorrow, nor crying. There shall be no more pain, for the former things have passed away' " (Rev. 21:4, NKJV). True peace has been restored. The full restoration of the image of God, mentally, spiritually, and physically, has taken place. The great controversy is over and from "the minutest atom to the greatest world, all things, animate and inanimate, in their unshadowed beauty and perfect joy, declare that God is love." – Ellen G. White, The Great Controversy, p. 678.
Read Revelation 22:21. In what way does that verse, the last one in the Bible, capture the essence of all that we believe?
Like
(

24

)
(

0

)
Key Thought: The gospel calls us to demonstrate God's love for the world in practical ways.
Lesson 13 – September 24, 2016
1. Have a volunteer read James 2:14-17.
a. Ask class members to share a thought on what the most important point in this text is.
b. In what ways are faith and works closely linked?
c. Personal Application : In what ways have you seen how works have increased your faith? Share your thoughts.
d. Case Study : One of your elderly female relatives states: "Why are you bringing up works? We are saved by grace through faith and not by works. It is not faith and works: it's just faith." How would you respond to your relative? (Note: Please read Ephesians 2:8,9, and verse 10.)
2. Have a volunteer read John 4:35-37.
a. Ask class members to share a short thought on what the most important point is in this passage.
b. How well do we do working together in outreach for others? Are we more individually motivated, or would we gain more success in coordination with others?
c. Personal Application : How can we learn to be thankful and humbled by whatever role God has given us in the process of ministering to others? Why is it a priviledge? Share your thoughts.
d. Case Study : One of your friends states, "Aren't there a lot of differences between those who live in the center of wordliness, and those who live in an area of Christian influence? What are some of the differences?" How would you respond to your friend?
3. Have a volunteer read I Corinthians 3:6-9.
a. Ask class members to share a short thought on what the main idea of this text is.
b. How do we occupy until Christ comes without becoming complacent and unmoved by current events?
c. Personal Application: How can we keep the urgency and importance of Christ's return in our hearts when it feels as if He is delaying His coming? Share your thoughts.
d. Case Study : One of your neighbors states, "I've been working for the Lord; sharing my faith, praying for people, passing out literature, giving Bible studies for years, and I don't see any fruit from my labor." How would you respond to your neighbor?
4. Have a volunteer read Romans 12:11-13.
a. Ask class members to share a short thought on what the main idea of this text is.
b. What does it mean to be patient in tribulation? How patient are you when things don't go as planned, or someone offends you?
c. Personal Application : What kind of Christians could be unproductive and inefficient in their waiting for Christ's return? Share your thoughts.
d. Case Study : Think of one person who needs to hear a message from this week's lesson. Tell the class what you plan to do this week to share with them.
(Truth that is not lived, that is not imparted, loses its life-giving power, its healing  virtue. Its blessings can be retained only as it is shared."Ministry of Healing, p. 148).
Like
(

4

)
(

0

)
Like
(

0

)
(

0

)