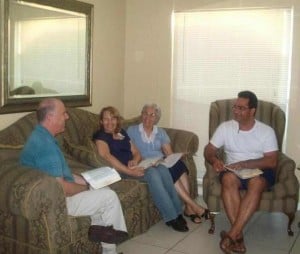 In the Old Testament God wanted to be Israel's king, but in 1 Samuel 8:5-7 Israel rejected God as their king and said they wanted to have a king like all the other nations have. Centuries later, Pilate asks the Israelites,
Shall I crucify your King? The chief priests answered, We have no king but Caesar.  John 19:15
So for centuries God's own people were basically saying, "Give us any king but God!"  Instead of discipling the nations, they were discipled by the nations.
God's own people wanted to be like the other nations so much so that they were willing to deny their Savior so they could fit in with the world. Much of their compromise with the world was to avoid being persecuted or even just laughed at. In John 11:50, Caiaphas suggests getting rid of Jesus so that the whole nation does not perish. What He was suggesting was, getting rid of Jesus' teachings which, if not done away with would bring down the wrath of Rome. What Caiaphas was forgetting was, if they did away with Jesus then the nation had no reason to exist! What is the point of preserving something if it no longer serves a purpose? Why exist just to exist?
Do we find the same mentality in our day? For example–
Let's water down our teachings lest someone ridicule us. No reason to invite persecution, we can preserve ourselves by making our teachings look as much like all the other churches as possible.
If we do that, we have defeated our entire purpose of existing as a church! After the reformation, during a religious awakening, God did not bring the Seventh-day Adventist Church forth to blend in and look like all the other churches. Think about it. There were already churches, even Sabbath-keeping churches, that looked like all the other churches. Why would God bring forth a church if it would be like what was already there?
Other churches have a gospel that will prepare you to die, and that is all well and good, but God has brought forth the Seventh-day Adventist Church with a sanctuary message and a gospel that will prepare you to never die! See Malachi 3:1-3. Should we be ashamed of this gospel? Should we try to water it down to look like all the other gospels out there?
Even now Rome is extending her hand to the Protestant churches, saying we all understand salvation by grace instead of works. We all get what Luther was saying now, so let's all come together. However, you cannot say you understand salvation by grace while observing a man-made day of worship, one that man worked out on his own! When you understand salvation by grace, you rest from your works and man-made religion by resting your faith in the Creator on the day that He made holy.
Years ago I met with another Adventist family in my neighborhood for a Neighborhood Youth Bible Study on Sabbath afternoons. One Sabbath our church was having a "revival" with some Christian rock music. Someone from the church invited me and my youth study group to come. I thought, why not? Instead of a Bible study for this week, let's just show the kids that we also have fun. After the concert, I asked a teenager in my group how they liked the concert. I was hoping they thought it was really cool. Instead, they looked at me disappointed, and said, "I wish we would have just had the Bible study instead." Their statement hit me like a two-by-four right between the eyes! I realized then, what was being offered they could find anywhere, but we have a special message that is not just found anywhere.
Instead of blending in we need to stand out. In Samuel's day Israel had a special message that would have saved the world, but instead of discipling the nations they were discipled by the nations. Likewise, we are told by Jesus to go and make disciples of other nations, not become disciples of other nations.  Caiaphas thought the best way to preserve the church of his day was to get rid of Jesus and His gospel.
The Lord directed Ezekiel in giving His message. And I believe it is still valid today:
"And thou shalt speak my words unto them, whether they will hear, or whether they will forbear: for they [are] most rebellious." Ezekiel 2:7
Today, companies will sometimes change their products to meet consumer demand, but we cannot do that, because the product (the message) is the Lord's. However, we can learn something else from modern companies. More often they change the packaging of a product to make it more appealing to customers, and that's what we can and should do in our culture. We need to communicate the same age-old truth in a way that our culture can understand.
I pray that the Lord will give us the wisdom to present His unchanging truth in a way that this generation can understand.
Sunday's section of this week's Sabbath School lesson states that "Over the long centuries, people have struggled to understand the role and function of government and how citizens should relate to it. What gives rulers the right to rule?"
It is worthwhile for all of us to think about the role of government and our individual responsibility – not just secular government but church government as well.
Former United States President Richard Nixon defended himself in the Watergate scandal, by telling reporter David Frost, "If the President does it, then it is not illegal." This bold statement shocked David Frost, and every other competent thinker! I suspect that in the United States, people really started to question their leaders after Nixon's downfall.
I believe we are keeping a healthy balance of respect for leadership without blind submission when we ask for accountability and checks and balances. In the United States we have a constitution with which the President must conform. This Constitution declares who has the ultimate authority. It reads, "We, the people." Not "I, the President" or "I, Thomas Jefferson, or Ronald Reagan or Barack Obama." The power and authority of the Constitution comes from "The People!" Therefore the United States president is not above the law.
In the church we have the Scriptures as our sole authority, and our leaders must be held accountable to them. And the church as a body has authority derived from the Scriptures and the leadership of Jesus Christ as represented in the body of the church.
God has ordained that the representatives of His church from all parts of the earth, when assembled in a General Conference, shall have authority." -Ellen White, Last Day Events, p. 56.
Just as in the United States, the President is not above the people, the church leaders are not above the church. While working in a different Adventist conference many years ago, my boss told me to do something on the Sabbath which my conscience did not think was appropriate. My boss told me the conference president expects me to do it so I better do it, no matter what! (Please keep in mind my boss said this and the conference president never actually made such a threat.) I thought to myself, Sorry, the conference president didn't die for me, Jesus did. I have to be faithful to Jesus.
It does not matter what church affiliation you belong to, you have to follow your conscience and what the Holy Spirit has convicted you is truth based on Scripture. If any leader, secular or ecclesiastical, tries to place his authority above your conscience based on the Scriptures, then consider,
The doctrine that God has committed to the church the right to control the conscience, and to define and punish heresy, is one of the most deeply rooted of papal errors. -Ellen White, Great Controversy, Pages 292-293
Papal errors are not confined to the papacy. The church in Christ's day was quite papal when they crucified Him even though the word "papal" was not recognized yet.
"The church is built upon Christ as its foundation; it is to obey Christ as its head. It is not to depend upon man, or be controlled by man. Many claim that a position of trust in the church gives them authority to dictate what other men shall believe and what they shall do. This claim God does not sanction. …. Upon no finite being can we depend for guidance. The Rock of faith is the living presence of Christ in the church. Upon this the weakest may depend, and those who think themselves the strongest will prove to be the weakest, unless they make Christ their efficiency. "Cursed be the man that trusteth in man, and maketh flesh his arm." The Lord "is the Rock, His work is perfect." "Blessed are all they that put their trust in Him." Jeremiah 17:5; Deuteronomy 32:4; Psalm 2:12. (Ellen White, Desire of Ages, p. 414)
Jennifer Schwizer wrote a compelling post on clergy sexual abuse. However, sexual abuse is only one form of abuse of power. Pressuring people to violate their conscience in any way whatsoever is abuse. The ugliness of sexual abuse is not so much what it does to the body as what it does to the soul and conscience. You don't have to use sex to rape someone's soul and violate their conscience. Any time someone puts their power over your conscience, that is spiritual rape. Thank God for the millions and millions of clergy members throughout the ages and across all denominational lines who have ministered to God's children faithfully, without ever harming a single soul. Because of them we have confidence in the clergy, and people can find in them the mercy and love of Jesus.
Many years ago, I heard the testimony of a church leader defending himself for some shady deals, saying his boss (another church leader) told him to do it, and therefore he had no choice but to obey his boss who had "authority." I am sure Joab was thinking the same thing when King David told him to put Uriah on the front lines of the war. Please read what God's messenger has to say about Joab's rationale.
"And Joab, whose allegiance had been given to the king rather than to God, transgressed God's law because the king commanded it. David's power had been given him by God, but to be exercised only in harmony with the divine law. When he commanded that which was contrary to God's law, it became sin to obey. "The powers that be are ordained of God" (Romans 13:1), but we are not to obey them contrary to God's law. The apostle Paul, writing to the Corinthians, sets forth the principle by which we should be governed. He says, "Be ye followers of me, even as I also am of Christ." 1 Corinthians 11:1. (Ellen White, Patriarchs and Prophets, p. 719)
While we need to be respectful of authority,  we also need to remember the ultimate source of authority. And while we respect those in leadership, we must remember we are accountable to the Scriptures and God's church, of which Christ is the Head. Even Martin Luther, the great leader of the Protestant Reformation, tried his best to be respectful of the leaders of his church. It was not his goal to start a new church, much less a movement that would change the world. He sought to bring his leaders into harmony with the Scriptures, and it was only after his efforts to work within his church failed, that he felt he had to make a choice between allegiance to God or allegiance to his leaders. Martin Luther was loyal to the only One who loved him enough to create him and die for him. Likewise we should make every effort to submit to our leaders as far as we can without being disloyal to the One who died for us.
Disputing over biblical truth did not stop with the age of Luther. It is our job to continue to press forward and put into action the truth that is contained in Scripture. And sometimes that makes people uncomfortable. Sometimes it causes heated arguments. And sometimes leaders weigh in with their opinions on one side or the other. Any particular interpretation of a biblical passage is not automatically more "right" because a church leader says so. God has designed the governance of our church in such a way that, if all of us allow the Holy Spirit to lead us individually, the mind of the Spirit will be met through the vote of the church body. And that is why the vote of the General Conference should be regarded as authoritative.
No one person or relatively small group of persons has authority to dictate his or her opinion to the rest of the church body, no matter how strongly they feel on the matter. Leaders need to respect the vote of the members, and members need to respect the position of leadership, as far as it is biblical.
I know people who are afraid to speak up in board meetings or church business meetings, because they feel they are too young or poor, and their influence would not be felt. I have also seen people abusing their age or money to hurt others. I would like to encourage all – no matter how young, old, rich or poor you are – you need to speak your convictions in these meetings. And, no matter how young, old rich or poor you are, you need to respect others when you do. We all have a right and a responsibility to speak, and we all have  a responsibility to respect each other. (Ro. 12:10)
They call me Simon the Pharisee. "Simon" means "hearing." In accordance with my name, I heard the call of Jesus and became a disciple after He healed me of leprosy. Candidly, the physical disease symbolized the deeper spiritual disease from which Jesus also delivered me. I was guilty of clergy sexual abuse, a practice that fed on my Phariseeism like crustaceans feed on sewage.
Clergy Sexual Abuse has been in the headlines for a few years in another church. But it isn't limited to one church. It can happen in a church that sees itself as a vessel of God's truth. Let me tell you my story. Now a recovered offender, I can pinpoint how elements of my religious experience led to the double life I lived. Here they are:

Pride- We Pharisees warded off the encroachments of Greek culture, which threatened to rob the Jews of their identity. Because of this, the people thought of us as heroes, holier and better than the common man; in fact, the name "Pharisee" means "separated." Consequently, we became very puffed up in our own conceits. Human praise affects the brain similarly to an opiate, so when the praise died down we went in search of another fix: another contrived rule to impose, another righteous ritual to perform, another innocent woman to deflower.

Legalism- We instilled in ourselves and our followers the belief that we could save ourselves through compliance with the law. Since no one can obey in their own strength, we then lowered God's standard to fit human limitations. This is how legalism teamed up with disobedience and produced a scenario where we strained at gnats and swallowed camels. And molested women. And then tried to have them stoned.

Hypocrisy- High standards minus grace equals hypocrisy. Graceless religious leaders, pressured to be "good," can only manufacture an appearance of holiness and conceal their true, unconverted selves. Such double-living forces carnality into hiding, where it can flourish like anaerobic bacteria. We Pharisees helped each other hide, too. When one would get caught perpetrating, we'd hush up the matter and shuttle him off to another district.
My best-known victim was my niece Mary Magdalene. Just a child when I met her, she bloomed into a stunning beauty before my eyes. She called it an "affair," and indeed it felt that way to her. But I know now it was abuse, in spite of her spellbound consent. Specifically, my abuse of Mary qualified as incestuous, religious, power rape, because I was a relative, a clergyman, and an authority figure. It disgusts me to admit it, but I must.
At my house party—the feast to celebrate my healing from leprosy—I still didn't "get it." I thought evil of Mary as she poured out her soul in gratitude. Jesus saw the spite on my face and told me a parable that revealed His knowledge of my guilt. Two debtors. One ten times more guilty. Both forgiven. Which one should love him the more? I read Him perfectly: "Stop lording it over her. You're the one who led her into sin! You should be ten times more grateful, because you're ten times more guilty." He knows! I panicked, breaking into a sweat. How could He know and yet spare me? Could it be that He was Isaiah's prophetic sin-bearer after all?
The weeks after my feast found me paralyzed, as one struck by lightening. Remorse crippled my energies and sickened me to earthly things. At last I turned fully to Jesus for forgiveness and cleansing. I realized I had no reason to live except to testify of God's mercy.

In the place of pride, Jesus gave me contrition. Through the parable, Jesus confronted my sin discretely. The goodness of God in not publicly rebuking me, even when I wanted a public rebuke for my victim, led me to repentance.
In the place of legalism, He gave me the gospel. The message of Christ's righteousness supplanted my own self-righteousness, and ultimately led to obedience to all the commandments of God, including the command to be sexually pure. Jesus forgave my sin and cleansed me from all unrighteousness. Then He showed me how to walk without falling. I noticed that Jesus never lusted simply because He loved so much. Each woman to Him was a soul for whom He would die in agony. He cherished them far too much to ever objectify them.

In the place of hypocrisy, He gave me honesty. I learned to put off pretension, admitting my weakness and humanity. I learned to confess my faults to trusted accountability partners and then seek the Lord with them for complete restoration.
If a Simon comes into your life, help him out by doing what he wants least. Tell the truth. It's not "tattle-tailing" to reveal that a clergyman has taken advantage of a member of the flock. Do as Mary did and tell Jesus what happened; then share it with trusted counselors and friends. Do all you can to stop the abuse; thus you'll be sparing future victims. Lying to protect another is still lying. Be tactfully, discreetly honest. You may lose all your friends for a time; the Pharisees may hate you. But you'll have the infinitely more valuable blessing of a clear conscience. Remember that Jesus said, "Leave her alone." That same Jesus will defend you. And perhaps your honesty will set a precedent that a Pharisee like I can follow. Remember, Jesus died for us too. And His grace can heal even the spiritual leprosy of clergy sexual abuse. As one writer noted about me: "The proud Pharisee became a lowly, self-sacrificing disciple."
You can prevent clergy sexual abuse! For more information, go to ThehopeOfSurvivors.com
A family I know bought a huge home years ago, and their daughter invited her friends over for their first get-together at the new home. Unfortunately jealousy set it in with one of the daughter's friends who made a comment about the home and her thinking she is "so rich." The daughter was hurt because the money her family has had never crossed her mind. Her friend saw the house and only thought about how rich they must be. The family saw the home and only thought, "What a nice place to have all our friends over." Granted the kitchen pantry was bigger than my whole apartment at the time, but while the daughter's friend associated the huge house with money, the family only associated it as a place to meet with friends!
The family had money but they needed friends. Money doesn't buy real friendship. And in this case it was a stumbling block to a real friendship. Not on the part of the family with the big home, but on the part of the friend they invited over.
I was not born poor but I was not born rich either. Sometimes as a kid when I would see people with nicer things than we had, I would wonder, why couldn't I have just been born rich? As an adult I read about a very rich American family, who had a daughter born with a defect made worse by surgery to the extent that the daughter was totally incapacitated. I then realized while I had asked why I couldn't have just been born rich, there were rich people asking why they couldn't have been born healthy.
Some rich (as well as poor) people have health issues not all the money in the world can cure. Some even gain their wealth by squandering their health, and later they wish they could buy back their health. Others use their wealth to indulge in health-destroying behavior. Rich people need healing. They need a health message.
Sometimes we forget all the needs of the rich when we drive by their huge mansions or see them drive by in their Lamborghini. We must be careful not to make assumptions that they are even rich. For all we know they are about to lose the mortgage on their mansion and are never going to get out of debt for that Lamborghini.  Are they really better off with all that? A rich man had a Lamborghini. So he has four wheels. My Hyundai has four wheels too. So he has a mansion. He has a place to lay his head. I have a place to lay my head too, and I really don't need twenty more rooms that I am not in.
While I may tempted to think life would be just perfect if I only had what they have, there is someone thinking their life would be just perfect if they only had what I have. I've heard it said, the richest man in the world is not the one who has the most, but the one who needs the least.
In Acts 26 we see Paul standing in his prisoner clothes, hands bound, while talking to King Agrippa who was dressed in all his splendor and glory. Paul tells King Agrippa,
"I would to God that not only you, but also all who hear me today, might become both almost and altogether such as I am, except for these chains." Acts 26:29 NKJV
What Paul was telling Agrippa was, "I don't need what you have. You need what I have!"
Today's rich people need true friendship, true healing, and true forgiveness. We can reach the rich once we realize, we don't need what they have. The world is after what they have, and God has promised to meet our needs in Christ Jesus and not in the rich people of the world.
We will reach the rich when we allow Jesus to change us, so they can see that they too need a redeeming Savior!
Key Thought : Knowledge that includes an experience in faith, hardship, sanctification, and self-sacrifice along with doctrine prepares disciples to become leaders.
[Lesson plan for Discipling Spiritual Leaders March 10, 2014]
1. Have a volunteer read John 16:7-12.
a. Ask class members to share a thought on what the most important point in this text is.
b. Was there more truth that the disciples needed to learn through the study of the Bible and the guidance of the Holy Spirit?
c. Personal Application: Do you think we have all the truth, or is there truth as a church for us to discover? What about individual truth? Do we need to grow in our understanding of God's truth? Share your thoughts.
d. Case Study: One of your relatives states: "I do and say whatever the Spirit leads me to. He impresses my mind and controls my thoughts. Too many people are stuck on doctrinal issues when what they need is a dose of the Holy Spirit to liven their lives and lift their spirits." How would you respond to your relative?
2. Have a volunteer read Luke 6:12-16.
a. Ask class members to share a short thought on what the most important point is in this passage.
b. Why did Jesus pray all night before choosing His disciples? Didn't He already know who would be right for the job?
c. Personal Application: Which of your church leaders do you look up to the most? Why? Share your thoughts.
d. Case Study: One of your neighbors states, "How does the church select its leaders? Do some people show signs of leadership? What are these signs? Do people in your church know what their spiritual gifts are?" How would you respond to your neighbor?
3. Have a volunteer read Matthew 11:29 and Isaiah 57:15,16.
a. Ask class members to share a short thought on what the main idea of this text is.
b. What does it mean to be of a contrite spirit? How can we tell if someone is humble or not? What is humility?
c. Personal Application: What if a leader is causing problems in the church through strife, contention, or a negative attitude? How does the church handle such issues? Share your thoughts.
d. Case Study: One of your friends states, "What are the most important qualities you want to see in a leader in your church? What are these qualities important? Can a person be a good leader in your church without them?" How would you respond to your friend?
4. Have a volunteer read Acts 1:23-26.
a. Ask class members to share a short thought on what the main idea of this text is.
b. What is the biggest challenge to you to make a disciple by being a mentor?
c. Personal Application: Have you been mentored by someone in the church? What have you learned from them? Was it focused more on knowledge or experience? Share your thoughts.
d. Case Study: Think of one person who needs to hear a message from this week's lesson. Tell the class what you plan to do this week to share with them.
(Note : "Truth that is not lived, that is not imparted, loses its life-giving power, its healing virtue. Its blessings can be retained only as it is shared." MH p. 149.
Read Luke 6:20-49. In what ways are both knowledge and experience revealed in these texts? That is, how are they blended here in a way that shows why both are needed, not only in our own walk with the Lord but in disciple-making, as well?
Spiritual knowledge is indispensable for spiritual transformation. Christ Himself was regarded as the Master Teacher. In open classrooms bordered by seashores, mountains, and God's created wonders, Christ disseminated transformative knowledge. The Holy Spirit awakened previously seared consciences to accept these truths. Disciple-making is incomplete without experience, but experience must be directed by knowledge.
Twenty-first-century disciple-makers must thoroughly acquaint themselves with Scripture, the source of authentic spiritual information. Likewise, they should disseminate doctrine and teachings without regard to popularity or convenience. God expects seasoned believers to withhold nothing, patiently guiding infant converts into an ever-expanding understanding and appreciation for the wonderful, life-changing truths of Christianity-especially the present truth of the three angels' messages.
In the context of making disciples, what does Jesus say in Luke 6:39 that everyone who seeks to make disciples must keep in mind? How can we be sure that we are not like that which Jesus is warning about here?
In the end, a combination of knowledge and experience that produces unselfish love will be the most potent force for any disciple-maker to possess.
Information was an irreplaceable component of Jesus' message. Information alone cannot transform, but every transformation includes information. Certainly, concepts possess no inherent power for initiating change; God's Spirit, however, working through human hearts, constitutes the irreplaceable element necessary for conversion.
Read John 16:7-14. What is Jesus saying here that helps us to understand how limited intellectual knowledge is, in and of itself, in the understanding and experiencing of true Christianity?
Biblical knowledge coupled together with God's Divine Spirit forms the spiritual combination that transforms individuals and societies. The disciple-maker must strive for both of these in faith and study.
Christianity highly regards intelligence, thinking, and imagination. The existence of reasoned thought throughout Scripture, the tremendous respect afforded teachers within Judaism, and the priceless attention that scribes devoted to preserving ancient writings all testify to the importance of knowledge.
Christianity is not an irrational faith. Nevertheless, certain elements within Christianity have elevated emotion, feeling, and experience above knowledge. This mindset declares that what people believe is relatively unimportant because experience alone is meaningful. Obedience and adherence to specific truths are deemed relatively unimportant; emotion and religious excitement become the measuring stick for spiritual genuineness.
Scripture's very existence counters this mindless fascination with experience. Experience without knowledge becomes a supercharged missile without direction. Conversely, knowledge without experience becomes lifeless and oftentimes legalistic. True Christian leaders understood the need to cultivate both of these elements, not only in themselves but in those whom they disciple.
Think through all the good reasons that you have for your faith. At the same time, what role has experience played? Why do we need both?
Christ's earthly sojourn was relatively brief. Therefore, the training of disciple-makers was imperative. Whom should He select? How many should He choose? Jesus' disciples doubtless numbered in the hundreds. Should everyone undergo mass education? Christ understood that leadership was cultivated effectively within small groups, not mass-produced through lectureships. Limited numbers would be chosen for Christ's initial graduating class.
Study Luke 6:12-16. What did Jesus do before He chose His disciples, and why was this so important?
Choosing effectively required advanced wisdom. Jesus approached His heavenly Father through prayer to acquire this wisdom. Likewise, prayer should precede the selection of leadership candidates in twenty-first-century disciple-making. Since Christ apparently believed that He needed extensive prayer in order to obtain the wisdom required, how much more should today's Christians petition for divine wisdom when choosing those charged with overseeing the progress of the Great Commission?
Having chosen twelve, Jesus designated them apostles—His commissioned representatives invested with spiritual authority. The larger group of disciples witnessed this ordaining or commissioning with no apparent jealousy or negative feelings. Later, Jesus would commission a larger group of seventy-two and, perhaps, others not recorded within Scripture. The twelve apostles, however, retained the identity of those most closely associated with Jesus; they shouldered the largest responsibilities and, therefore, required the most extensive training and commitment. This arrangement clearly implies intentional organizational structure among the earliest Christians. Christ spiritually invested the leaders within that organization with capabilities and education commensurate to their assigned tasks.
Think through the implications of how much time Jesus spent in prayer. What should this tell us about our own prayer life? What does prayer do to you?
Read for This Week's Study: Luke 6:12-16, John 16:7-14, Luke 6:20-49, Jer. 50:31, Isa. 57:15, Acts 1.
Memory Text: Now it came to pass in those days that those days that He went out to the mountain to pray, and continued all night in prayer to God. And when it was day, He called His disciples to Himself; and from them He chose twelve whom He also named apostles. (Luke 6:12-13, NKJV)
While Jesus was ever active in making disciples, He recognized that His earthly sojourn was short. Therefore he invested Himself in the training of disciples to continue the work after He left. He was both their Master Teacher and their Master Trainer. While teaching and training are obviously related, teaching usually connotes the impartation of knowledge, whereas training suggests formation or qualification through practice and discipline.
The disciples' preparation for leadership certainly involved the receiving of knowledge, but spiritual growth was uppermost. They needed an experience in the things of God, of faith, of hardship, of sanctification, and of self-sacrifice, along with an intellectual understanding of doctrine and theology. Knowledge alone was insufficient preparation for the rigorous challenges ahead. Jesus gave them both.
The central Sofia Seventh-day Adventist Church in Bulgaria had a vision to record Sabbath school lessons and sermons to upload on the Internet for anyone to watch. They had purchased the camera and other basic equipment to operate the studio, but they needed a few more pieces of equipment. Where would they get the money to buy the needed equipment? They prayed and they searched, but they hadn't been able to complete the studio.
Then one Sabbath after vespers, a Bulgarian couple from abroad found Lena and told her, "We've heard about your recording studio, and we want to help you. What do you need?"
Lena's breath caught in her throat. This is it! She thought. God is doing what He has promised. "We need an air conditioner to protect the equipment from the heat," she said.
"Make a list of what you need," the man said. Lena and the pastor gave the man a list of equipment needed to complete the studio. The cost was about US$15,000. As they gave the list to the couple, the pastor said, "Choose what' you'd like to help us with. Only the air conditioner is urgent."
The man and his wife agreed to buy all the equipment, and soon the internet station was up and running.
Word of the Adventist Internet site spread quickly, and people began watching.
An old woman called the church to say that her church in a small Bulgarian village had only a handful of aging Adventists with no pastor. They felt they had no option but to close the church. Then the woman's son brought a computer and set it up in the church so the members could join the believers in Sofia via the live video feed through the Internet. "Not only did the church not close," the woman said, "but 10 new people are coming to church to watch the video worships."
A man reported that he is a sailor aboard a ship. He isn't an Adventist, but he was searching for an inspirational website on the ship's computer. The only website he could pick up was the Sofia church's. None of the 30 crew members is an Adventist, but they like the programming and watch regularly. "Now when we're in port, I visit an Adventist church and several other sailors come with me," he said.
In the three years that the website has been operating, the church has seen ample evidence of how God can use such resources to reach searching souls for Jesus. Our mission offerings help implement creative ministry around the world.
Lena Dyukmedzieva manages the Internet studio at the Adventist church in Sofia, Bulgaria. See it at vvv.bg.
Further Study: Read Ellen G. White, The Great Commission, pp. 25-34; Pentecost, pp. 35-46, in The Acts of the Apostles; In the Outer Court, pp. 621-626, The Good Samaritan, pp. 497-505, in The Desire of Ages.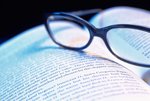 "A certain Samaritan, in his journey, came where the sufferer was, and when he saw him, he had compassion on him. He did not question whether the stranger was a Jew or a Gentile. . . .
Thus the question, Who is my neighbor? is forever answered. Christ has shown that our neighbor does not mean merely one of the church or faith to which we belong. It has no reference to race, color, or class distinction. Our neighbor is every person who needs our help. Our neighbor is every soul who is wounded and bruised by the adversary. Our neighbor is everyone who is the property of God.-Ellen G. White, The Desire of Ages, p. 503.
Discussion Questions:
What does our financial support of the church's worldwide mission indicate about our real commitment to the gospel commission? Why must our involvement reach beyond mere financial support? In what ways can funds presently allocated to church preservation be channeled into cross-cultural evangelism?
We are not to feel that the work of the gospel depends principally upon the minister. To every man God has given a work to do in connection with His kingdom. Everyone who professes the name of Christ is to be an earnest, disinterested worker, ready to defend the principles of righteousness. Every soul should take an active part in advancing the cause of God. Whatever our calling, as Christians we have a work to do in making Christ known to the world. We are to be missionaries, having for our chief aim the winning of souls to Christ.-Ellen G. White, Testimonies for the Church, vol. 6, p. 427. In class, dwell on the meaning of what is written here and, as a class, ask what more you could do to help to finish the work that we have been called to do?
Dwell more on what Jesus said in John 12:25. What does it mean to hate our life in this world? In what ways are we to express this hatred?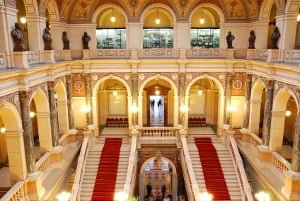 Today we visit the Museum of Discipleship. We'll take a stroll through the displays showcasing the legends of the gospel proclamation. Each room houses priceless treasures belonging to the heirs of salvation. Of particular interest today will be our visit to the Discipling the Nations gallery.
You'll notice, as we make our way to our destination, the various hallways of honor. The Wall of Courage contains many of our Bible heroes. Joshua, David, Gideon, Moses, Joseph, Paul and Noah are just a few of those who served and witnessed for God with courage and honor during difficult times.
We'll also pass by the Wall of Women of Valor. There we will see Mary the mother of Jesus as well as Mary Magdalene, Elizabeth, Ruth, Abigail and, of course, Queen Esther and many more. Women have always played important roles in the spreading of the gospel and providing leadership when leadership was most desperately needed.
You'll notice as we get further into the center of the museum an increase in the brightness of the lights. It's the purest light found anywhere. To some it's blinding, and to others it removes the scales that have blinded their eyes. The throbbing you feel as we enter this prized area we like to call the Heartbeat of the Gospel.
Here you'll find the life of Christ on full display. His sinless life attesting to the power of faith and obedience to God is plain to see. A special section on His compassion showing how He has been touched with the feelings of our infirmity revealing His interactions with men to lighten their burdens. The Salvation area is breathtaking. It shows with great clarity the price it took to rescue man. Pay special attention to the eternal risk that was taken by the Son of God.
We could spend all of our time here but we want to cover the early church of Acts where members served as role models for the Discipling the Nations display. No other period in the existence of the church is so full of instructions for evangelizing the world.
This gallery is divided into two main sections; the life of the early church members, and their message. Notice the placard above this section that reads "And when the day of Pentecost was fully come, they were all with one accord in one place."
Here you'll find outlined the principles that shaped and influenced the early church which were key to its success.
Their Spirit
That they all may be one; as thou, Father, art in me, and I in thee, that they also may be one in us: that the world may believe that thou hast sent me. And the glory which thou gavest me I have given them; that they may be one, even as we are one: I in them, and thou in me, that they may be made perfect in one; and that the world may know that thou hast sent me, and hast loved them, as thou hast loved me. John 17:21-23

And all that believed were together, and had all things common; and sold their possessions and goods, and parted them to all men, as every man had need.  And they, continuing daily with one accord in the temple, and breaking bread from house to house, did eat their meat with gladness and singleness of heart, Praising God, and having favour with all the people. And the Lord added to the church daily such as should be saved. Acts 2:44-47
Note how the striving for greatness had been removed from their desires. Each only wanted what was best for the other, and this shift in their thinking allowed the Holy Spirit to do for them things they could have never done for themselves.
Their Authority
But Peter, standing up with the eleven, lifted up his voice, and said unto them, Ye men of Judaea, and all ye that dwell at Jerusalem, be this known unto you, and hearken to my words: For these are not drunken, as ye suppose, seeing it is but the third hour of the day.  But this is that which was spoken by the prophet Joel;  And it shall come to pass in the last days, saith God, I will pour out of my Spirit upon all flesh. Acts 2:14-17
The Scriptures was their foundation. No cunningly devised fables. Eloquence and learning stood subservient to the wisdom and power of the Word of God. It was a lamp unto their feet and a light unto their paths.
Their Message
Then Peter said to them, "Repent, and let every one of you be baptized in the name of Jesus Christ for the remission of sins; and you shall receive the gift of the Holy Spirit. For the promise is, to you and to your children, and to all who are afar off, as many as the Lord our God will call. Acts 2:38, 39
Side issues were just that – side issues. The prominence of their message was Jesus the Christ, the Saviour from sin. Paul said it best when he wrote these words to the church at Corinth, "For I determined not to know anything among you except Jesus Christ and Him crucified." 1 Corinthians 2:2. Every other truth found its center in Christ. The truth and power of Christ's words "And I, if I am lifted up from the earth, will draw all peoples to Myself" John12:32, was the focus of the early church's message.
Their Audience
And there were dwelling at Jerusalem Jews, devout men, out of every nation under heaven. Now when this was noised abroad, the multitude came together, and were confounded, because that every man heard them speak in his own language. Acts 2:5, 6
Theirs was no exclusionary gospel. To whomsoever would accept it the invitation was given. Christ had broken down the wall of caste, rank and race. He invited those that dwelt in the shadows of society as well as those that feasted on life's best. There was no more Jew or Gentile, male or female. The early church got this.
The inspired gospel writer Ellen White sums up this experience beautifully. Speaking of the early church she writes,
"They could speak the name of Jesus with assurance; for was He not their Friend and Elder Brother? Brought into close communion with Christ, they sat with Him in heavenly places. With what burning language they clothed their ideas as they bore witness for Him! Their hearts were surcharged with a benevolence so full, so deep, so far-reaching, that it impelled them to go to the ends of the earth, testifying to the power of Christ. They were filled with an intense longing to carry forward the work He had begun. They realized the greatness of their debt to heaven and the responsibility of their work. Strengthened by the endowment of the Holy Spirit, they went forth filled with zeal to extend the triumphs of the cross. The Spirit animated them and spoke through them. The peace of Christ shone from their faces. They had consecrated their lives to Him for service, and their very features bore evidence to the surrender they had made." Acts of the Apostles, pg 46
Well, our visit must come to a close now. You might like to know that they're building a new wing for the church of 2014. Perhaps they'll share your story there one day.
Here are a few Hit the Mark questions for this week's lesson discussion:
What does "Discipling the Nations" mean to you?
Is it true that the church's financial resources will determine the success of its evangelistic efforts? Explain your answer.
What does unity mean to you?
Do you agree that the primary responsibility for evangelism falls with those who are paid to evangelize? Why or why not?
What would a church be like/act like/interact like if its message was fully Christ-centered?
Does the lack of personal piety of the members diminish the effectiveness of the witness?
We close this week with the gospel commission of Jesus Christ. It's as relevant today as it was when given thousands of years ago:
And Jesus came and spoke to them, saying, "All authority has been given to Me in heaven and on earth. Go therefore and make disciples of all the nations, baptizing them in the name of the Father and of the Son and of the Holy Spirit, teaching them to observe all things that I have commanded you; and lo, I am with you always, even to the end of the age." Amen. Matthew 28:18-20
Until next week, let's all continue to Hit the Mark in Sabbath School!
[Thought questions for Discipling the Nations March 5, 2014]
1. "My house…of prayer for all nations." When you find a place in your church this Sabbath for the worship service, will you think of yourself being in a "house of all nations"? How do the intense efforts of the evil one to separate us from one another in every possible way give proof to God's far-reaching plan to draw us together in love for Him? How could it be that God's chosen people could be so sure the gospel was, first and foremost, for them? Are we tempted in these last centuries to have a similar attitude towards the Second Coming?
2. The prophets foretold the plan.  Why didn't the prophecies, stated so many times in so many ways, come true that the nations of the world would seek salvation from the Children of Israel? What was the key problem? (Hint: where should they have been looking? Where were they looking instead?) Do we have the same lack of focus today? Have we already suffered consequences as a result? Explain.
3. Asleep or awake? Our lesson author notes that Christ wanted His people to "wake up." Wake up to what? How severe did God tell us that the penalty would be for not sharing the wonderful blessings of salvation with those of other cultures? See Matthew 11:20 to 24. What was the utmost desire of the Greek worshippers joining the Jewish people for Passover? What was Jesus' response to their quest?
4. Breaking down barriers. Has God raised up a people who love Him supremely and do not permit barriers of race, culture, or language to separate them from any of His creation? If not, why not? Why do those barriers still persist in alienating us from those with whom God yearns to share eternity? Imagine walking down an empty street and coming across the writhing body of a person in agony. Nobody else is nearby. What would you do? What does God expect of us in circumstances like this? 05. The Great Commission.
5. The Great Commission. With the earth's population growing so fast, is it feasible for ordinary people like you and me to preach the gospel of the Kingdom of God to everyone? Suppose you could calculate that it is a physical impossibility to do so. Would that stop you from dedicating your life to sharing the good news of the gospel to others? Have you ever been an overseas missionary? Or do you know someone who has left familiar culture comforts to help spread the gospel abroad? What can you and I do to encourage cross-cultural witnessing?
6. About money. Do you believe in the message our church proclaims to the extent that you give to support the worldwide missions programs of our church? How do you explain the fact that churches with a strong record of missions support are also more successful in reaching their church's other goals? Should we be looking for opportunities to encourage more support of missions in our churches and schools?
Read Romans 15:12; Acts 1:7-8; John 11:52-53; Matthew 28:19-20. What's the essential message here, and how does this message fit in so well with the three angels' messages of Revelation 14?
God's final work is incomplete until the eternal gospel expressed in the message of the three angels found in Revelation 14 has crossed every racial, ethnic, national, and geographical boundary. Without divulging the precise timing, Scripture unequivocally states that this gospel will reach around the world. God's triumph and its proclamation are assured.
The nations' acceptance of that message is prophesied. This must happen, but who will offer themselves as God's channels of grace? Who will join Christ in the overturning of the racial, ethnic, and language barriers that impede the gospel's progress? Who will empty their wallets and pocketbooks? Who will sacrifice earthly comforts and family associations in order to advance heaven's cause? These are the questions that we all must ask ourselves. What are we doing to reach out to others, whoever and wherever they are? How unfortunate that some believers allow racial stereotypes, cultural prejudices, and satanically designed social barriers to dissuade them from vigorous gospel proclamation when their fellow believers are scattered across the globe, willingly yielding their lives that the gospel might be preached.
Our missionary success has been fully proportionate to our self-denying, self-sacrificing effort. God alone can estimate the work accomplished as the gospel message has been proclaimed in clear, straight lines. New fields have been entered, and aggressive work has been done. The seeds of truth have been sown, the light has flashed upon many minds, bringing enlarged views of God and a more correct estimate as to the character to be formed. Thousands have been brought to a knowledge of the truth as it is in Jesus. They have been imbued with the faith that works by love and purifies the soul.-Ellen G. White, Testimonies for the Church, vol. 6, p. 28.
Read John 7:35, 8:48, and Luke 10:27-37. In what way do these verses show why regional, ethnic, and other barriers should have no place among Christians as they seek to make disciples among all nations?
Some of the leaders' contempt for Jesus knew no bounds. Again, the terrible irony was that those who should have been in the forefront of receiving Him and His message were the very ones who fought against Him the hardest. Priests of Israel scorned the Son of God when those not of Israel accepted Him as the Messiah. What a powerful and sobering lesson is here for those who deem themselves (perhaps with some justification) spiritually advantaged!
When condemning Christ they not only labeled Him as having a devil, they made it worse by calling Him a Samaritan, as well. They even mocked Him for His witness among the Greeks, showing obviously their contempt for those not of their own nation and faith. Israel's leaders found it unthinkable that Jesus would consider teaching Greeks. Jesus countered this by emphasizing character above ethnic origin.
How interesting, too, that He used the true story of a Samaritan in order to teach a powerful spiritual lesson about what it meant truly to fulfill God's law. Religious leaders, doubtless restrained by their twisted understanding of Levitical law and defilement, had earlier bypassed the wounded man. The despised foreigner, a Samaritan, had conscientiously defied ethnic prejudice, saving the stranger's life. What a stinging rebuke to all those who spurn and scorn someone in need only because the person is not of their own ethnic, social, or cultural background.
Think of the last time you perhaps did not help someone in need. What justifications did you use not to help? Looking back now, what should you have done differently?