Marcie's husband Jack had become increasingly violent, and when he hit her and knocked her over, she was afraid. She scrambled to her feet and ran out the door. Running, she felt so helpless and confused. What was she to do? Where was she to go?  It was early Saturday morning, and the streets were still. Then she remembered the church a couple of blocks away. She had seen people at the church on Saturdays. Perhaps someone there could help her. She looked over her shoulder, but Jack was not pursuing her. So she slowed down to a walk.
When she got to the church she read the sign. It identified the church as "Seventh-day Adventist." But the parking lot was empty. Of course! It was only 8:45 am. She could get some exercise walking and come back later.
When Marcie came back two hours later, there were a number of cars in the lot. She saw people entering and being greeted by a man in a suit. Timidly, she walked up to the man and said, "Hi, I'm Marcie." The man in the suit looked her up and down, and she looked down self-consciously at her shorts and t-shirt. "You can't come in here like that," he said sternly. "This is the house of God!" Crushed, she fled with tears in her eyes … 1
And Jesus wept.
How would you have met Marcie if you were the one at the door?
At 20, Danny had just finished his bachelor's degree with a major in electronic engineering. He needed a break and a little practical experience before he went on to the tougher courses of graduate school. So he took a low-wage technical support job at one of America's largest IT companies. He could probably make money on the side by consulting, as he had done for years.
Raised as an Adventist, Danny had taken pains to have Sabbaths off, so he could attend the nearest Seventh-day Adventist church, which was several miles away. He figured he could get there the same way he got to his place of work – on his trusty 10-speed bike.
On that bright Sabbath morning in June, he put on his dress shorts and a dress shirt and pedaled his way to church. When he walked in the foyer after parking his bike, a man walked up to him and chastised him, saying, "Young man, don't you have any respect for the house of God? Shorts are not appropriate here!" Danny didn't wait for more, but turned on his heel. "The audacity!" he fumed. "The shallowness!"
And for years after that, Danny did not attend any church, much to the dismay of his family. Eventually, he did go to church in another part of the country. There he started a young adult group composed largely of young doctors and engineers like himself. They did their own church meetings their own way, trying to do things they thought Jesus would do on Sabbaths. They might have benefited from a little support and counsel from more experienced members, but the distrust of the "establishment" in the church never left Danny – to this day.
And I think Jesus still weeps. 2
How would Danny have been received at your church?
Kendra, a teenager in a church composed mainly of seniors, is a vivacious young woman and attracts others to her like bees to honey. She's not shy about being a Seventh-day Adventist Christian. So it was only natural that she should bring some of her friends to church now and then.
On a hot August Sabbath, she brought two of her best friends who found the environment "different" but intriguing. Then they were approached by a pleasant-seeming elderly lady in the foyer after church. They looked at her expectantly, and she said, "You know, girls, you should dress more appropriately when you come to church." They looked at their friend, confused, but the woman continued, "Spaghetti straps are not appropriate wear for church. You should wear a dress with sleeves to church." They stared at her, shocked, "But .. but .. " They were going to say that they didn't own any such dresses. They had taken pains to wear dresses, rather than their usual shorts and camis (with spaghetti straps). But they didn't bother to say more. They didn't really need to come here anyway.
And I think Jesus wept.
I suspect he's weeping still, because the girls have never come back.
How do you deal with "inappropriately dressed" teens in your church? Are you happy they're in church, or do you wish they would dress appropriately?
Elizabeth had grown up keeping the Sabbath due to a radio preacher who was the leader of a Sabbath-keeping church. After he died, his successors decided that the Sabbath was not really necessary to keep after the cross. So she and her husband had gathered together a group of believers who met each Sabbath to worship together.
But then she noticed a Sabbath-keeping church in town, the Seventh-day Adventist church, just outside city limits. She decided to investigate and attended about once a month for several months, beginning with Sabbath School. As she grew more comfortable and had some deep conversations with her Sabbath School teacher, she invited her husband to attend as well. And he did. They thoroughly enjoyed the lively discussion in Sabbath School, and both stopped to talk with the teacher.
They looked forward to the church service and were glad to see a pleasant-looking man with a friendly manner get up in the pulpit. Some of what he preached was new to them, but they became disturbed as he continued in a proud tone to enumerate how "we Adventists" know so much more and how the other churches "just don't care. They just preach the social gospel. They're part of Babylon, you know, and we need to preach the Three Angels' Messages."
My husband and I were in that congregation and were concerned when we saw this particular speaker get up. But when he launched into his usual self-congratulatory mode and put-downs of other churches, we were mortified.
And, yes, you guessed it, neither Elizabeth or her husband ever returned to our church. (My husband is particularly sad because he was the teacher who had befriended Elizabeth, but he had not obtained contact information, so we could not visit.)
I think Jesus is still weeping. What do you think?
How do you demonstrate respect for the beliefs of others?
Jesus says to Laodicea, "I stand at the door and knock." (Rev 3:2) And He also says, that as we have done it to "one of the least of these," we have done it to Him. (Matt 25:40)
How many times have we turned Jesus away from our churches?
Someone suggested that my post is "mainly about dress code," but that is not my intent. We can show our lack of caring for people in many different ways. When we simply ignore a visitor, that demonstrates a lack of caring. Apparently it takes friendly interaction with at least three people besides the greeter to make a person feel welcome. Do we do our part?
How many times have we turned people away from Him because of our lack of caring?
What can we do to change things?
Let's share some ways we make our churches more inviting for those who need Jesus in their lives.
---
The stories in this post are true, but have been fictionalized to create emotional empathy. This particular incident was mentioned by Marcos in "How the Church Failed Mo." ↩
I know some of the people involved in this and the next two stories. ↩
A couple of years ago I had the privilege of conducting my "In Light of the Cross" gospel seminar in New England. While there, a kind and gracious member of the Adventist Church I was speaking in, gave me a tour of the region and several old New England churches. Being a history buff, and realizing that the religious awakening, which spawned the Advent movement began in New England, created in my heart a deep appreciation for these old churches, some built in the early 1700′s or before.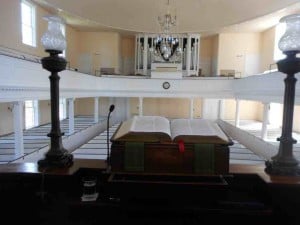 I walked into one sanctuary, built in 1732,and sat on a pew deep in thought, contemplating the hundreds of people who had sat in that sanctuary over the last 280 years! I admired the pulpit from where the gospel was preached to weary sinners for centuries. Yes, I realize these churches were not Adventist churches, but they still preached the cross to sinners, and I imagine over the centuries many a sin weary pilgrim has laid his burden down on the altar and taken up the cross of Jesus. For that I am very thankful for these churches of various denominations. Each of these churches of various denominations were fulfilling the prophecy of Jesus that,
  ..this gospel of the kingdom shall be preached in all the world, in [into] witnessing to all folks; and then the end shall come. Matthew 24:14 WYC (In my previous posts I often used the NLT Bible translation. However, writing about old churches and the religious awakening has me in a Wycliffe version frame of mind.)
When we think of the gospel we think of "good news." Paul defines the gospel more specifically as the good news of the cross. The gospel is the cross.
For Christ sent me not to baptize, but to preach the gospel; not in wisdom of word, that the cross of Christ be not voided away. 1 Corinthians 1:17 WYC
Protestant churches rose out of the dark ages with the light of the gospel. John Wycliffe is remembered as "the morning star of the reformation." If the sun rose up all at once it would blind us. God first sends the morning star to pierce the darkness so we become accustomed to a little light, and the sun gradually rises until noonday when the  darkness is gone and
the earth was lightened of his glory. Revelation 18:1 WYC
So while many think there are many different church denominations because everyone interprets the Bible differently, truth is, each Protestant church has discovered different points of light about the gospel, leading us gradually out of the Dark Ages. It is not so much about interpreting things differently as  it is about progressing as we have more light, with each ray of light leading us farther and farther out of darkness into the full light of the cross.
God has always had a people in every church, and the Protestant reformers were a light in the their time, leading to the Protestant Reformation, which brought us to the religious awakening and Advent Movement.
So the question is, what new light has the Advent Movement shined on the gospel of the cross?
1. The Gospel saves us from death instead of eternal torment.
 For the wages of sin is death.. Romans 6:23 WYC
The wages of sin is death and not eternal torment. As we study the doctrine of the punishment of the wicked, in the light of the cross, we get new light not only on doctrine but more importantly on the character of God. God is not a psychopath wanting to torture people because they did not love Him, and make them wish they had. He is a God of love. The purpose of hell is not to torment sinners (Though there will be torment and weeping and gnashing of teeth for a time) but rather to put sinners out of their misery.
For God loved so the world [Forsooth God so loved the world], that he gave his one begotten Son, that each man that believeth in him perish not, but have everlasting life. John 3:16 WYC
The most popular verse of the Gospel tells us Jesus saves us from perishing and not eternal torment in hell.
2. Jesus really died for us.
The Biblical teaching of the state of the dead changes how we view the sacrifice of Jesus on the cross. If we believe in the immortality of the soul, and that one does not really die, then Jesus never died and we are still without a Savior. However, the Bible teaches us that Jesus did not only truly die, but He died the second death for us. He faced not only death but the death of the wicked, which meant He loved us so much He was willing to go into total oblivion and be totally separated from God. He did not save us from the death of the righteous. He experienced and saved us from the death of the wicked – being totally separated from God, which has the effect of eternal oblivion.
..all the heathen shall busily drink, and they shall drink, and they shall swallow it all down; and then they shall be as if they had never been. Obadiah 1:16 WYC
3. Jesus saves us from our sin, not in our sin.
I once heard a Protestant preacher on the radio say, "In order for you to be able to call Jesus your Savior He has to actually save you from something." The preacher went on to talk about how Jesus saves us from sinful addictions. Seventh-day Adventists understand that on the cross Jesus freed us from both the penalty of sin and the power of sin.
God the Father made him sin for us, which knew not sin, that we should be made [the] rightwiseness of God in him. 2 Corinthians 5:21 WYC

And he himself bare our sins in his body on a tree [Which he himself suffered, or bare, our sins in his body on the tree], that we be dead to sins, and live to rightwiseness, by whose wan wound ye be healed. 1 peter 2:24 WYC
Okay I think that last one needs a little help from the NLT!
He personally carried our sins in his body on the cross so that we can be dead to sin and live for what is right. By his wounds you are healed. 1 Peter 2:24 NLT
The gospel that the Seventh-day Adventist Church is taking into all the world not only gives us a clearer vision of the cross, but an even clearer vision of the the character of God.
God is a loving God who is not going to torment the wicked for all eternity because they did not love Him. He is a God of love who does not wish for us to perish. By understanding the Bible truth about death we understand the depths of Christ's sacrifice and what great depths he was willing to go to in order to save us. We understand that He saves us from the penalty of sin, and from the power of sin, so that we don't have to be slaves to the sinful addictions that hurt us over and over.
This is the gospel that pierced the dark ages until it will one day be preached all over the world and then the world will be lightened with His glory. May we engage in the work of spreading this Good News!
So is there a difference between uniformity and unity?
In "uniformity," you will find the word "uniform." And that serves as a good illustration. When I taught in a Christian school with school uniforms, all the students look equally good. But do you believe their uniforms make them equally good in heart and character?
In His intercessory prayer, Christ prayed for unity in the body of believers, asking that …
" … they may all be one, just as you, Father, are in me, and I in you, that they also may be in us, so that the world may believe that you have sent me. … that they may be one even as we are one, I in them and you in me, that they may become perfectly one, so that the world may know that you sent me and loved them even as you loved me." (John 17:21-22 ESV)
Do you get the idea of uniformity in this prayer or something much deeper?
It seems to me that unity among believers is more of a heart matter – a matter of loving each other as Jesus loved us, in spite of differences – a matter of respecting each other's views, even when we think they are wrong, in lowliness of mind esteeming each other better than ourselves, as Paul suggested in Phil 2:3. This is in sharp contrast to insisting that we truly understand the mind of God and that any who disagree with us are fighting against God.
When I put it that starkly, you think, "But I don't do that!" Perhaps not, but I have been saddened to see the self-assurance evident in arguments among Seventh-day Adventist Christians when controversial subject come up – subjects such as music, dress, role of women in the church, the trinity, prophetic interpretation and others. 1 I have been concerned to see arguments that insist that a particular topic is a salvation issue, and that those who disagree are representing arguments from Satan.
I suggest that whenever we have a discussion/argument, we need to consider what we are saying about God – not just in what we say about the subject, but also how we say it. In person, body language plays a part, but in written discussion, it is the words we use and what they imply about the other person(s). God is depending on us to portray His character to the world, and I believe that issues that affect the perception of the character of God are the truly important issues.
As faithful followers of Christ, we are to be true to principle. But we need to consider which issues are clear biblical truths and which are our traditions. While traditions may be good, traditions are subject to change. If the subject is not clear in the Bible to those who are honestly studying, it is not a subject that should cause division. I believe that, at this point, we have defined the important biblical teachings fairly well as a church, and these are encapsulated in our Fundamental Beliefs statements. When we have opinions regarding how to put these beliefs into practice, we need to do so with humility, recognizing that there may be a difference between our opinion and God's.
Many of us are familiar with the 1888 General Conference session which focused on the doctrine of righteousness by faith – a teaching which we now understand much better. Ellen White traveled through North America with Bros. Waggonner and Jones to present the subject to all who would listen. She thought it was that important. So I decided to read some of her talks and writings on the conference, and I discovered that she was far more concerned about the way those on both sides of the issue interacted than the subject itself. She was more concerned about a loving spirit than correct doctrine.
And it seems Jesus made a similar point when He told the parable of the sheep and the goats. (Matt 25:32-46) He was more concerned about loving actions than correct doctrine.
I have seen claims that one of the current hot topics threatens the unity of the church. Perhaps so – if we let it, and if we refuse to follow biblical precedents. But the church has survived much greater divisive issues. For thousands of years, circumcision had been the sign of God's covenant with His people. So, when the Messiah came, those who accepted Him as the Messenger of the covenant naturally assumed that the circumcision which was to be an "everlasting covenant" was to continue. (See Gen 17:13-14) But Paul appeared to be careless in his teaching of the Gentiles. He did not teach them about circumcision, but taught that faith was more important than physical circumcision. (Ro 3:30) Can you understand how heretical such a teaching was to the converted Jews? It's hard to imagine a teaching more fundamental to their understanding of the covenant.
Yet, when the Jerusalem Council met to discuss the matter, they listened to Peter's speech about the work of the Holy Spirit among the Gentiles (Acts 15:7-11), and they rendered the decision that the Gentiles did not need to be circumcised. (Acts 15:19-20)
I believe Paul was correct about the matter of faith versus circumcision, but the Jerusalem Council did not enforce uniformity in practice. And the apostolic church did not splinter over the lack of uniformity. Jewish Christians continued to practice circumcision for hundreds of years because it was part of their identity. And Gentile Christians did not circumcise. Insisting on uniformity could easily have killed the infant church, but unity was preserved by allowing diversity of practice.
Can we today learn a lesson from our apostolic spiritual forebears? Can we demonstrate the unity of Christian love even while we may disagree on some practices?
Will we insist on uniformity at the expense of unity? Or will we practice humility by allowing some diversity in practice and thus preserve unity the way the apostles did?
---
While comments on the topic of what is or is not important for unity and why are welcome, this is not an invitation to discuss any of these controversial topics mentioned. No such comments will be published at this time. ↩
Mo is a pretty cool dude. I don't say super cool because, after all, he is my brother and so pretty cool will have to do. (I'm sure such a "theorem" would be reciprocated by a hearty "my sentiments exactly" on his part.) Anyhow, the point is he's pretty cool.
Now Candice, my special lady, is awesome. This awesome lady of mine was clever enough to plot a secret reunion between my pretty cool brother and my pretty cool self. She said it was a surprise to celebrate my recent liberation from the tyranny of biblical languages (I just recently finished my last ancient Greek class), but I'm sure that having my mother in town for a visit had more to do with it.
Now onto my main point. Mo and I were raised Seventh-day Adventists all of our life. At the age of 17 I decided to follow Jesus. Mo went a different direction and has stuck to it ever since. For many years I have wondered why he walked away from the faith of his youth. Being highly intelligent, scientific, and analytical would have been a challenge for him,  especially when my father rejected his scientific explanation of where the wind came from and instead insisted, very dogmatically of course, that God had a room in heaven with wind trapped inside. Whenever he wanted the wind to blow he would open the door. Whenever he wanted it to not blow he would shut it. Though I have no proof of this, I wonder if Mo's brilliant mind wrestled with such an irrational concept, thus planting the seed for a growing discontent with Christianity.
Regardless of what reason (or perhaps reasons) led Mo out of the church one thing is certain: his experience was, to be quite generous, bitter. You see, Mo and I share a craving for authenticity that we acquired from our culture. We want answers, not cliches. We want truth, not opinion. We want a faith that is logical and rational – free from fanaticism, phobias, and unreasonable superstitions. We want Bible, not dogma and traditions. We want relationship, not religion. And most of all, we want honest and open dialogue not absurd, irrelevant, and simple-minded solutions. Authenticity. That is what we crave. And that is what the church failed to give.
You see, Mo grew up in a church culture that told him it was bad to go to the movie theater even though we could go to the elder's house and watch mindless killing and gore. It was OK, was the message, so long as it is in a house. But don't go to the theater! Your angel wont follow you in there and if you die there you will go to hell. Irrational, anyone?
Mo grew up in a church that told his lady friends it was bad to wear pants to church, or anything too revealing for that matter, even though every Saturday night half of the members were glued to the infamous Sabado Gigante game-show with half naked women parading their curves on the TV screen for all the choir singers, elders, and deacons to enjoy. Hypocritical, anyone?
Mo grew up in a church where the leaders were only concerned with whether or not you were a good church member. Do you cry yourself to sleep at night because you are lonely and depressed? We don't care. Just make sure you don't let your hair grow too long and you have a tie on when you show up on Sabbath. Absurd, anyone? Yes, Mo grew up in a church where the leaders spoke to you when you were in trouble and ignored you the rest of the time. A church that wanted to erase him from membership because he joined the Army even though not a single one of those involved in this proposition had ever sent him a letter of encouragement or called him to offer a prayer. A church where lack of biblical knowledge prompted an "Ellen White said" that was supposed to settle the issue once and for all. A church steeped in simple-mindedness, irrationality, and flat out extremism at times.
For a mind craving authenticity, I conclude that the phonyness was simply too much to bear and the highways and byways of the world, complete with their own set of phonyness, somehow seemed more fulfilling than the dictatorial corridors of his childhood faith.
This, I believe, is how the church failed Mo. This, I believe, is how it fails so many of its youth. It is not because it lacks entertainment. It is because it lacks authenticity. It is not because it lacks programs. It is because it lacks relationships. It is not because it lacks answers. It is because it lacks questions and somehow marginalizes those who seem to have many of them.
Over the years I have come to shed many of the absurd and nonsensical standards of my upbringing and have come to discover a simpler yet infinitely more complex relationship with God. With all of the cultural baggage that my traditional Hispanic culture brought to Christianity gone, I can now see Jesus and his love much clearer than ever before.
I no longer believe that a true Christian is only the one who fits into my brand of Christianity. I have met wonderful Christians who are covered in tattoos, who enjoy the bouncy feel of dread locks, and who go to church without a tie on. I have experienced Hawaiians who worship God in Hula shirts and flip-flops. I have experienced theologians who enjoy sporting a fro-hawk.
I have experienced Jesus among the real, the genuine, and the broken. I have experienced doubts and wrestled with them. I have come to realize that God, the multiplex deity of the cosmos, is paradoxically simple. He invites me to have a relationship with him and to let my life be an outflow of that relationship. As Jesus once said,
"Love the Lord your God with all your heart and with all your soul and with all your mind.' This is the first and greatest commandment. And the second is like it: 'Love your neighbor as yourself.' All the Law and the Prophets hang on these two commandments." – Matthew 22: 37-39.
And as my friend Amir Davis once said, "Do the Ten. Love God. Love Men. Take care of your body. And live your life. That's all God requires of you." It really is that simple.
I wonder where Mo would be today if the church had focused on Jesus' words more than they focused on their own traditional discomforts? What if they had loved the culture instead of demonized it? What if they had shown us a God who cannot be caged, the wild lion of the heavens who cannot be controlled, and taught us to live on the edge with Him? What if they had embraced questions? What if they had let go of the pretensions and gone on the journey of doubt, struggle, and pain? What if they stopped misusing Ellen White? What if they had forgotten the opinions of men and taught us to live by the Bible only? What if they had looked past the long-haired guys, the braids, the jeans, and the baggy t-shirts and shown us the love of Jesus? And I don't mean shown it to us in a Bible study. I mean shown it to us with a life.
I pray I wont have to keep wondering. I pray the era of the Mo's will come to an end. I pray we learn our lesson.
But that is not the only point of this article. I also want to take the opportunity to appeal to the Mo's of today. While the church has failed you, it is still within your reach to recognize that Christianity is extraterrestrial and as such it cannot be defined, contained, or limited by human culture. We may have messed it up, but you can look past our faults in the same way we should have looked past yours. While we may look at the church and find much to criticize. we can find neither spot nor wrinkle in the person of Jesus Christ.
Therefore, I leave you with a challenge from Christian apologist Dr. Ravi Zacharias and it is this: "Look at Jesus and ask yourself the question, Can I find anything wrong with him?" The answer may just revolutionize your life.
After establishing the perpetuity of the Ten Commandments, Jesus continued His Sermon on the Mount, now setting forth a few specific examples of Old Testament laws. People had so greatly misunderstood these specific commandments that Jesus felt the vital need of explaining their true meaning.
What contrast did Jesus make with each aspect of the law mentioned in the Sermon on the Mount? To what authority did He appeal in each case? Matt. 5:21-44.
Note that in each instance Jesus first cites an Old Testament text (Exod. 20:13-14; Deut. 5:17-18; Exod. 21:24; Lev. 24:20; Deut. 19:21) and then appears to argue against it. Was Jesus discrediting the law? Of course not. By further explaining and expanding what the religious leaders had narrowed down to nothing but formality, He was simply contrasting the teachings of the Pharisees with the true meaning of the law.
The rabbis cited tradition as their authority for their interpretation of the law. In contrast, Christ spoke on His own authority, as the Lawgiver Himself. The expression but I say unto you appears six times in this chapter. Who alone but the Lord Himself could rightly make a claim like that?
What's fascinating, too, is that Christ's requirements went radically beyond the simple form of the law. His teachings included the spirit behind the letter of the law. The spirit that imparts meaning and life to what otherwise can only be pure formalism. Law-keeping, in and of itself, as an end in itself, leads to nothing but death if the law is not understood as an expression of what it means to be saved by grace.
Consider the scribes' and Pharisees' attitudes as described in Matthew 23:3-5, Mat. 23:23-28. How can we obey God's commandments wholeheartedly without falling into similar hypocrisy and legalism? What crucial role does understanding grace play in sparing us from legalism?
What does Matthew 5:17-19 teach about Jesus' attitude toward the law?
Although the word law is often used to refer to the first five books of the Bible (also known as Pentateuch or Torah), in this case the context seems to indicate that He was referring primarily to the Ten Commandments. When saying He had not come to destroy the law, Jesus is literally saying, I have not come to make invalid or abolish the Ten Commandments. His statement is very clear and probably meant to show that it was the religious elders, not He, who had been destroying the law, reducing its effect through their tradition (see Matt. 15:3, 6). In contrast, by filling it with a deeper meaning, Christ had come to fulfill the law, thus giving us an example of what perfect obedience to the will of God looks like. (See Rom. 8:3-4.)
Read Acts 7:38. Who was the Angel who spoke to Moses and gave him the law on Mount Sinai? (See Isa. 63:9, 1 Cor. 10:4.) Why is this important?
Christ was not only the leader of the Hebrews in the wilderness . . . but it was He who gave the law to Israel. Amid the awful glory of Sinai, Christ declared in the hearing of all the people the ten precepts of His Father's law. It was He who gave to Moses the law engraved upon the tables of stone. — Ellen G. White, Patriarchs and Prophets, p. 366.
The fact that Christ Himself gave the law to Moses on Mount Sinai makes it even more important for us to take it seriously. Also, if the Lawgiver Himself further explained it through His teachings, as we find in the Gospels, we would do well to obey that law. One would be hard pressed to find in the life and teachings of Jesus anything implying that the Ten Commandments are not binding on Christians. On the contrary, His words and example teach us the opposite.
Though we know that the law is still binding, we also know that it does not, indeed cannot, save us. (See Gal. 3:21.) How then do we understand the relationship between law and grace?
Read for This Week's Study: Matt. 5:17-19, Matt. 5:21-44, Mark 7:9-13, Matt. 19:16-22.

Memory Text: If you love Me, keep My commandments (John 14:15, NKJV).
Though many leaders in Israel highly exalted the law, some misunderstood its purpose, believing that they could obtain righteousness by obeying the law. As Paul was to write: For they being ignorant of God's righteousness, and going about to establish their own righteousness, have not submitted themselves unto the righteousness of God (Rom. 10:3).
This is why Jesus often questioned, and even disapproved of, the traditions of the religious elders (Mark 7:1-13). And their misunderstanding was why they criticized and confronted Him about His views of the law.
It is important to understand that, although Jesus criticized the openly legalistic practices of the Pharisees, He exalted the Ten Commandments, clearly affirming the perpetuity of the Decalogue and explaining its meaning and purpose. Christ Himself said that He had come to fulfill the law (Matt. 5:17). In many ways, His death was the ultimate revelation of the continued validity of God's law.
This week we will analyze Jesus' teachings in regard to the law and the impact His teachings should have in our lives.
*Study this week's lesson to prepare for Sabbath, September 6.
May was overwhelmed in her new school. She had classes on topics that she had never studied before, and she didn't know enough English to understand what her teachers were saying. She hung her head and felt like crying. Her teacher touched her shoulder and asked if she needed help. May nodded, embarrassed. Don't worry, her teacher said softly. I'm here to help you. Tell me what you need.
May had never experienced such kindness from a teacher before. Softly she said, I don't understand. The teacher knelt beside her and explained the lesson to her again. May smiled; she understood.
May lives in Myanmar. Her father, a Christian, wanted May to learn about God. When he learned about Yangon Adventist School (YAS) not far from where the family lived, he visited the school. It was an older building with crowded classrooms, but the children seemed happy and the teachers cared about their students. He enrolled May at YAS for the coming year.
May struggled with the new school curriculum, which was different from her previous school. She didn't know English well enough to understand what her teacher said. And Bible class was entirely new to her. But her teachers helped her, and May worked hard to catch up.
May liked that in her new school students worked together to learn new lessons rather than compete for the top ranking in the class. She discovered that learning was fun!
May made friends and enjoyed learning new subjects. Two years later she asked to be baptized, and her parents willingly gave their permission. May continued to study and mature; she learned what it means to follow Jesus completely.
May completed high school at YAS and enrolled in elementary education at the Adventist college in Myanmar.
She's glad to be an Adventist and a member of God's family. But as the only Adventist in her family, May sometimes feels separated from her relatives. I wish we all could worship God together with the same faith, she says. I'm so thankful to have had a chance to study in Adventist schools and learn the way to God.
Today May is a tutor, helping other children master their lessons and grow both spiritually and mentally. I'm thankful for the opportunity I had to study at Yangon Adventist School, she adds. I thank everyone around the world who gave to the Thirteenth Sabbath Offering to help enlarge the school so it can accommodate more students.
Your offerings to mission do make a difference, a real difference in the lives of children and adults around the world. Thank you.
Further Study: Ellen G. White, Go Teach All Nations, p. 818-828, in The Desire of Ages; The Great Commission, p. 25-34, in The Acts of the Apostles. Every true disciple is born into the kingdom of God as a missionary. He who drinks of the living water becomes a fountain of life. The receiver becomes a giver. The grace of Christ in the soul is like a spring in the desert, welling up to refresh all, and making those who are ready to perish eager to drink of the water of life. — Ellen G. White, The Desire of Ages, p. 195. The Saviour's commission to the disciples included all the believers. It includes all believers in Christ to the end of time. It is a fatal mistake to suppose that the work of saving souls depends alone on the ordained minister. . . . All who receive the life of Christ are ordained to work for the salvation of their fellow men. For this work the church was established, and all who take upon themselves its sacred vows are thereby pledged to be co-workers with Christ. -Page 822.
Discussion Questions:
Not everyone is able to travel the world preaching the gospel. What, though, are ways that each one of us can be involved in the task of spreading the gospel to the world in the context of the three angels' messages?
In what ways is your local church continuing Jesus' ministry in your community? How could you help to improve the church's missionary service?
Jesus said that the gospel would go to all the world. For the vast majority of human history since He spoke those words, methods of communication had not changed. Two hundred years ago communication wasn't much faster than it was 2,000 years ago, when Jesus gave us the gospel commission. Of course, all of that has changed, especially in the last 50 years, in which we have developed methods of communication that are amazing. How can we better learn to use the incredible technology we have been given in order to do the work that we have been promised will be done?
In class, based on the question at the end of Monday's lesson, let those who are willing to share their own personal experience with Jesus. How can we use our own testimony as a witness to others? Why should we use our own experience?
With its characteristic conciseness and clarity, the Gospel of Mark presents the commission in one short sentence: Go into all the world and preach the gospel to every creature (Mark 16:15, NKJV). As in Matthew, the verb go in Greek is a participle that indicates not the task but the movement needed to fulfill the task. The mission itself is expressed by the Greek verb Kerusso, given here in the imperative mood. Kerusso means to proclaim aloud, to announce, to preach. Mark uses this term 14 times, more than any other Gospel. The church must proclaim the gospel.
During Jesus' ministry, the Twelve had been sent not to the Gentiles but only to the lost sheep of the house of Israel (Matt. 10:6). Now they are sent into all the world and to every creature. The eleven alone could never announce the gospel to the entire world, much less to every creature living in it. A task of such worldwide dimension requires the participation of the entire church. It is entrusted to all the believers in Jesus in all ages. This includes you and me.
Read Revelation 14:6-12. How do these verses encompass the worldwide mission of the church?
Preaching the gospel to every creature, however, doesn't automatically mean that everyone will accept it. Only he who believes and is baptized will be saved (Mark 16:16, NKJV). We should preach eagerly, hoping that every hearer will yield to the gospel invitation. Nevertheless, we have to be aware that many will not accept the Word, as the image of the narrow gate clearly shows (Matt. 7:13-14).
What assurance do we have that this worldwide mission can and will be fulfilled? See Matt. 24:14.
There is an encouraging parallelism between Mark 16:15 and Matthew 24:14. Both texts refer to the proclamation of the gospel to all the world. While the first passage presents Jesus' commission to preach, the second gives Jesus' promise that the mission will actually be carried out.
Christ made full provision for the prosecution of the work, and took upon Himself the responsibility for its success. So long as they [His disciples] obeyed His word, and worked in connection with Him, they could not fail. — Ellen G. White, The Desire of Ages, p. 822. The question, then, that we each need to ask ourselves is, How willing are we to be used by Him in this crucial work?
After His resurrection, Jesus met with His disciples in Galilee, at the mountain which Jesus had appointed for them (Matt. 28:16, NKJV). Not only the eleven, but also more than five hundred brethren gathered there to meet the risen Lord (1 Cor. 15:6). The One who had conquered death said to them: All authority has been given to Me in heaven and on earth (Matt. 28:18, NKJV). His power and authority are no longer voluntarily limited as they were during His earthly ministry. Rather, as before the Incarnation, His authority includes the whole universe. Based on His unquestionable authority, He entrusts a mission to His followers.
According to Matthew's account, in giving the Great Commission, Jesus used four verbs: go, make disciples, baptize, and teach. Unfortunately, many Bible versions do not reflect on the fact that, in Greek, the only verb that is imperative is make disciples, while the other three verbs are participles. This means that the emphasis of the sentence is on make disciples, the other three activities being dependent on it.
What is the role of going, baptizing, and teaching in fulfilling the command to make disciples? See Matt. 28:19-20.
Jesus' mandate indicates three activities involved in making disciples. The three activities do not need to occur in a particularly sequential order; rather, they complement each other. While going to different places, eventually to the entire world, we should be teaching everything Jesus taught, baptizing those who accept Him as Savior and are willing to observe all the things Jesus commanded.
We rejoice when somebody is baptized, but baptism is not the end of the story. It is just part of the process of making someone a disciple. Our task is to invite people to follow Jesus, which means to believe in Him, to obey His teachings, to adopt His way of life, and to invite others to become His disciples, too.
The word all characterizes this text. Because Jesus has all authority, we have to go to all the nations teaching them to observe all things pertaining to the gospel, with the assurance that Christ is with us always (literally, all the days) to the end of the age.
Think about your local church. What is done there to help nurture and disciple new believers? What more can be done? Ask yourself, too: what talents do you have that you could use in this important part of fulfilling the gospel commission?
Key Thought : Jesus appointed twelve disciples to preach, and later seventy disciples to evangelize. Jesus entrusted His church with the gospel commission..

[Lesson Plan for Our Mission August 25, 2014]
1. Have a volunteer read Matthew 24:14.
a. Ask class members to share a thought on what the most important point in this text is.
b. Is this saying that we can hasten Jesus coming by preaching the gospel to everyone?
c. Personal Application: In what ways is your local church preaching the gospel preparing people for the end times? Share your thoughts.
d. Case Study: One of your relatives states: "With internet, cable, and satellite TV, the church can reach the world. We don't need personal witnesses anymore – we have evangelists and multimedia to finish the work." How would you respond to your relative?
2. Have a volunteer read Matthew 28:19,20.
a. Ask class members to share a short thought on what the most important point is in this passage.
b. What are some of the ways we have normally went about "teaching all nations" and baptizing people? What do you think is the most successful method?
c. Personal Application: How good is your church in following up new converts to the faith in continuing to guide, mentor, teach, and disciple? Share your thoughts.
d. Case Study: One of your neighbors states, "I don't think God is with the church right now because the church hasn't followed God's instructions and there are dissentions and troubles in the leadership." How would you respond to your neighbor?
3. Have a volunteer read Revelation 14:6-12.
a. Ask class members to share a short thought on what the main idea of this text is.
b. Why are the three angel's messages called the everlasting gospel? Aren't these for a specific time? What makes them the eternal good news?
Note: The first angel's message contains God's restoration message IN us of the physical, mental, and spiritual victories lost in the garden of Eden and restored FOR us in the wilderness by Jesus.)
c. Personal Application: What do the three angel's messages mean to you? How have you used them to share with others? Share your experience.
d. Case Study: One of your friends states, "I don't worry about Revelation. It can't be understood anyway. That's for people after the rapture to figure out." How would you respond to your friend?
4. Have a volunteer read John 20:21.
a. Ask class members to share a short thought on what the main idea of this text is.
b. Was Jesus speaking here of His disciples, or can we apply this message to His people today? Is this speaking of ordained ministers, teachers, and evangelists – or the whole church body?
c. Personal Application: Do you feel and believe that that you have been called to salvation? Do you feel and believe you have been sent to bring salvation to others? Share your thoughts.
d. Case Study: Think of one person who needs to hear a message from this week's lesson. Tell the class what you plan to do this week to share with them.
(Note : "Truth that is not lived, that is not imparted, loses its life-giving power, its healing virtue. Its blessings can be retained only as it is shared." MH p. 149.
John's gospel also reports Jesus' first encounter with the disciples in the upper room but mentions other elements not included in Luke's gospel.
According to John, in what way did Jesus define the mission of the believers? See John 20:21.
Jesus had already mentioned this concept a few days before, when He prayed: As You sent Me into the world, I also have sent them into the world (John 17:18, NKJV). Sending someone implies that the one who sends has authority over the one who is sent. It also involves a purpose, since one is sent with a mission to fulfill. Jesus was sent by the Father to save the world (John 3:17), and we are sent by Jesus to proclaim salvation through Him. Evidently, our commission is a continuation of Christ's work, which consisted of a complete ministry to all people (Matt. 9:35). He expects us not only to continue what He had initiated but to go further. He who believes in Me, said the Lord, the works that I do he will do also; and greater works than these he will do (John 14:12, NKJV).
Jesus provided the Holy Spirit to enable the disciples to carry out their mission. At Creation, God breathed into Adam the breath of life (Gen. 2:7). Now Jesus breathed on the disciples the Holy Spirit (John 20:22, NKJV). As the breath of life transformed lifeless dust into a living being, so the Holy Spirit transformed fearful and discouraged disciples into powerful living witnesses to continue Jesus' work. The same anointing is indispensable today to fulfill the commission entrusted to us.
Jesus has called you to be a witness. What can you witness about? That is, what have you seen or experienced that you should share with others about Jesus?
Jesus' first encounter with the disciples after His resurrection was very important. They were fearful, distressed, discouraged, and perplexed. They had locked the doors of the room out of fear, but Jesus came and stood in their midst. With a clear and warm voice He said to them: Peace to you. Startled and terrified as they were, it was difficult for them to believe their eyes and ears. Lovingly, the Lord showed them His hands and His feet and explained to them everything the Scriptures said about Him. That night, His presence and His words transformed them dramatically, dispelling their anxiety and unbelief and filling them with the peace and joy that come from the certainty of His resurrection.
Then Christ began to expound their mission, gradually helping them to grasp the significance of their responsibility as witnesses of His death, His resurrection, and His power to forgive sins and to transform lives (Luke 24:46-48). They had surely seen Him die, but they had also seen Him alive again. So they could testify for Him, that He was the Savior of the world.
A witness is someone who has seen an event happen. Anyone can be a witness, provided that he or she has personally watched something. There is no such thing as a secondhand witness. We can testify based only on our own experiences, not someone else's. As rescued sinners, we have the privilege of telling others what Jesus has done for us.
What is the relationship between receiving the Holy Spirit and witnessing for Christ? See Luke 24:48-49; Acts 1:8. See also Isa. 43:10, Isa 43:12; Isa. 44:8.
The book of Acts shows that the believers' testimony could have convincing power only through the presence of the Holy Spirit dwelling in their hearts. After receiving the Spirit, with great power the apostles gave witness to the resurrection of the Lord Jesus (Acts 4:33, NKJV). That is, they were able to speak, openly and with great power, about what they themselves had witnessed and experienced. In a very real sense, our witness about Christ must always include our own experience with Him.
What has been your own personal experience with the Lord? What has God done in your life that you can witness about firsthand to others? Bring your answer to class on Sabbath.
Read Matthew 5:14-16. What is Jesus saying here to each of us individually and as a church community?
Throughout the Bible, light is intimately associated with God. The Lord is my light, sang David (Ps. 27:1), and John stated that God is light and in Him is no darkness at all (1 John 1:5, NKJV). God is the source of light. In fact, the first thing He created was light, because light is indispensable for life.
Given the close connection between light and God, Scripture frequently uses light to symbolize truth, knowledge, and godliness. To walk in light means to have a character like God's (Eph. 5:8, 1 John 1:7). Light stands for God, darkness for Satan. That's why it is a grievous sin to put darkness for light, and light for darkness (Isa. 5:20).
Jesus Christ, the eternal Son of God, is the light of men, . . . the true Light which gives light to every man (John 1:4, 9, NKJV). He alone is the light that can illuminate the darkness of a world enshrouded in sin. Through Him we may have the light of the knowledge of the glory of God (2 Cor. 4:6), that is, His character.
When we accept Christ as our Savior, we become sons of light (John 12:36, 1 Thess. 5:5, NKJV). But we have no light in ourselves. Like the moon, all we can do is reflect the light that shines upon us. When we let Jesus shine through us, we will not do good works to parade our own virtue but to lead people to glorify God.
If Christ is dwelling in the heart, it is impossible to conceal the light of His presence. If those who profess to be followers of Christ . . . have no light to give, it is because they have no connection with the Source of light. — Ellen G. White, Thoughts From the Mount of Blessing, p. 41.
Wouldn't it be absurd to light a lamp only to put it under a basket or under a bed (Mark 4:21, NKJV)? Then why is it that sometimes we do so with Christ's light? A concealed disciple is no more useful than a lamp under a bowl on a dark night. Therefore, arise, shine; for your light has come! and the glory of the Lord is risen upon you (Isa. 60:1, NKJV).
Light itself is actually invisible. It has to be reflected off of something; otherwise we cannot see it. What spiritual lesson can we draw from this about how, as believers, our light is to be revealed?