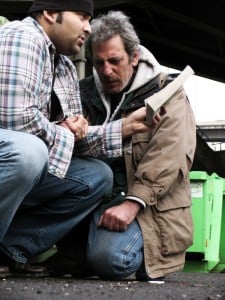 We interrupt this week's lesson discussion to bring you breaking news out of Jerusalem. Jesus has just concluded a major speech dealing with the volatile topic of race relations between the Jews and the Samaritans. What started out as a discourse on the process of salvation turned into what can only be described as a watershed moment dealing with the makeup of our society.
As many of you know there has been a lot of debate in the country recently over the propriety of interacting with the lower classes of society. The esteemed lawyer Tobiah asked Jesus his view on the hot-button issue of our generation, namely "Who is my neighbor?"
With what can only be described as a masterful response, Jesus has upended the social norms and revolutionized forever the concept of dealing with those that need help, regardless of their race or standing in life. His speech is being called "The Good Samaritan."
There was a massive crowd in attendance and our reporters on the ground have managed to interview each person mentioned in this historic speech. Let's send it over to Asher for details of his interview.
"Thanks Obadiah. I was able to catch up with the priest first mentioned in the story. I asked him for a response to the indictment Jesus leveled against him for his seemingly uncaring ways. He responded that his primary role was to be a worshipper of God. He had recently been to the temple and his praise and worship should leave no one confused about his devotion to God. God knew his heart.

"With that said, he stated that he was late for an important church board meeting and abruptly left. By the look on his face he did not seem at all pleased with the recounting of the story. I hope to get a few more minutes with him after his meeting concludes. Back to you Obadiah."
Thanks Asher. We now want to go to Esther who managed to speak with the Levite mentioned in the story. Esther, what did the Levite have to say about this incident?
"Thanks Obadiah. Yes, I was able to speak briefly with the Levite. I asked him for his response and he explained that he was not as insensitive as he was portrayed in the story. He really did feel inclined to help, but it would have been dangerous for him to do so. He knew that someone better suited than him would likely pass by shortly so his departure was really an opportunity for the wounded traveler to get better help.

"I asked him to explain why he felt it was not his duty to help, but he  said he was late for a church event. He was scheduled to lead out in the next service so he had to leave immediately to get set up. The Levite also did not look too happy to be named in this story. Back to you Obadiah."
Thanks Esther. We now go to Joshua who was able to speak with the Samaritan. Joshua, what do you have for us?
"Obadiah, I was indeed able to speak with the hero of this story. I asked him how it felt to be a hero in this pivotal historic incident. His first response was that he was no hero. He explained that he was simply doing what he would want done to him and what any human should do for those who need help. I inquired about the financial costs of his involvement and his reply was if God blessed him with means he should be willing to bless others with the gifts God gave him. He says it was the best money he ever spent. I asked him for his contact information so that we could submit his name as hero of the year but he firmly but politely refused and quietly walked away. Obadiah, I must say that his reaction was refreshing. Back to you."
Thanks Joshua. In our last interview we go to Abigail who managed to speak to the central character of this story. Abigail, what do you have for us?
"Obadiah, I managed to get a few moments with the victim in this crime. I asked how he felt about the incident that day. He said that due to the seriousness of his injuries he did not remember most of what happened. He does remember awakening in a hotel and inquiring how he got there.

"He was told by the innkeeper how a Samaritan rescued him and brought him to the inn, nursed him and paid for his lodging. As he recounted this, his eyes filled with tears. He praised God for sending someone to help him. He also wanted to publicly apologize for his past behavior and words that suggested anyone was better than anyone else. He now recognized without a doubt that all men are brothers. He asked that we would pass his eternal gratitude onto the Samaritan. Back to you Obadiah."
Well, there you have it. As mentioned earlier in this broadcast, Jesus has forever answered the question of "Who is my neighbor?" We now return you to your regular programming and your lesson discussion on Jesus and the Social Outcasts.
Here are a few Hit the Mark questions for this week's lesson discussion:
What does the word compassion mean to you?
Isn't it true that some but not all Christians have the gift of compassion?
Why do you answer yes or no?
What does the command in Mark 12:31, "Thou shalt love thy neighbor as thyself" mean to you?
Is it true that we need to try harder to love others, especially the less fortunate?
Why do you answer yes or no?
As relating to church attendance for new members, is it wise to enforce standards and insist that those who join our ranks first understand what are considered acceptable church norms?
Why do you answer yes or no?
Matthew 25:40 says that all will be judged by what they do to the "least of these my brethren." Who are the "least"?
What does James 1:27 mean, "Pure religion and undefiled before God and the Father is this, To visit the fatherless and widows in their affliction"?
We close this week with a portion of the discourse Jesus held with the lawyer leading to His recounting of the Good Samaritan. It answers the great question of life. Let those with ears hear:
"And behold, a certain lawyer stood up and tested Him, saying, "Teacher, what shall I do to inherit eternal life?"

He said to him, "What is written in the law? What is your reading of it?"

So he answered and said, " 'You shall love the Lord your God with all your heart, with all your soul, with all your strength, and with all your mind,' and 'your neighbor as yourself.'"

And He said to him, "You have answered rightly; do this and you will live."  Luke 10:25-28
Until next week, let's all continue to Hit the Mark in Sabbath School!
Amen!

(

19

)

Print/PDF/Email