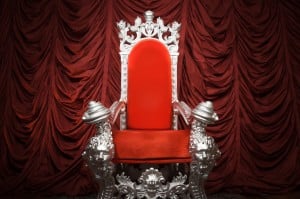 I saw it the minute I pulled into the parking lot of a large, modern church building. There in bold letters was a clear indication of the spirit of this church. You're probably thinking I am referring to the church marque. It's usually there where a church makes an attempt to share a little of the personality of the greater body. Witty sayings or service times along with the head pastor's name are typical. But that's not what caught my eye.
As I pulled into the church I noticed a row of reserved, prime parking spaces. Along with the typical handicapped spaces these were marked clearly to show the preference of the body. Each of these prime spaces were marked "Visitor."
There were no reserved spaces for pastors or department leaders – none.
I was struck by this for two reasons. One was because it was clear that they expected visitors and were attentive to their needs, and intentional about making sure their experience was first-class.
The second was that in my mind they were practicing the Bible truth, "all ye are brethren." Matthew 23:8.
This week as we look at Discipling the Powerful we will avoid the detour of bemoaning the evils that many times accompany the powerful. Yes, there is abuse of power, and it will take wisdom and grace to navigate through the demands of governments and leaders who lead contrary to the written Word.
Instead we will seek to learn lessons from the Master Teacher as He dealt with discipling the powerful. We'll use a familiar character who usually appears when the subject of wealth and power comes about – none other than the Rich Young Ruler.
While we could easily focus on the struggle that ensued when Christ pointed the way to salvation, we will slow down and look at how Jesus interacted with this promising young man.
After a few interchanges between the two of them Jesus gives this young man a command that contains a wealth of instruction. If we look carefully we see that Jesus, while treating him with respect and love, makes no exceptions because of his rank in life.
Lesson 1 – Show no partiality
I charge thee before God, and the Lord Jesus Christ, and the elect angels, that thou observe these things without preferring one before another, doing nothing by partiality. 1 Timothy 5:21
It is natural in this world where so many are striving for distinction, to make special those who have distinguished themselves. Celebrity worship is a staple of the world, but is not a part of God's kingdom. Powerful people know that they're powerful, and the church should be the one place where all are brothers and sisters alike in Christ, regardless of societal rank, wealth or race.
Lesson 2 – Appeal to inward desire to bless others by speaking to the nobler instincts of man
For what shall it profit a man, if he shall gain the whole world, and lose his own soul? Mark 8:36
What doth it profit, my brethren, though a man say he hath faith, and have not works? can faith save him? If a brother or sister be naked, and destitute of daily food, And one of you say unto them, Depart in peace, be ye warmed and filled; notwithstanding ye give them not those things which are needful to the body; what doth it profit? Even so faith, if it hath not works, is dead, being alone. Yea, a man may say, Thou hast faith, and I have works: shew me thy faith without thy works, and I will shew thee my faith by my works. James 2:14-18
Lesson 3 – Worldly greatness is not the true aim of life. Jesus has greater destinies in mind.
But as it is written, Eye hath not seen, nor ear heard, neither have entered into the heart of man, the things which God hath prepared for them that love him. 1 Corinthians 2:9
Jesus said unto him, If thou wilt be perfect, go and sell that thou hast, and give to the poor, and thou shalt have treasure in heaven: and come and follow me. Matthew 19:21
The same Bible that blesses the poor and unknown also blesses the rich and powerful. Within its pages are instructions that meet every need and every station in life. We would be in error to assume that the powerful have no spiritual longings and are beyond the reach of the gospel. The dignity of Christianity is appealing to all.
Here are a few Hit the Mark questions for this week's lesson discussion:
What does being powerful mean to you?
Isn't it harder for rich and powerful people to be saved than poor people?
Why do you answer yes or no?
Isn't the test for all rich converts and/or members how much of their money they give to the church?
Why do you answer yes or no?
Isn't it proper to show deference to  powerful individuals who visit or attend our churches?
Why do you answer yes or no?
Isn't it true that successful individuals are usually better qualified to guide the church?
Why do you answer yes or no?
We close this week with the words of Paul written to the church in Corinth. He had one message for all, Christ and Him crucified:
And I, brethren, when I came to you, did not come with excellence of speech or of wisdom declaring to you the testimony of God. For I determined not to know anything among you except Jesus Christ and Him crucified. I was with you in weakness, in fear, and in much trembling. And my speech and my preaching were not with persuasive words of human wisdom, but in demonstration of the Spirit and of power, that your faith should not be in the wisdom of men but in the power of God.  1 Corinthians 2:1-5
Until next week, let's all continue to Hit the Mark in Sabbath School!
Amen!

(

10

)

Print/PDF/Email